What Bases Can Be Used For Resin Bound Systems?
What sort of Base can I use?
Resin Bound systems require an existing or new stable sub
base to which the resin system is applied. A typical existing or newly laid base or substrate can be a surface of tarmac, asphalt, concrete or other monolithic material that has been cleaned and prepared.
Preparing the Surface
The existing surface should be in good condition as any system applied is dependent upon the soundness of the area that it is applied to. It is important that the surface is cleaned properly with all loose materials and dust removed and sealed if necessary. Any contaminates such as oil or traffic film will require removal with a suitable de-greaser to ensure the resin can bond fully to the base. Fully remove any algae or fungal that may be present. Any damaged areas or cracks will require treatment and repair prior to the application of the resin to ensure a long lasting finish.
Level Surface
A level surface is most suitable for this application, however it is not a necessity. If the level is varied, then more resin and aggregate will be required to create a level surface.
Suitable for Purpose
The base should be suitable for the load it expected to carry once the resin system is applied. There is no preferred base as this can vary depending on the system used and advice from your resin supplier should be sought prior to application. Surfaces that have fewer joints and are predominately large slab areas, such as tarmac or concrete provide the best finish.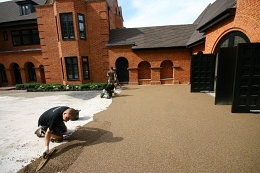 Bases to Avoid
Bases that are made up of paving type products such as block paving, sets or flags are NOT suitable for a resin-based system. The amount of cracks or lines below the surface of any resin applied to a paved surface would ultimately lead to cracks in the resin and failure of the system due to the extreme pressure loaded onto the resin during day to day usage.
If a wooden base is to be used, only a proper exterior grade wooden deck surface should ever be considered.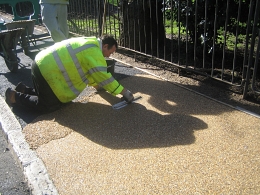 With the exception of applications such as tree pits, resin-based surfacing cannot usually be laid on a granular sub-base, such as a layer of MOT Type 1, gravel or sand, no matter how well compacted. Damp striking up through the base could affect the resin and if there is a high moisture content in the base it can seep into the resin with adverse effects such as clouding of the resin.
Newly laid surfaces.
Any new surface should be allowed to cure properly prior to the application of resin systems. In the case of bitumen surfaces a minimum of 28 days should be given to allow it to weather and oxidize.
For concrete at least 7 days should be given to allow it to cure properly. With any base it is important that the moisture levels on the surface meet an acceptable level as recommended by the resin manufacturer. In all cases, the manufacturer's advice and recommendations should be followed regarding preparation, pre-cleaning, etching or all other requirements.
Additional Preparation
A primer should be used on surfaces that may be absorbent. Any areas that are close by or edges should be masked off with a suitable tape. This tape should be removed before the resin is fully set as if left too late a clean straight edge would be difficult to achieve. Ensure there is sufficient fall on the area to allow for drainage. For concrete surfaces, a primer is recommended to ensure a good bond to the surface for. This is usually a two pack of fast curing epoxy primer with a scattering of C52 sand, which will set in around 90 minutes.
For more information and advice, please call us on 01629 636500 or email Leanne@derbyaggs.com.