Resin Bound Training Courses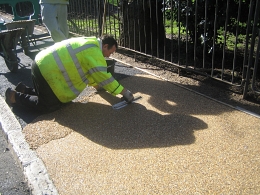 If you are looking at laying resin bound systems, then it is recommended that you should first attend a training course as there are many elements that can affect the laying and overall finish as well as learning the overall technique of laying the resin bound material and the equipment needed.
Things to consider are the type of base the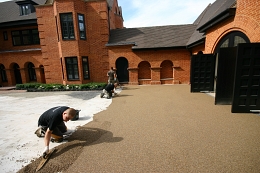 system is being laid upon, the weather conditions, the best resin to use for the application, how to prepare the resin mix for the strength and the finish, how the resin will react in certain circumstances and best site practice so you end up with an even consistent finish and of course the most suitable choice of aggregate.
Resin bound training courses are a worthwhile investment if you are looking at laying resin bound and resin bonded systems as a trade.
A course will typically cover everything you need to know including
Types of resin to use and why

How the resin is mixed

Which aggregates are suitable and why

What bases it can be applied to

Construction of bases

How the whole system is mixed together

Equipment to use

What to do if things go wrong

Trowelling to an even consistent finish
For more details on what a training course will offer, take a look at our Resin Bound Advisory Notes
Call us on 01629 636500 or email leanne@derbyaggs.com and we will be happy to give you details of resin bound training courses.