System Providers
We supply all the aggregates used by Resin Bound and Bonding complete system manufacturers, both in the UK and abroad. Our products are perfectly clean, well graded and are always in stock for next day delivery anywhere in the country.
The Aggregates
The aggregates we use are chosen for their decorative appeal, however more importantly their consistancy as this is the most critical aspect of aggregate production as the material has to be sourced from a sustainable, reliable quarry, with little or no variation in product.
As we offer the widest ranges of colours and textures, not only does this give you a vast range of choices suitable for all applications, this also enables you to create your own unique blends of mixes.
Production
We wash, dry and screen the product. We then package it immediately to ensure you get a
CONSISTANT, dry, clean aggregate suitable for use with all types of resins.
We have two specific, dedicated drying and screening plants along with washers and packaging lines to make sure the continued availability in the busiest times of the year.
We have the best production facilities, for this product and always hold large amounts in stock to make sure we always have product available for our major system customers.
Delivery
By maintaining our high stock holding, we always have our products on stock, we can respond easily to
our customers delivery requirements. Deliveries can be made next day if ordered by 1.00pm the previous day, We can deliver direct to your site or your customers site. We also welcome collections from our Arbor Low site in Derbyshire.
Samples and Technical W
We have free sample boxes available of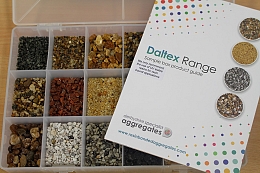 Resin Bound and Bonded material, we can also provide larger samples if they are needed to create test or display panels, request one through our Contact Us page
What we can offer you
If you are using dried aggregates for any application we can guarantee to provide you with a clean, dry aggregate everytime, with a consistancy that allows a seamless finish on every job.
We always have all products on stock, and you are welcome to visit anytime to see the process, operation and stocks.
We have a quick turnaround from placing the order, due to the stock always being available, for same day and next day delivery.
Let us talk to you, so you can tell us what you require as a customer, and let us show you what we can do for you
Please call today to arrange a visit or just call in.
Call Leanne on 01629 636500 or email leanne@derbyaggs.com
See the rest of our website