What's The Difference Between Resin Bound And Resin Bonded?
The main difference between a Resin
Bound and a Resin Bonded system is the application and the finished surface.
Resin Bound
With a resin bound system, the aggregate is mixed in with the
resin and this is troweled onto the surface in an even layer.
This leaves a smooth, flat finish with no loose gravel. This also gives a permeable porous surface which allows the water to drain through.
You can use this surface as part of a SUDS compliant solution.
Resin Bonded
With a resin bonded surface, a layer of resin is spread across the surface and the aggregate or gravel is scattered into it.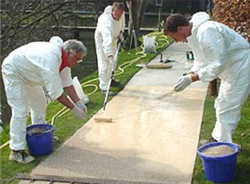 The majority of the aggregate will adhere to the resin whilst leaving some loose on the top. This will give the appearance of loose gravel.
Any excessive loose gravel can be removed once the resin is cured. This surface is non porous so would not be suitable as a SUDS compliant system.