Rubber Crumb and Chippings
The Ideal Safety Choice for Play Areas

Rubber crumb and chippings are the ideal play surface not only for safety but with an appearance that will last. All the rubber used is made from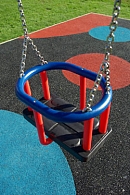 recycling commercial and industrial tyres which is wire free. To make the rubber more visually pleasing and allow for different combinations to be mixed or different colours to be used in different areas there are 5 additional colours to the standard black. They are coated with polyurethane pigments which give a nice palette to work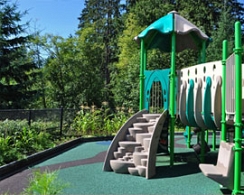 with. A mixture of green and either brown or terracotta gives a natural look to any playground or safety surface. If you want to go for a more modern look the plum has a really nice purple/blue metallic look to it. It looks great when sunlight catches it.
A resin bound rubber surface works out considerably less expensive than traditional wet pour surfaces and is long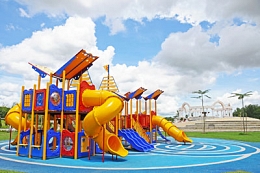 lasting too. It's possible to produce shapes letters and logos within the resin bound surface allowing for complete artistic freedom. Every job you do can be customised to your clients requirements whether it be a business, home, park or school.
Mix and match the rubber from the different coloured rubber available. We offer 20kg poly bags so you can order whatever percentage mix of colours you require. If you don't want to mix them just buy the different colours to create patterns. When used with specially formulated resin binder you will be able to produce a solid surface that is bouncy enough to conform to British standards. Children are always falling or bumping themselves whilst playing and a resin bound rubber surface will reduce the tears and give the parents or guardians that extra peace of mind.
Benefits of Rubber Surfaces
Ideal Safety Surface
Low Maintenance
SUDS compliant
Absorbs Impact from Falls
Many Colour Combinations
Long Last
As the rubber chippings are made from 100% recycled materials it's also a very environmentally friendly option to use for a surface. The rubber chippings are mixed on site from the handy sized 20kg poly bags currently available in 6 colours.
The advantage of resin bound rubber is that a long lasting seamless finish can be achieved. You don't need to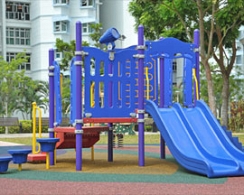 worry about the rubber being displaced like loose mulches. It makes more sense if you don't want to be constantly sweeping up stray pieces of bark, play sand or the larger non resin bound rubber chippings. This is where the advantage of cost can be appreciated. No more buying extra loose bark, loose rubber or sand to keep constantly topping up the play area. It's a virtually maintenance free option for a playground surface. However, if loose rubber is your preferred option then the same 6 colours are available on our consumer site in the playground rubber section.
Not only does it wear well with the ability to create fixed shapes, motifs and paths within your design in the many different colour combinations. This flooring system requires very little base work. It can be laid on all solid base layers and the fact it's also permeable means it dries out quickly keeping the play surface clean and in use longer. No puddles are going to be left behind after a shower. The kids can get straight back outside and play.

Resin bound rubber surfaces allow water to drain through
Since the rubber is bound in resin it's porous. That means the surface is SUDS compliant (Sustainable Urban Drainage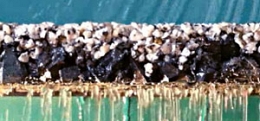 Systems). The water drains through like a sieve and flows naturally into the water table. It's an Eco friendly option and SUDS compliance means you are helping reduce the risk of flooding, more so when used on projects that cover large areas. The Environment Agency strongly encourage resin bound surfaces to help tackle the growing threat of flooding in many areas. This is why it's especially ideal for parks, play areas and playgrounds.
How to Apply a Resin Bound Rubber Surface
The application of a rubber crumb resin bound surface is very similar to how a non-rubber surface would be applied. The rubber is mixed with the resin and then hand screeded. Normally a thickness of 50mm would be suitable which protects a child from a fall from up to 2.4 metres. That should easily cushion the impact of a playground fall. If a playground has climbing frames even higher than 2.4 metres then a thicker layer is recommended for a more suitable impact absorbing surface.
Prepare the Base
Due to the small nature of the 1-4mm granule - an engineered sub base is ideally required where not installing onto tarmac/concrete. As any movement will show over time due to the nature of the granules.
The recommended sub base to use would be MOT type1 .
MOT Type 1 can be made from Granite, Limestone or clean Crushed Concrete. The product is crushed to 40mm down to dust creating an aggregate containing a range of particle sizes that is easy to compact with excellent load bearing qualities.
Application
Resin bound rubber is ideal for areas requiring a more natural look whilst also providing a safety surface. The rubber bound is self supporting which means it doesn't require a foundation layer. This makes it ideal for less accessible locations but care needs to be taken when deciding the base or substrate if you want to keep the play surface SUDS compliant.
Trowel application is best way to lay rubber in a resin surface. Making sure that the top is perfectly flat. The hand trowelled system sees the rubber shred blended with the resin prior to application and is trowelled to a smooth level finish. Design elements such as logos or numbers can be incorporated into the finished area by using contrasting colours to create the desired finish.
This method of application relies on the rubber and resin being agitated together, and then spread over the prepared base with a hand float, screeding bar or a trowel. This type of application generally ensures an adequate thickness is applied to the entire area and is a fairly common method of application. The resin sets relatively quickly. In most cases this is within 60 minutes meaning the resin and rubber need to be applied correctly with smoothing out and levelling carried out prior to the resin setting, otherwise it will become too stiff to manipulate.
There are so many reasons why playground rubber surfaces are now so common throughout play areas in the UK. The cost, no need for maintenance, choice of colours and above all keeping children safe.