Thinking of specifying resin bound?
Derbyshire Specialist Aggregates are THE producers of Daltex Aggregates produced specifically for the resin bound and bonded surfacing, for a trouble free, decorative system.
If you are a developer, specifier or architect looking to recommend or specify a resin bound system, then be assured that our Daltex Dried Aggregates are the best quality aggregates you can choose for colour and quality.
This system of permeable paving used indoors and
outdoors gives the most flexible system of decorative surfacing ever seen and its limits are endless. By also being a SUD'S compliant solution, it gives a whole new natural alternative to be used instead of the usual tarmac, block paving or gravel See more information on its uses and application.
Through 32 years of experience in the specialist aggregates market we have refined and honed our processes so that our dried aggregates are the premium quality aggregate for all resin applications and we now offer a quality resin alongside our aggregates.
Quality
We process a large range of the Daltex dried aggregates specifically for this resin bound and bonded applications. This means we deal with all the major resin bound system providers, contractors and designers.
So if you are looking to make sure you use the highest quality aggregates and resin you can, make sure you specify Daltex dried aggregates for any resin bound or bonded application.
With specifying Derbyshire Specialist Aggregates Daltex range you can
rest assured that every aggregate has been produced to the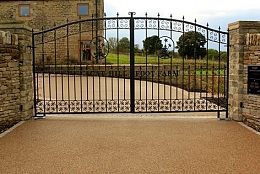 highest quality. By producing the largest stock holding and largest production runs of product, we can guarantee a consistency of product through out any project. See more about how we do it on our About Us page, or See Our Range of aggregates
Design Flexibility
With having the largest range of aggregate available we are confident that no matter what your clients requirements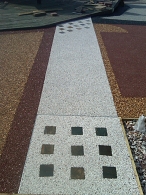 are, we can find an aggregate to suit. Our wide range of aggregates give your clients the greatest choice and allow you the best array of aggregates to choose from, and the opportunity to make a unique mix specifically for your client. Call our office to find out more details.
Technical help and Support
Our in house knowledge is on hand to advise on the best specification for any project, our external representatives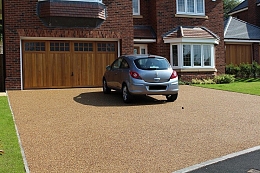 can visit sites to aid in specifying the best materials for any application. We are more than happy to advise on the suitability of any or our products or any information you might need.
Samples
We are able to supply any size samples to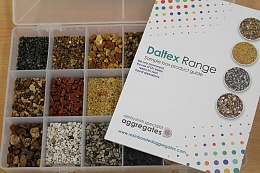 enable you to show your client the resin system to its best advantage, order your free sample box here or click here to see our range and order samples.
Even if you are looking for a contractor to install the system for you, we can put you in touch with a contractor suitable for your requirements. Contact Leanne@derbyaggs.com
Peace of mind - with specifying our Daltex Dried Aggregates you can rest assured that they are the highest quality and best produced aggregates available. Guaranteed! So Contact us today for more information.
We are justifiably proud of what we do, and anyone is welcome to visit our works and see exactly what we do, please contact us or just call in and find out for yourself why our materials are the best in the business.
Call in or call us on 01629 636500 or email leanne@derbyaggs.com
See the rest of our website