Forced Action Mixer Guide: The Only Choice for Resin Bound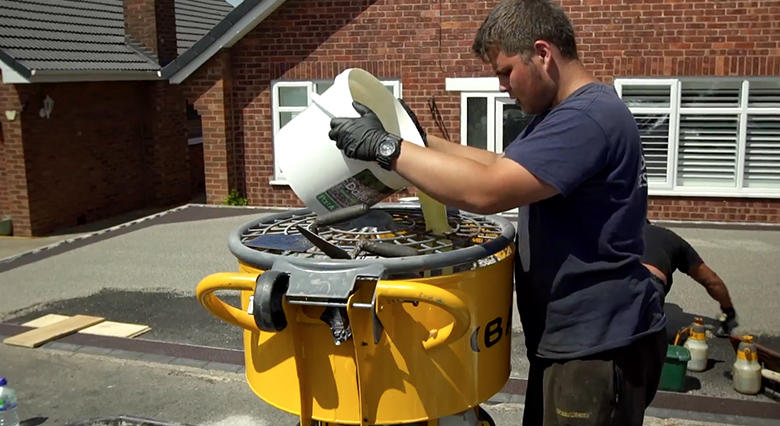 When working in the resin bound trade, a reliable, durable and long-lasting forced action mixer is crucial for every project. A forced action mixer is the only choice for resin bound installation.
This guide will introduce you to the Baron M110 Forced Action Mixer and its various benefits. It will also include guides on how to use it for consistent, high quality mixes.
What you get with a Baron Forced Action Mixer
Strong and durable, fully welded frame construction
No sharp edges for improved safety and ease of use
Heavy-duty steel blades, with rubber blades an optional extra
Extra safe pan emptying technology
110 litres of mixing capacity
Robust pan construction and outlet protection
Emergency stop button that is easily accessible
Easily accessible outlet handle
The Baron M110 has a best in class reputation for performance and quality, with our existing customers speaking very highly of its practicality, safety and ergonomic design features.
How much does a Forced Action mixer cost?
A forced action mixer is the biggest outlay you are likely to make as a resin bound professional, but it is also the most important.
If you are looking for long term success and high-quality delivery for your customers, a forced action mixer is an investment that will earn you many times more than you paid for it. For the latest Baron Forced Action Mixer prices, visit our website store.
When shopping for a forced action mixer, you must consider the following:
Quality of results for customers
Service life
Availability of technical support
Stock and availability of spare parts and accessories
Ease of long-term use
Ease of maintenance and cleaning
Warranty
Only with a Baron Forced Action mixer will you get optimal, long term results, with so many other benefits. You can order a new Baron M110 Forced Action Mixer from Derbyshire Specialist Aggregates from £1,838 (excl VAT).
How to use a Forced Action Mixer for Resin Bound
Derbyshire Specialist Aggregates is passionate about helping our customers deliver the best and most consistent results in all of their projects. 
A key aspect of this delivery is understanding the best way to use your forced action mixer.
How to mix Resin Bound Aggregates with a Forced Action Mixer
Place one 25kg bag of 2-5mm aggregates and one 25kg bag of 1-3mm aggregates into the mixer.
Add the pre-mixed resin, now is the time to start your stop watch.
Add the two remaining 25kg bags of 2-5mm aggregates to the mix.
Slowly add the contents of the bag of C52 sand to the mix.
Stages 2 to 4 of this process must always be mixed for the same duration during every mix. Failure to do this will cause colour variation during the mix. This is why it is important to use a stopwatch. Mixing should take no more than 5 minutes once the resin has been added. 
Once the sand has been added, make sure it has been distributed evenly throughout the mix.
When ready, empty the full mix into your lined wheelbarrow.
Switch the mixer off and ensure all of the mix is scraped out of the bottom of the mixer. Take special care to remove all mix from the blades and mixer opening at the bottom.
Clean your Forced Action Mixer after every mix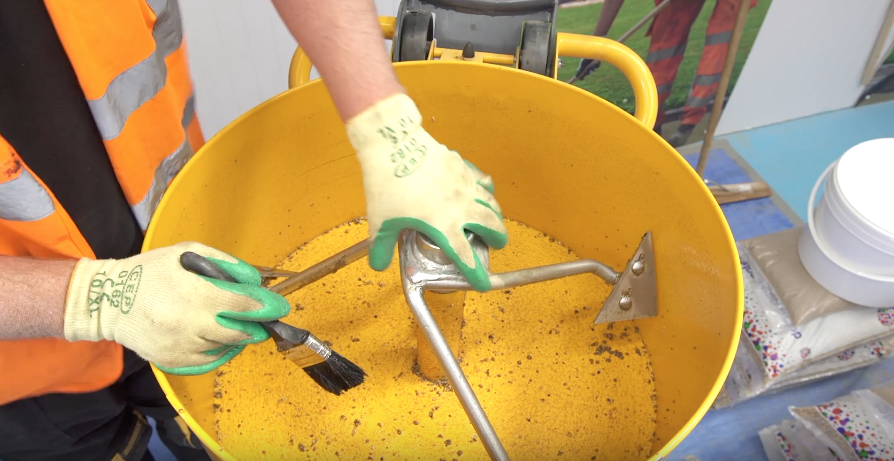 To ensure your forced action mixer stays in pristine working order for longer, it must be thoroughly cleaned out after every mix. This avoids the build-up of resin; cured resin can be very difficult to remove, while non-cured resin is easy to clean off.
Thorough cleaning also helps to avoid contamination and clumping. Any residue from previous mixes could end up in a new mix, causing problems for the troweller.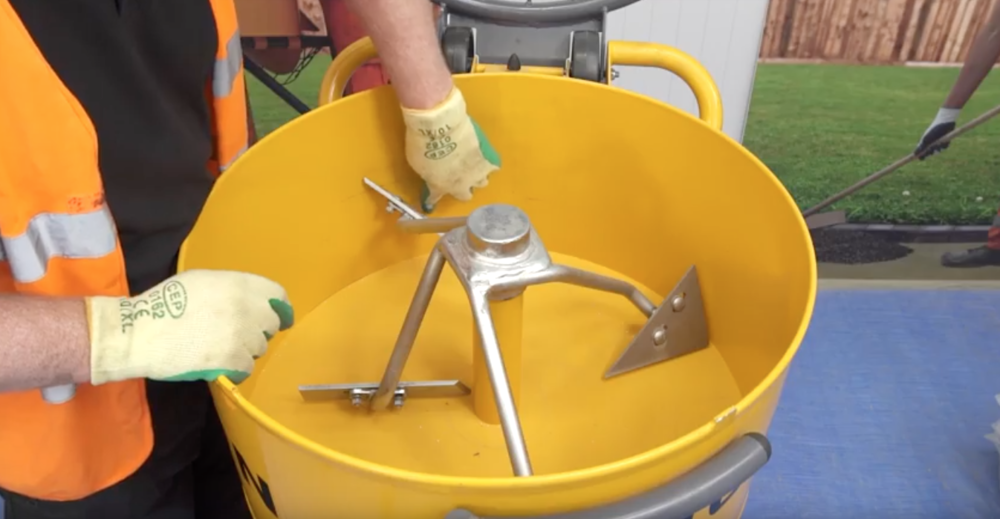 The forced action mixer should also be wiped thoroughly with white spirit to remove all remaining residue.
We also recommend checking the blades for any deterioration, ideally after every mix. The blades of your mixer should last a long time but wear and tear can naturally occur after long time usage. 
After each use, apply WD40 to the inside of the mixer; this will prevent resin from sticking to the inside of the mixer each time it is used.
Important points to remember
Do not use damp aggregates in your mix
Ensure your timing is consistent for every mix – use a stop watch to make sure it is accurate
Ensure the correct blend of aggregates is used for each mix
Keep the product in the shade
Keep a close eye on the temperature while mixing
We are always happy to help
If you have any queries at all relating to forced action mixers and how to use them to ensure great results in your resin bound projects every time, please feel free to contact us and we will be more than happy to help.
For more information about Resin Bound Aggregates, be sure to visit our Knowledge Centre, which features comprehensive guides and free training videos
Back to Latest News