Free DALTEX Online Resin Bound Installation Training
As the fastest growing surfacing solution of the last 5 years, Resin Bound is a major sales opportunity well worth considering.
Homeowners across the UK are increasingly asking contractors, landscapers, builders and architects for Resin Bound driveways, paths and patios. The commercial sector has also seen growing demand for Resin Bound projects of all types including car parks, shopping centres, concourses, schools, parks, hospitals and more. 
As more and more contractors and landscapers consider Resin Bound a must have service and an integral feature of landscaping, it is important that standards for Resin Bound installation are maintained.
As the manufacturer of DALTEX, the no.1 brand in Resin Bound, Derbyshire Specialist Aggregates is committed to promoting the highest standards of Resin Bound installation and ensuring DALTEX products are used correctly according to manufacturer and BBA guidelines.
Pre-Covid, we offered a one day resin bound training course from our head office in Derbyshire but the pandemic has temporarily suspended any on-site training. However requests for advice, guidance and training on resin bound continue.
In response to this demand, we have launched "An Introduction to Resin Bound", a comprehensive online Resin Bound training course, to ensure you have all the information you need to start installing beautiful resin driveways to BBA approved standards and can add Resin Bound to your list of services.
To support the industry in these challenging times, we have taken the decision to waive all online training fees and the DALTEX online resin bound training course is free.
All the information you need to start installing Resin Bound driveways, paths and patios
This comprehensive DALTEX online Resin Bound training course provides clear step-by-step instructions on how to lay a resin bound driveway to BBA standards. It includes over 50 lectures and 'how to' videos outlining the key responsibilities of each team member, the mix design, the equipment, resin bound bases, how to avoid common resin bound installation problems, the supplies needed to install resin bound driveways and much more.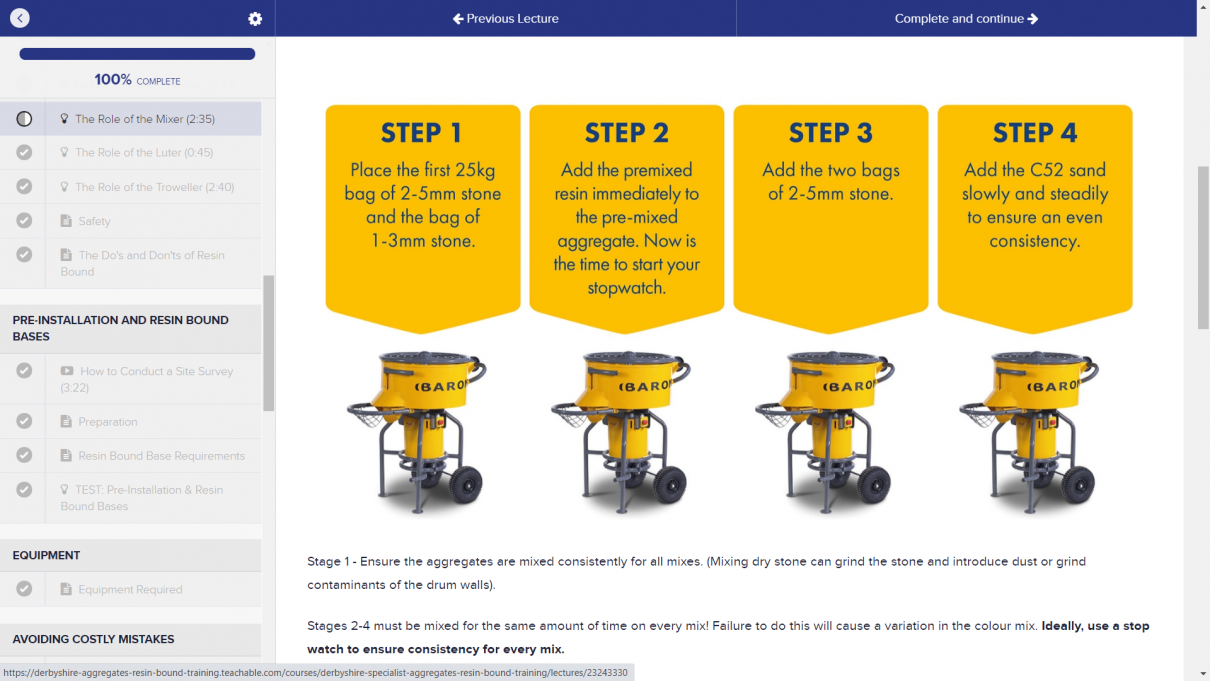 Online Resin Bound training topics include:
What is a resin bound driveway?

How to install a resin bound driveway

The Difference Between Resin Bound and Resin Bonded

The Benefits of Resin Bound vs Other Surfaces

Where Can Resin Bound Be Used?

SUDS and SUDS Compliance

How to Choose Resin and Resin Bound Aggregates

The DALTEX UVR System

Why You Should Use a BBA System and Install to BBA Standards

Choose High Quality Resin

Choosing Resin Bound Gravel and how to use them

Resin Bound Colour Range and Trends

Recommended Mix Specification

Use of Catalyst/Accelerator

How to Mix Dried Aggregates and Resin

The Role of the Mixer

The Role of the Troweller

The Role of the Luter

The Do's and Don'ts of Resin Bound

How to Conduct a Site Survey

Resin Bound Base Requirements

Equipment

Avoiding Costly Mistakes
Upon completing the online resin bound training successfully, a Certificate is provided by email, and you have the opportunity to receive a free dried aggregate sample box worth £20 plus a DALTEX Bespoke brochure featuring 48 stunning DALTEX Bespoke blends.
I had 2 people complete the course, and thought it was really good and well presented. Very comprehensive, and actually quite enjoyable! - Darren
I just completed the online training... it was brilliant! Super informative, easy to follow and great use of interactive assessments. - Alex
Really informative, does exactly what it says on the tin. As long as you read through everything you come away with everything you need to know. - James
Click here to read more about all the topics covered in the 'An Introduction To Resin Bound' online course.
No prior experience is needed to complete the Resin Bound training
If you are new to the industry and are looking to offer Resin Bound surfacing to your customers for the first time, this online course is ideal for you.
How long does the online Resin Bound training course take to complete?
Instead of searching for Resin Bound training courses near you, this online resin bound training course has been designed to be easy to follow and can be completed at your own speed, in your own time from home. This means the resin bound training does not need to be completed in one sitting and your progress will be saved. 
On average, the course will take around 8 hours to complete, and lectures can be revisited unlimited times so you will always have access to the information to refer back to.
Practical Resin Bound training is available
Rather like a driving test, our online Resin Bound training course is divided into two parts.
This free online Resin Bound training course covers the theory and essential information required to start installing Resin Bound driveways to BBA approved standards.  However, hands-on practical experience is also available.
Derbyshire Specialist Aggregates offer Part 2 - a practical, hands-on follow-up to the online theory where you can learn more about mixing and trowelling techniques and try them out. This optional follow-up half-day Resin Bound training includes a site visit to the home of DALTEX at our purpose-built training facility in Derbyshire and costs £49.00 per person (excluding VAT).
PLEASE NOTE: Practical training is currently on hold due to COVID, however if you are interested, please contact us today and we will be in touch as soon as dates become available.
Why choose Resin Bound training from Derbyshire Specialist Aggregates
Derbyshire Specialist Aggregates is the manufacturer of DALTEX, the UK's number one brand for Resin Bound. High quality DALTEX Dried Aggregates and UVR Resin are used by thousands of contractors, landscapers, builders and architects across the UK.
The information in the course follows manufacturer guidelines and is to BBA approved standards.
With over 35 years of experience, our in-house team of experts is always happy to answer any questions you may have about the resin bound training course or any future resin bound installation.
Register for the free online course today in less than 2 minutes
Back to Latest News