How Much Does a Resin Bound Driveway Cost?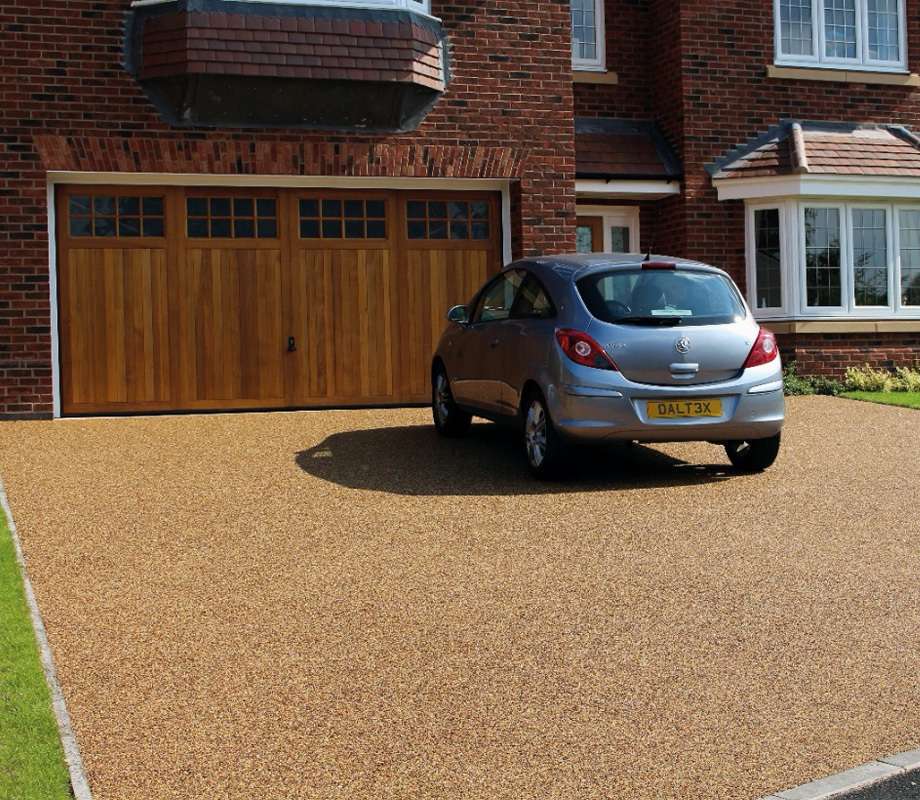 A Resin Bound driveway is an attractive and highly practical way to transform your home and add instant kerb appeal. Resin Bound offers a premium look that can be both traditional or contemporary and it complements properties of all ages and styles.
Resin Bound driveways are beautiful to look at, require little maintenance and are easy to clean.
They are also permeable, which means unsightly puddles are a thing of the past and, equally importantly, Resin Bound is SUDS compliant which means planning permission is not required as long as a suitable base or a soakaway is used.
It is this unique range of benefits that make Resin Bound the fastest growing surface solution in the UK.
How much does a resin driveway cost?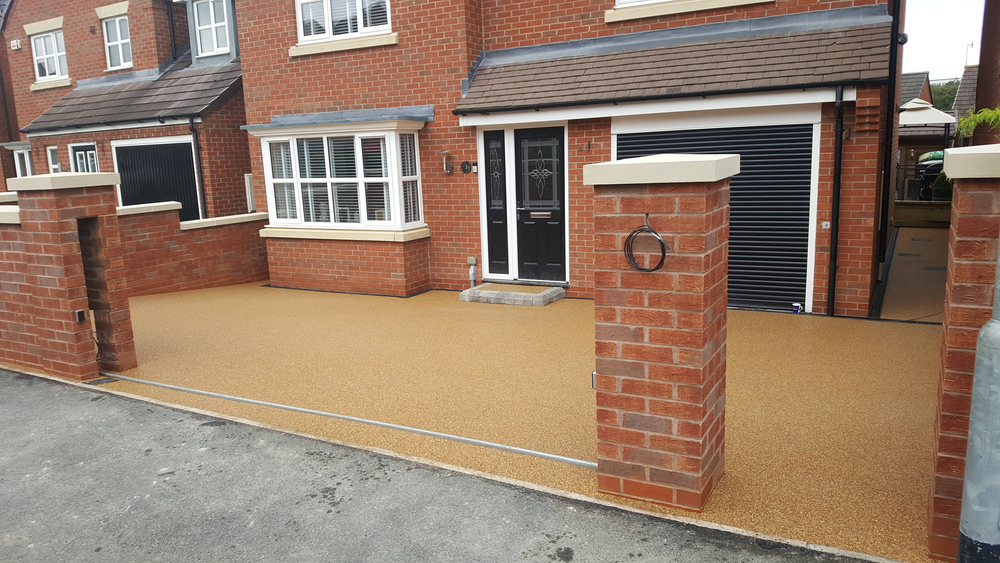 As with any property development project, the cost of a Resin Bound driveway is dependent upon a number of factors and will vary according to the size and shape of the area, the dried aggregates and type of resin used, and the condition of the base prior to installation.
The resin used as part of the installation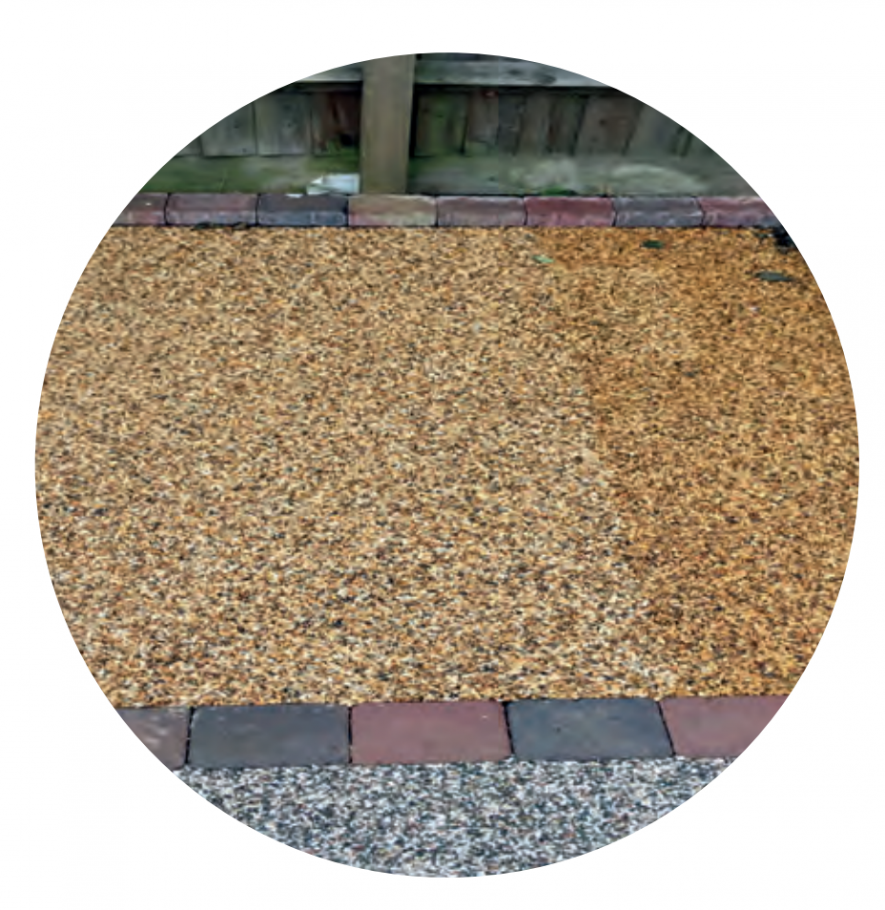 The resin used in the Resin Bound system is one of the most important contributory elements to a successful, reliable and beautiful Resin Bound driveway.
We strongly recommend that only UV resistant resins are used for external Resin Bound surfaces.
Non-UV resistant resin may be cheaper than UVR Resin, but the results achieved in comparison are very different. Non-UV resin darkens when exposed to sunlight and this results in uneven shading; for example, the area where a car is parked, or beneath a wheelie bin or plant pot will darken and stand out from areas that are continually exposed to sunlight - and this can often happen in as little as two weeks.
If you have fallen in love with the uniform, even finish of Resin Bound, we strongly recommend that UVR resin is used.
Your choice of Resin Bound gravel
Derbyshire Specialist Aggregates is the UK manufacturer of DALTEX dried aggregates - the UK's no 1 brand in Resin Bound and offers the widest range of colours in the UK.
The DALTEX Bespoke range is a stunning range of 48 dried gravel colours made up of different aggregate sizes and textures and colours span the spectrum.
The size of your Resin Bound installation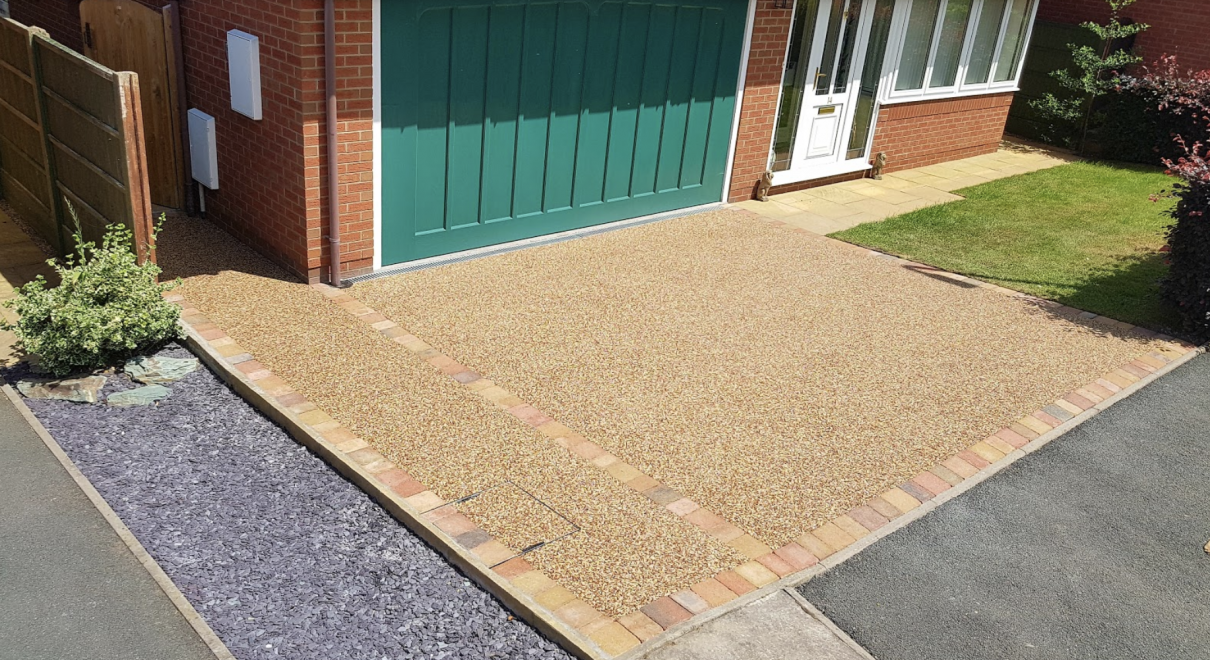 The time it takes to complete your driveway will vary according to its size and the amount of preparation required. A team of at least 3 is normally required and, on average, around 70-150m2 is covered per day.
The shape of your Resin Bound installation
The shape of your Resin Bound driveway may impact the overall cost. Simpler shapes, such as a straight edged rectangle, will generally be easier to install and will therefore take less time.
Conversely, more intricate shapes will naturally take more time to install and will result in a higher cost from your installer as they take more time to complete.
The design of your Resin Bound installation
The versatility and precision of Resin Bound means beautifully intricate designs, featuring multiple colours that can be used as part of the overall design.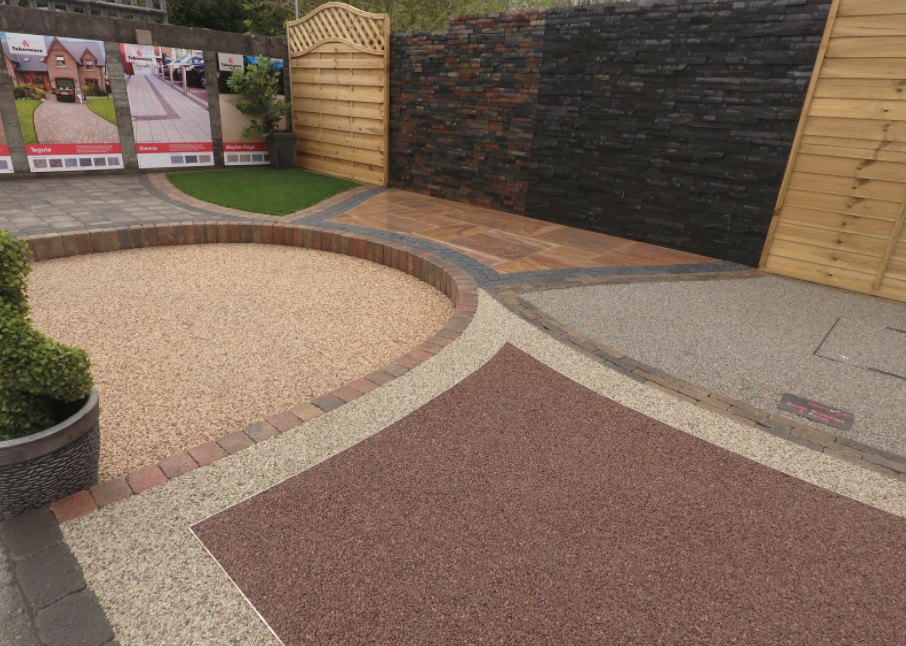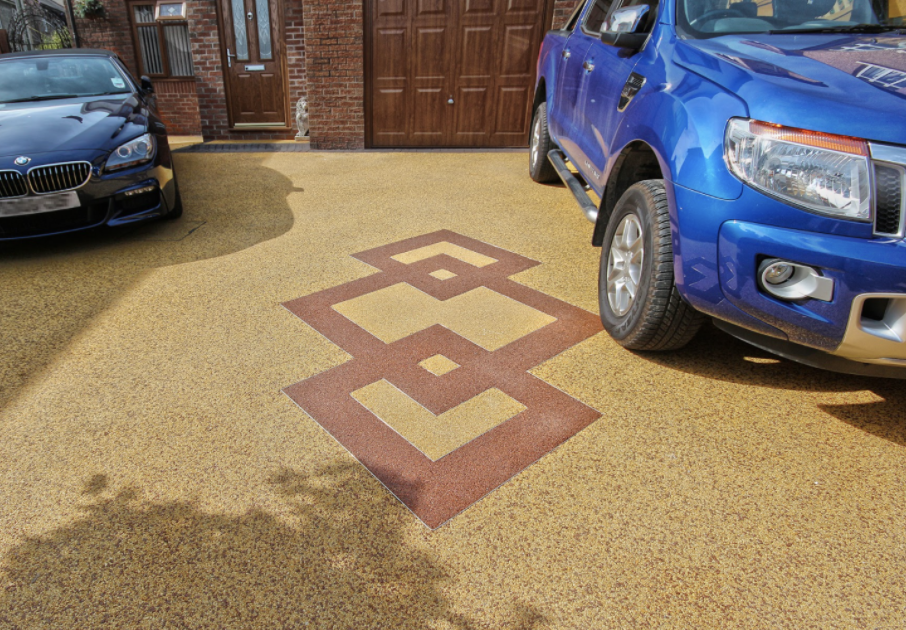 The more complex the design, the more time you can expect it to take to complete. The results, however, are well worth it! Whether you want multiple gravel colours, geometric shapes, logos, symbols or lettering, the choice is yours.
Resin Bound paving gives you the freedom to personalise your driveway, patio, path or surface in a way that is simply not possible with loose gravel or other types of paving.
The weather
Rain and resin do not mix well. If you are having your Resin Bound driveway installed during a rainier season, or if rain is forecast on the proposed installation date, it is very important that you do not pressurise your installer to carry out the work in conditions that could damage the final product. A slight delay is better than a spoiled surface which could prove very costly.
The condition of your driveway base
The importance of the condition of the base cannot be overemphasised. A damaged or uneven base will require repairs, levelling and cleaning prior to Resin Bound being laid. Your Resin Bound installer will recommend and cost any remedial work which may be required.
Resin Bound driveway depth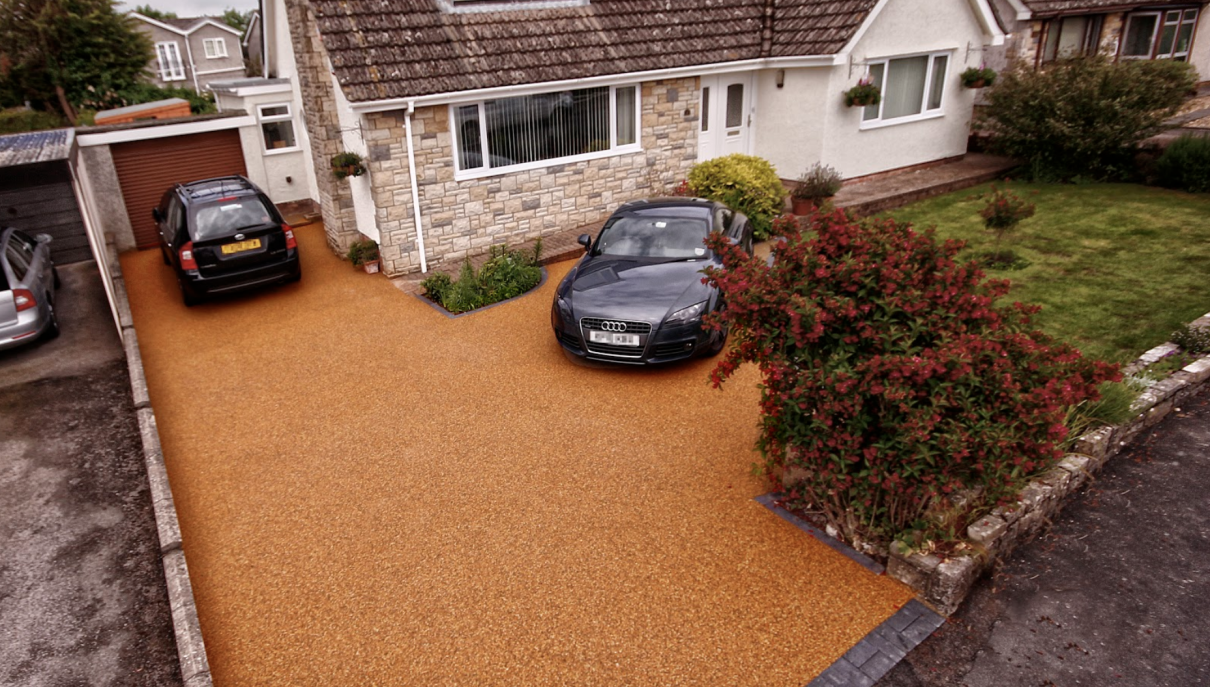 If you are comparing quotes, it is important to compare the depth of Resin Bound surface recommended. A minimum depth of 18mm should be used for surfaces, like driveways, that will be used for vehicles and other heavy loads, whereas 15mm may be used for surfaces which don't need to withstand as much weight (such as porches and footpaths).
The BBA (British Board of Agrément) recommends a minimum depth of 18mm for all Resin Bound surfaces; BBA certification is a symbol of quality and reassurance. It's a mark of quality, safety and reliability, indicating the product's fitness-for-purpose.
Resin driveway edging requirements
Edging is another important component of a Resin Bound driveway, pathway or patio and will add to the beauty of the finish. There are a variety of options available, including setts and beading, and each will vary in cost.
Be sure to discuss edging options for your project with your Resin Bound installer; they will be able to outline associated costs.
How much does a Resin Bound driveway cost per m²
Labour costs will vary by installer and region but, as a general guideline, a Resin Bound overlay will cost approximately £50-£80 per m2 (excluding any base preparation). This is just a guideline, and the real cost could be higher or lower according to the factors mentioned above.
Find a Resin Bound driveway installer you can trust
The DALTEX UVR Resin Bound System is trusted by thousands of architects, specifiers, landscapers and driveway contractors throughout the UK. This system is accredited by the BBA, meaning it has met high standards for strength and stability, durability, surface characteristics and successfully dealing with rainwater.
If you need help finding a DALTEX Resin Bound installer near to you, simply fill in the form below or call on 01629 636500. We're also happy to help with any questions you have about Resin Bound! For more information on Resin Bound driveways, visit Daltex.co.uk.

Back to Latest News