NEW! DALTEX Bespoke Blends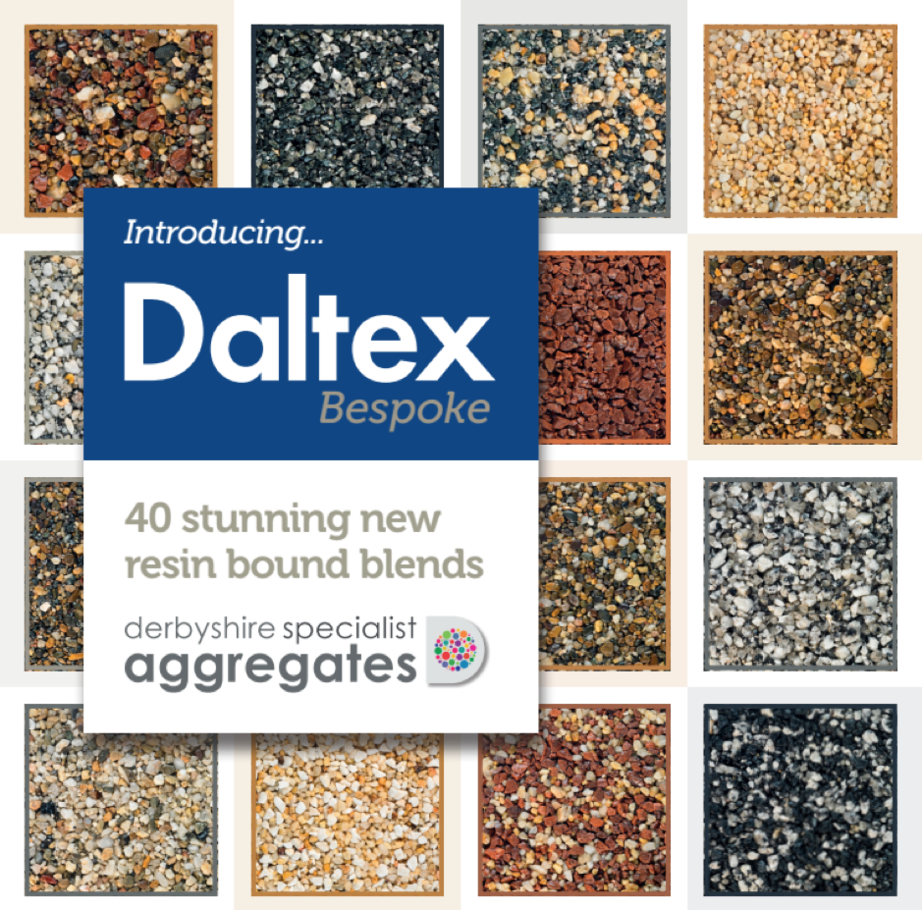 Derbyshire Specialist Aggregates is proud to introduce our brand new DALTEX Bespoke range of dried aggregate blends. This exciting new range of colours combines various dried aggregate varieties to create 40 stunning blends.
Each blend is uniquely made up of different sizes, colours and textures, spanning the entire spectrum. Whether your customers are after rich reds, stylish greys, golden browns or striking blacks, there is a DALTEX Bespoke Blend for every type of property – commercial or residential! 
Why choose DALTEX Bespoke Blends? 
More variety than ever
With our DALTEX Bespoke Blends, the biggest range of dried aggregate colours is now even bigger. The new range offers more choice and variety than ever before, which will be very popular with your customers. 
Formulated by experts
Each of our 40 colour blends has been carefully formulated to produce the most visually stunning textures and colour blends possible, across all colour palettes and styles.
True flexibility of design
With DALTEX Bespoke Blends, there is a colour blend to suit every property and every design style – your customers will love it! Our new blends can be used to create different designs (such as logos, shapes and letters) and create stunning contrasts with multiple colours.
100% stock availability
As with all dried aggregates manufactured by Derbyshire Specialist Aggregates can guarantee 100% stock availability on all DALTEX Bespoke Blends listed on our website.
Take customisation even further
If your customer is looking for a particular colour or size blend that isn't currently in the DALTEX Bespoke range, get in touch with us, and we can match any mix. 
Some of our most popular DALTEX Bespoke Blends 
There are 40 stunning DALTEX Bespoke Blends to choose from on our website, but here are just a few of our favourites. View the full range today. Each of these is ideal for driveways, paths and patios, but can be applied to any resin bound system, both indoors and outdoors!
---
Impress your customers with our new display case!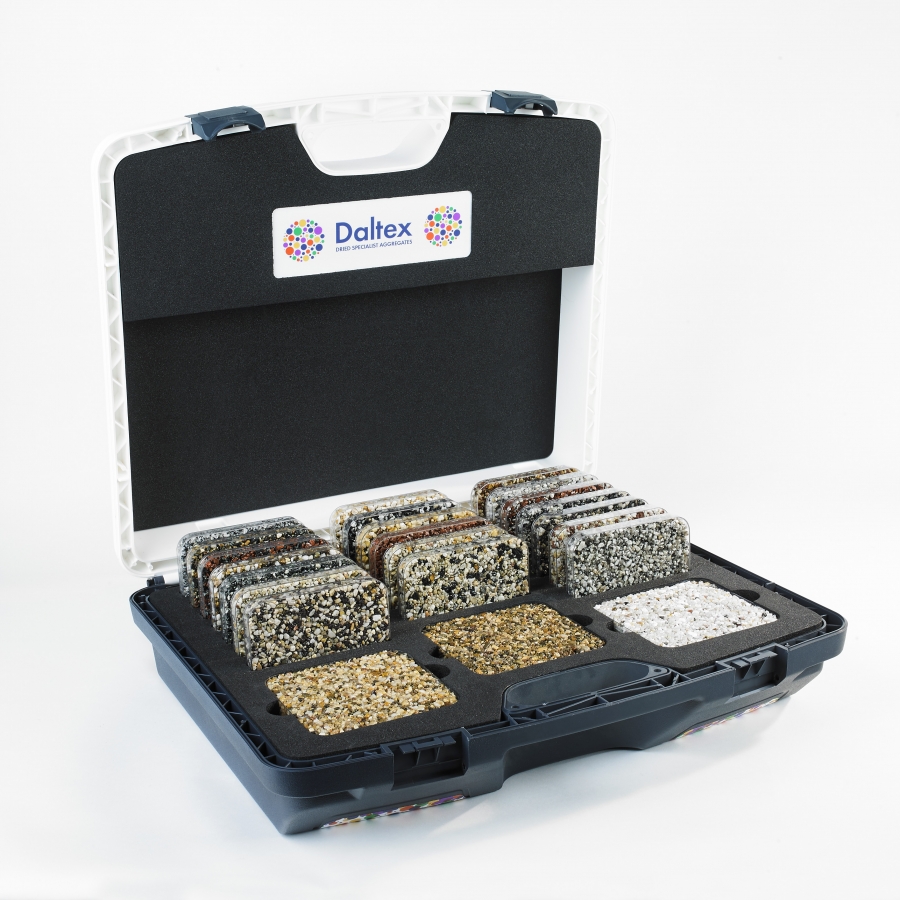 DALTEX Resin Bound Aggregates look great in pictures, but it is in real life that their real beauty becomes clear.
To help you bring the quality of DALTEX Bespoke Blends to your customers, you can now impress with a stunning new display case. The display samples are great for showcasing the exceptional quality of DALTEX dried aggregates up close.
This convenient display case features 23 DALTEX Bespoke Blends, which you can place directly along brickwork or edging to give a true impression of the end product. All 40 DALTEX Bespoke Blends are available as samples, and the display case comes with 10 customised DALTEX bespoke brochures to help the customer make their final decision.
Back to Latest News