Resin Bound Gravel Colours Guide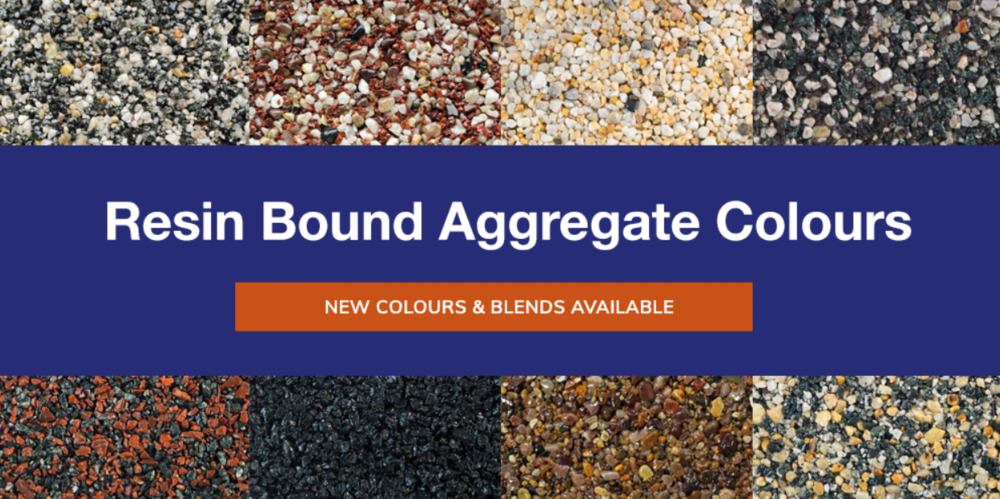 Resin Bound Colours
What makes a resin bound surface so beautiful?
It is almost impossible to walk past a resin bound driveway, pathway or patio without noticing the stunning natural aggregate colours laid in a smooth, uniform finish. Resin bound certainly delivers instant kerb appeal!
It is also incredibly versatile and colours can be used in any combination to create individual, bespoke designs including geometric patterns, logos, numbers and lettering.
Thanks to the wide range of DALTEX dried aggregates available, the design possibilities are limitless. The Daltex Bespoke Resin Bound colour collection features 48 stunning gravel blends.
Each blend is made up of different aggregates, sizes and textures. From soft yellows and deep golds, to contemporary silvers and greys, from monochrome whites, black and greens to russet browns and attractive pinks, there is a resin bound aggregate colour (or two or three!) for every project.
This guide features the incredible range of resin bound colours available and shows how they look when installed for driveways, pathways and patios! 
Gold & Yellow for a Resin Driveway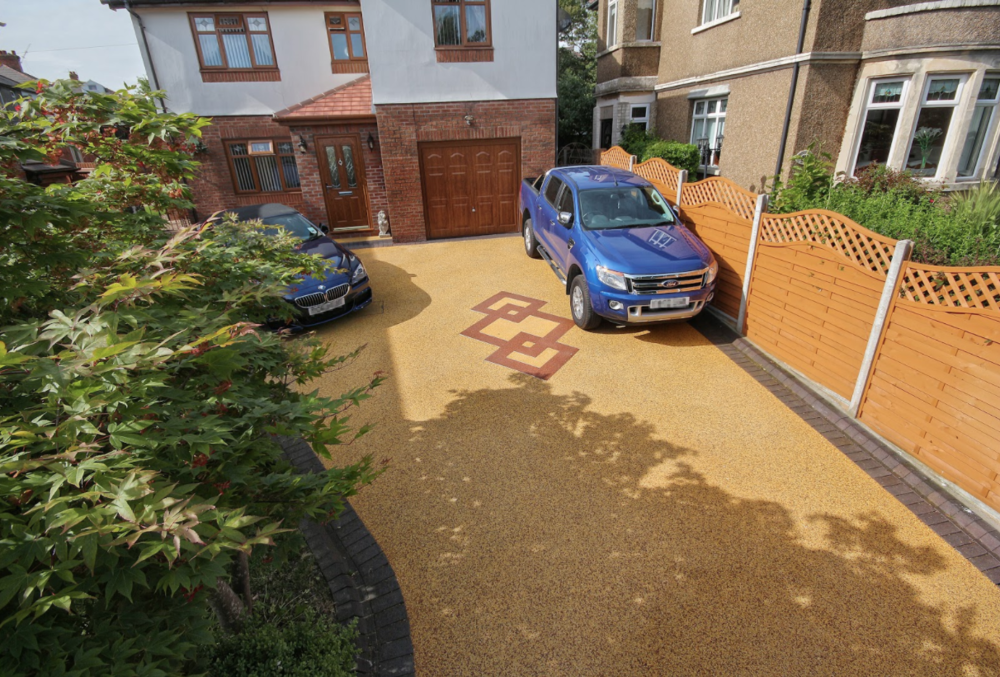 Beautiful golden and yellow driveways leading up to a welcoming front door are one of the most iconic images in resin bound design. 
Ideal for almost all styles and ages of the property, gold and yellow resin bound aggregates are available as single colours or combined with complementary reds, greens, creams and browns to create a stunning range of beautiful and distinctive resin bound DALTEX Bespoke colours.
Gold resin bound aggregates are beautiful as a standalone colour for driveways but are equally stunning as attractive paths or garden patios.
From richly textured and warm autumnal tones, to brighter shades featuring flecks of gentle beige, there is a whole spectrum of gold and yellow available in the DALTEX Bespoke Blends range.
To choose the ideal colour, we recommend you place a resin bound sample against the brickwork or exterior of your home and look at it throughout the day. That way you will really appreciate the variety of textures and colours unique to each blend and ensure you choose exactly the correct resin bound colour to enhance the beauty of your home.
Bold, Rich, Beautiful Red for instant kerb appeal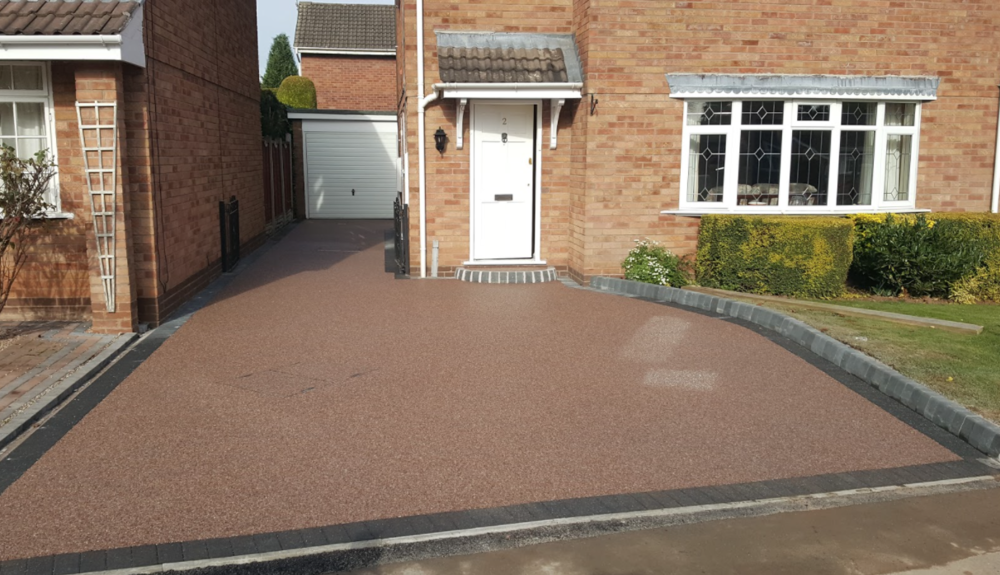 Red is incredibly versatile and can be used in a resin bound driveway, path or patio to create anything from a bold, contemporary, sophisticated look to the exact opposite - a warm, traditional design which is full of character.
Deep, rich red used as a single colour (such as DALTEX Bespoke Merlot) is ideal for creating clean, classic lines with real impact but blends featuring contrasting colours such as specks of silver, black or green are available which produce amazing results. 
For a striking effect, red can also be combined with other colours to create bespoke shapes and anything is possible including geometric shapes, house numbers, sports logos or even family initials or crests!
A touch of luxury with Silver or Grey for Resin surfacing
Grey and silver have become one of the most popular colour trends for the home in the 21st century and the popularity of this colour for resin bound driveways, patios and footpaths have also grown incredibly. 
The Daltex Bespoke resin bound collection includes an extensive range of silver and grey resin bound colours -  these cool and stylish greys and silvers are very versatile and can be used for spectacular contrast against traditional brickwork, darker and lighter stone or rendering.
You can choose from a wide variety of shades and textures - and silvers and greys are often combined with darker black borders although any contrasting aggregate colour can be used to create a stunning boundary line.
For a Premium Resin Bound Look, choose Cream or Beige...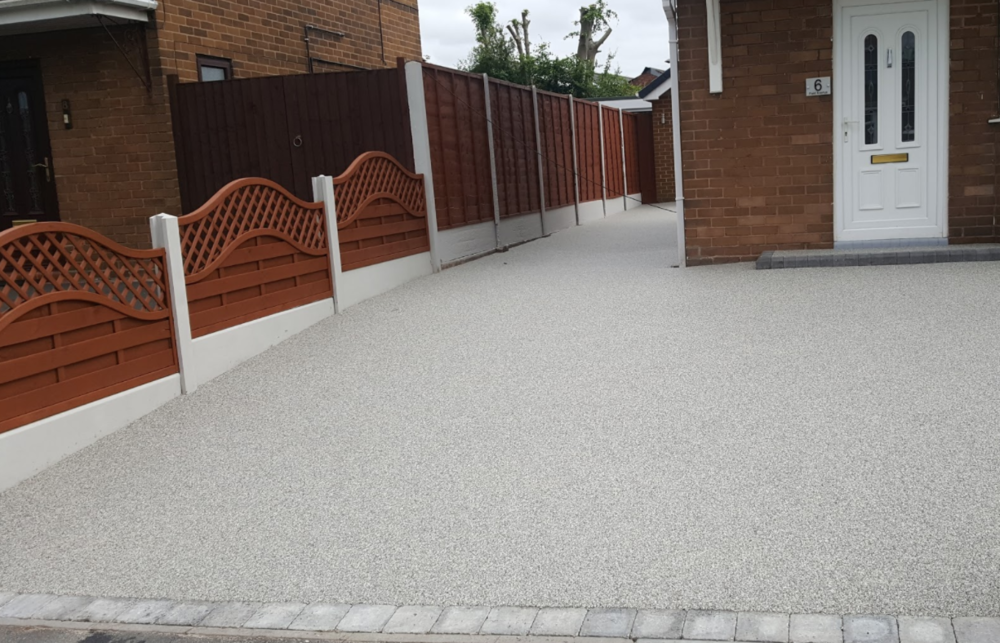 White, cream and beige resin bound aggregates offer a clean, bright and contemporary, finish and are available in a wide range of tones. Whether you want pure, glowing white, a hint of ivory, or a more intricate finish of contrasting stones, the DALTEX  Bespoke range is the perfect place to start looking.
When choosing your colour, don't forget about practicality - just as white walls within a house require more upkeep, so a lighter-coloured resin-bound driveway will require a little more regular cleaning to ensure it retains its beauty and impact.
Charming pink - A real showstopper for Resin Driveways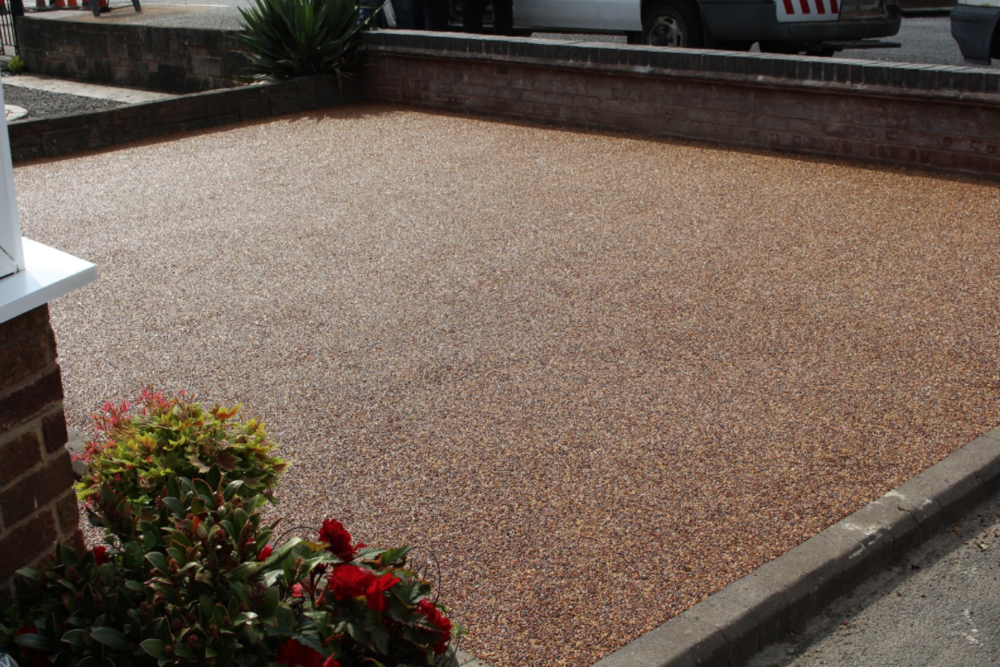 The character and charm of Pink are difficult to beat - it's quiet and understated, but it's a real showstopper that is guaranteed to get the neighbours talking.
Pink complements any style and size of the project and is available in a number of different shades and textures. It may be more subtle than some other colours but its beauty is undeniable -   no wonder it has been one of the most popular choices for many years.
Make a statement with a Black Resin Bound surface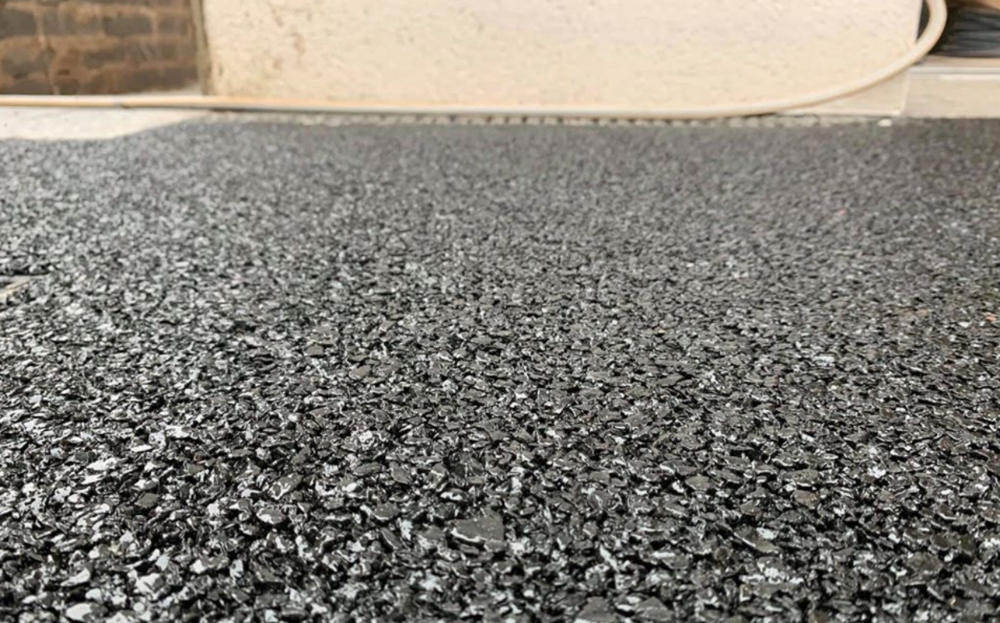 A black resin bound driveway makes a real statement. Whatever design you have in mind – black is an excellent choice if you're looking for a modern, contemporary design.  But if you like Black but want a little more than a  monochrome finish, then a number of blends are available that use black as the base colour and feature jewels of colour within it such as silver or grey or white.
Black resin bound aggregates are most often used as an accent colour to complement and contrast with other colours - they provide a perfect frame against other strong, plain colours and are particularly effective against creams, whites and silvers.
Choose a DALTEX colour and Find an Installer Today! 
The DALTEX Bespoke range of dried aggregates for Resin Bound driveways, pathways and patios are used throughout the UK by thousands of installers, contractors, architects, landscapers and specifiers! 
Over 2 Million square metres of DALTEX is laid every year and it comes with a 15-year Product Guarantee. 
As the manufacturer of DALTEX it has never been easier to help you find a Resin Bound installer! Simply: 
Fill in the form below. 


Provide a description of where your proposed Resin Bound installation will go! 


Our expert team will be in touch with you regarding the next steps to find a Resin Bound installer in your area!
Alternatively, you can call us directly on 01629 636 500. We're happy to help with all questions regarding Resin Bound surfacing! 
Get In Touch
To find a local DALTEX Resin Bound installer or ask us any question, fill in your details below.
Back to Latest News