Resin Bound Gravel Inspiration
Resin bound gravel is the fastest growing external surfacing solution in the UK, and it's easy to see why. No other external surfacing offers the same range of benefits. We also believe no alternative looks better or has more design versatility.
In this resin bound gravel inspiration guide, we will demonstrate some stunning examples of beautiful and creative resin bound aggregate installations. We will also tell you, as a contractor, which DALTEX dried aggregates you can use to deliver similar results for your customers.
This inspiration guide is not intended as a technical guide. For detailed instructions and information on how to install a resin bound surface to the highest standards, please consult our detailed Training Notes.
The only choice for resin bound gravel
Derbyshire Specialist Aggregates is the only manufacturer of DALTEX dried aggregates, which means we have the largest range of resin bound aggregates in the UK. This means, whatever colour, tone or texture you are looking for, you can find it with 100% stock availability.
Make sure you check out our DALTEX Bespoke Blends too, where you will find unique and stunning aggregates in contrasting and complementary colours.
Thanks to the enormous range of colours, textures and blends available, you can choose colours to match, complement or contrast with brickwork, borders, roofing, fixtures and more. 
The DALTEX UVR Resin Bound System, which includes DALTEX dried aggregates, has been awarded certification by the BBA (the British Board of Agrément) – the highest industry standard available for the resin bound industry.
Clean, neat and contemporary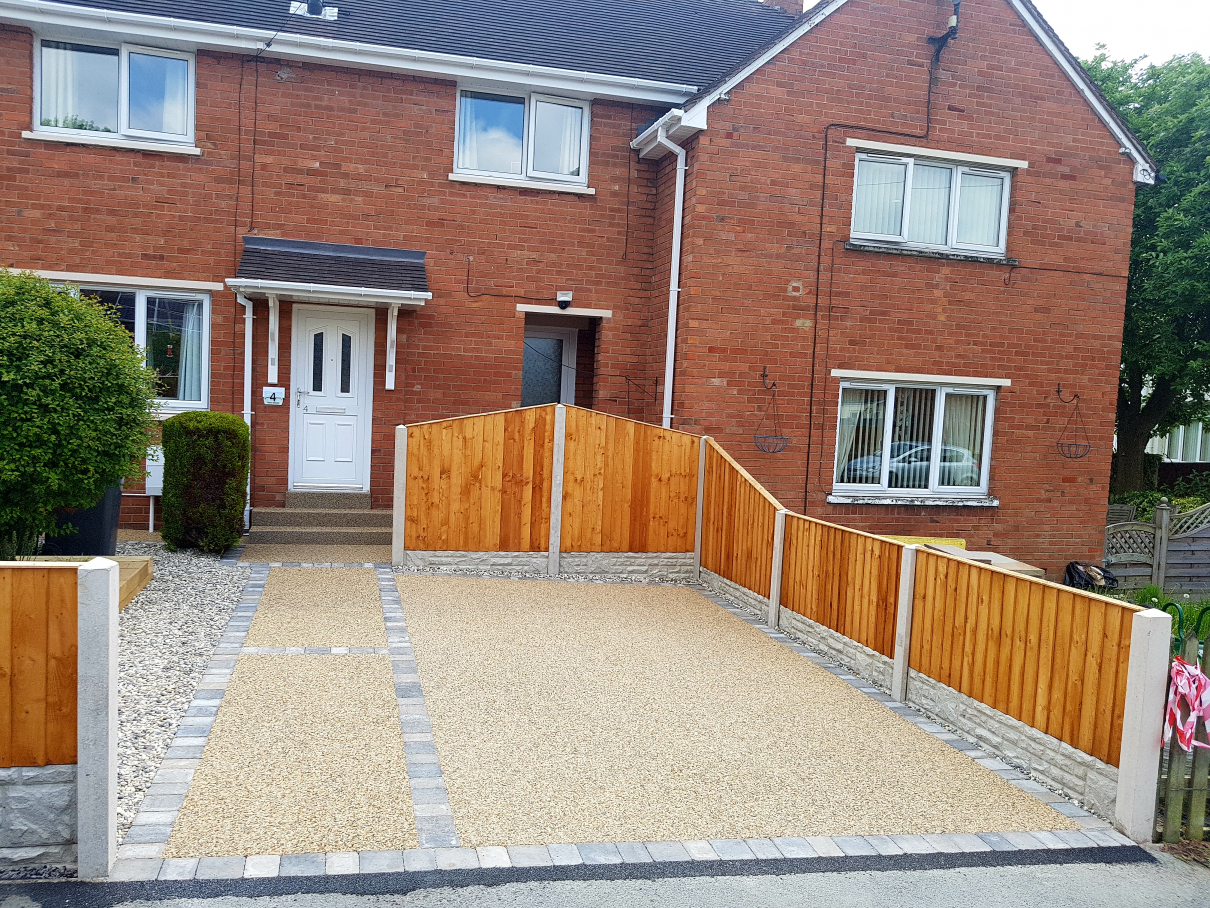 This driveway has been expertly installed to deliver an impeccably clean, bright and neat finish, with sections created to separate the driveway and footpath leading to the front door.
The simple and uniform blue-grey block border encases the resin bound aggregate surface and helps create a remarkably tidy installation. It also offers a pleasant visual contrast, without drawing focus away from the central resin bound gravel surface.
To create a resin bound surface like this, try one of our stunning DALTEX Bespoke Blends featuring golden/yellow tones, such as:
     

White Gold

for a bright and welcoming blend

     

Dune

for a deeper yellow tone

     

Springtime

for a beautifully natural finish
If you would prefer a single uniform colour, why not try:
This installer has also utilised loose grey decorative aggregates along the inside edge of the installation for a low maintenance, attractive feature.
Angular patterns and rich colours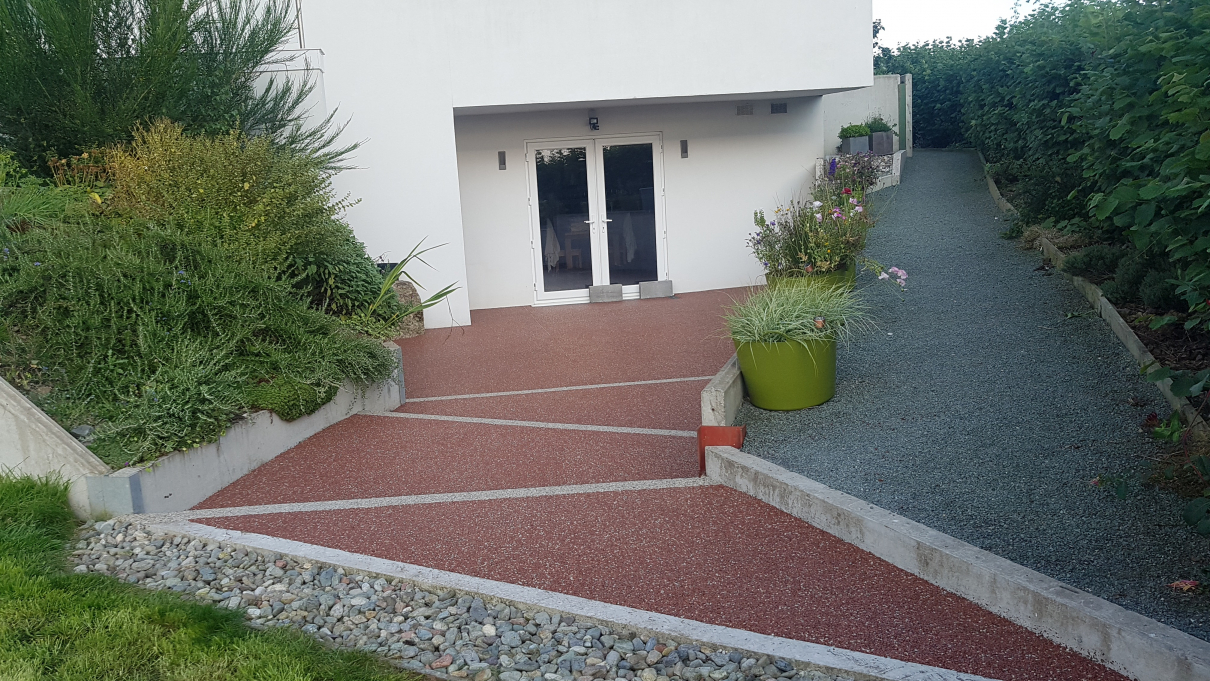 This modern and dynamic resin bound installation incorporates rich colours and angled contrasting separators. This installer has also utilised the colour contrast between the red resin bound aggregates and deep green loose aggregates for the elevated area beside it.
This installer has chosen to make use of the unorthodox surface shape and has incorporated the angles into their design. The space between the resin bound surface and surrounding grass has been filled with large, decorative stones to prevent a potential tripping hazard.
To create a similar resin bound installation to this, we supply a gorgeous range of rich, red dried aggregates, including rich DALTEX Red, slightly lighter DALTEX Staffs Pink and a more subtle DALTEX Salmon Pink.
You can enhance your red aggregate finish further with one of our DALTEX Bespoke blends, such as red and white Santorini or Athena, lavish Merlot, or the striking red and dark green contrast of Sorrento.
Creative Garden Paths & Patios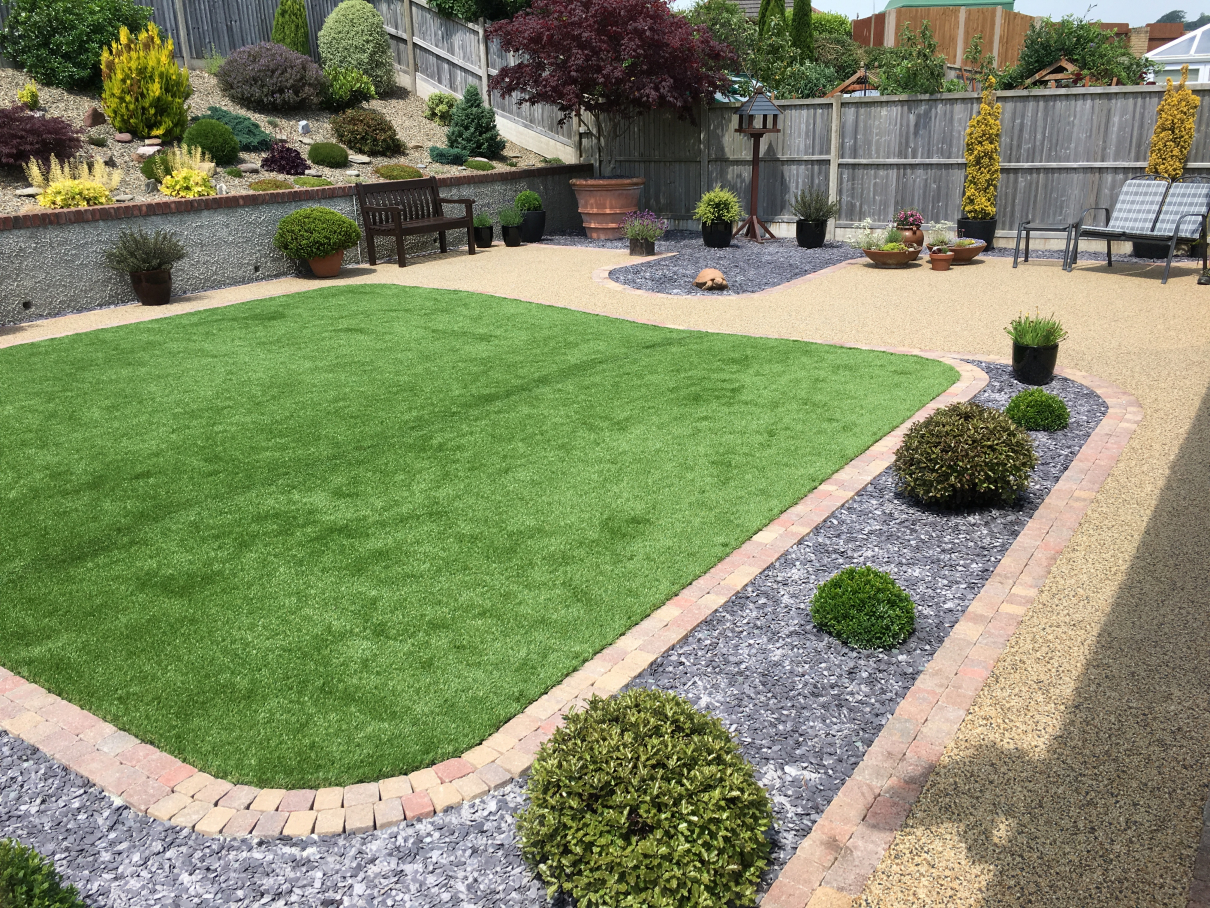 Resin bound residential installations can also extend to the garden, where you can install a beautiful, hard-wearing and smooth pathway or patio that delivers both practically and aesthetically.
This contractor has made use of the versatility of resin bound to create beautiful rounded edges combined with a classic red brick border edging and a slate chipping section for plants.
For a similarly bright and summery finish for your resin bound path or patio, try one of our DALTEX Bespoke blended aggregates such as Cappuccino, Aurora or Riviera.
Natural driveways for rural properties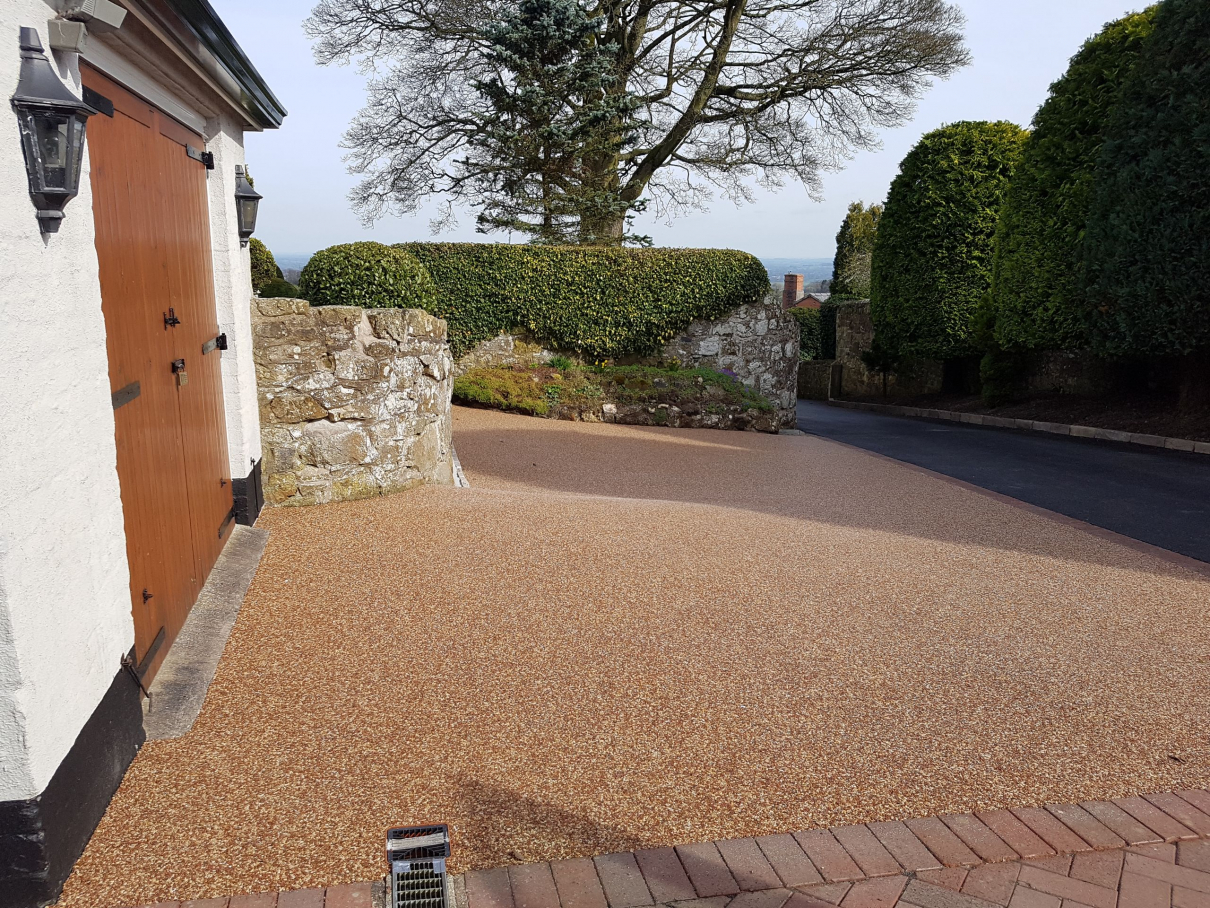 Sometimes simple is best, and this is a stunning example of a simple and beautiful resin bound gravel driveway that works perfectly with its surrounding scenery and architecture.
This installer has given this property a low maintenance, hard-wearing surface that delivers practical and modern benefits. This is all achieved whilst maintaining the property owner's preferred rural aesthetic. The classic red brick edging ensures that the resin bound gravel is neatly encased.
For a similarly rustic resin bound aggregate surface, you could try a variety of aggregate colours, including the exclusive DALTEX Staffs Pink, Chinese Bauxite or DALTEX Golden Pea. Alternatively, you could try one of our special DALTEX aggregate blends such as Cappuccino or Springtime.
Resin bound gravel with decorative borders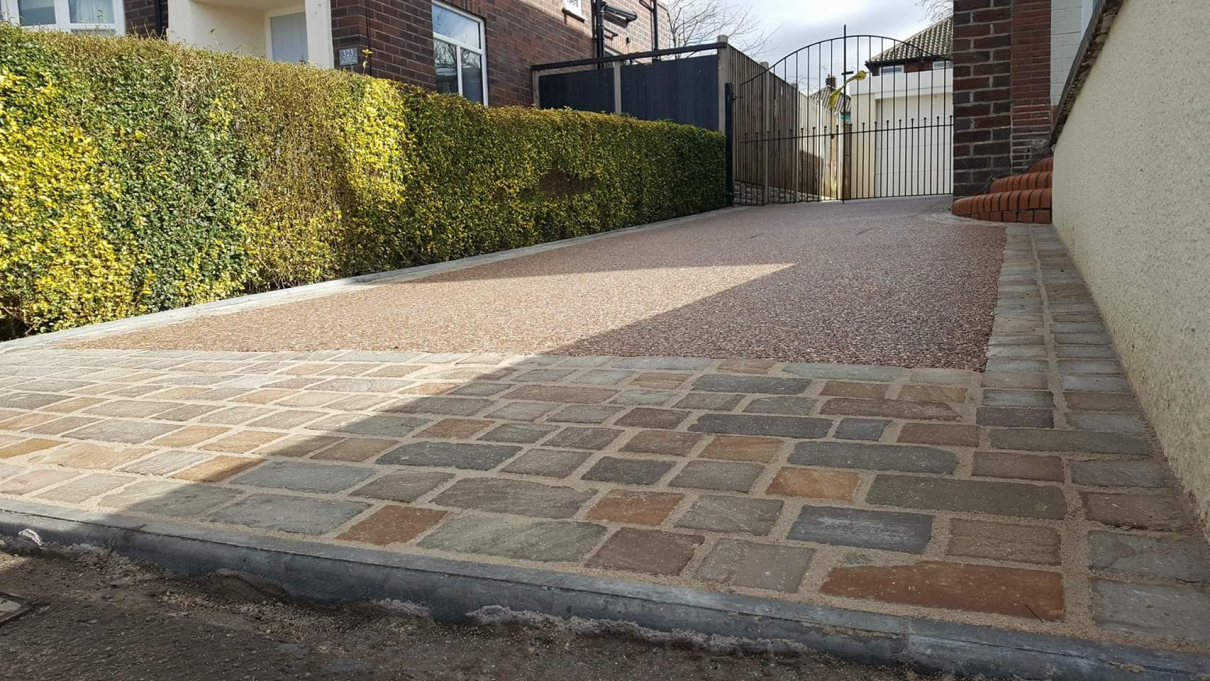 This installer has created a clean and simple resin bound aggregate surface as a centerpiece for this driveway. This has enhanced its presentation with a creative, multicoloured brick edging.
The use of a variety of brick colours crates a natural and rustic border, while the delightful texture of the resin bound aggregates ensures this driveway is as beautifully natural in appearance as it is practical.
This resin bound gravel texture can be achieved with one of our DALTEX Bespoke Blends, such as Athena, Carnival or Sunset.
Dazzling design features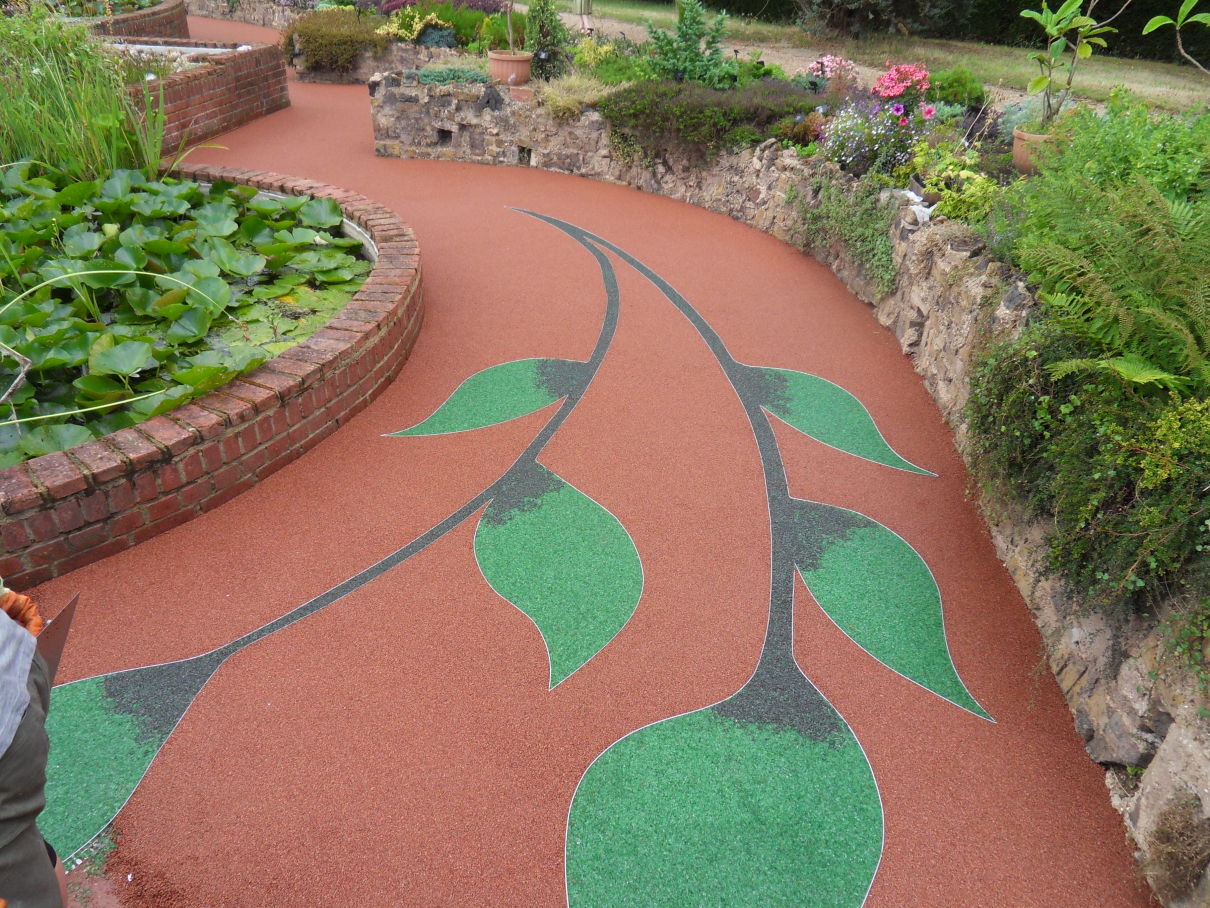 A resin bound system gives you a blank canvas to create truly spectacular and intricate designs that simply cannot be achieved with any other gravel-based surfacing system. One of our favourites is this 'branch and leaves' design on a backdrop of deep red resin bound aggregates.
The primary colour here can be achieved with one of our red dried aggregates like DALTEX Red or DALTEX Salmon Pink. Alternatively, you can opt for one of our DALTEX Bespoke Blends such as Athena or Merlot.
To create the detail lines for the pattern such as this, you can use aluminum resin bound edging profiles to lay the resin bound aggregates in clean lines with no gaps.
The pattern area can be filled with an assortment of dried aggregates, as well as coloured quartz. This particular design can be created with a combination of green coloured quartz blend and trans quartz black.
Resin Bound - Transforming Chessington Zoo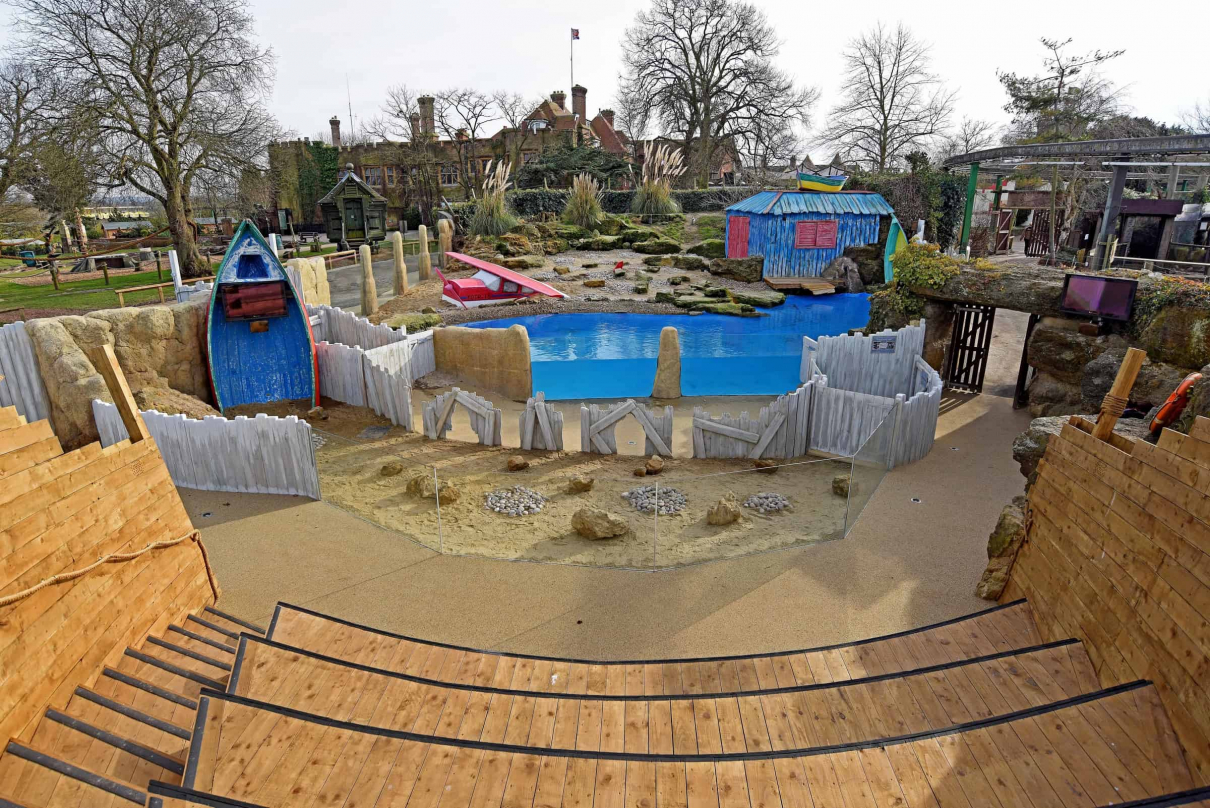 This stunning installation, carried out by DCM Surfaces, demonstrates the full versatility and practicality of resin bound. Naturally, for a penguin enclosure, permeability is crucial to absorb any splashes and prevent the buildup of surface water. 
Likewise, the hard-wearing durability of resin bound makes it perfect for areas such as this with high volumes of daily pedestrian traffic. The slip resistance of resin bound also improves safety for visitors.
Last, and certainly not least, the beautifully natural aggregate offers an authentic sandy colour that is ideal for the desert island aesthetic chosen for the enclosure. 
For a similar finish, try one of our stunning DALTEX Bespoke blends, such as Harvest Gold, Dune or NEW Golden Pearl. 
Stylish urban installations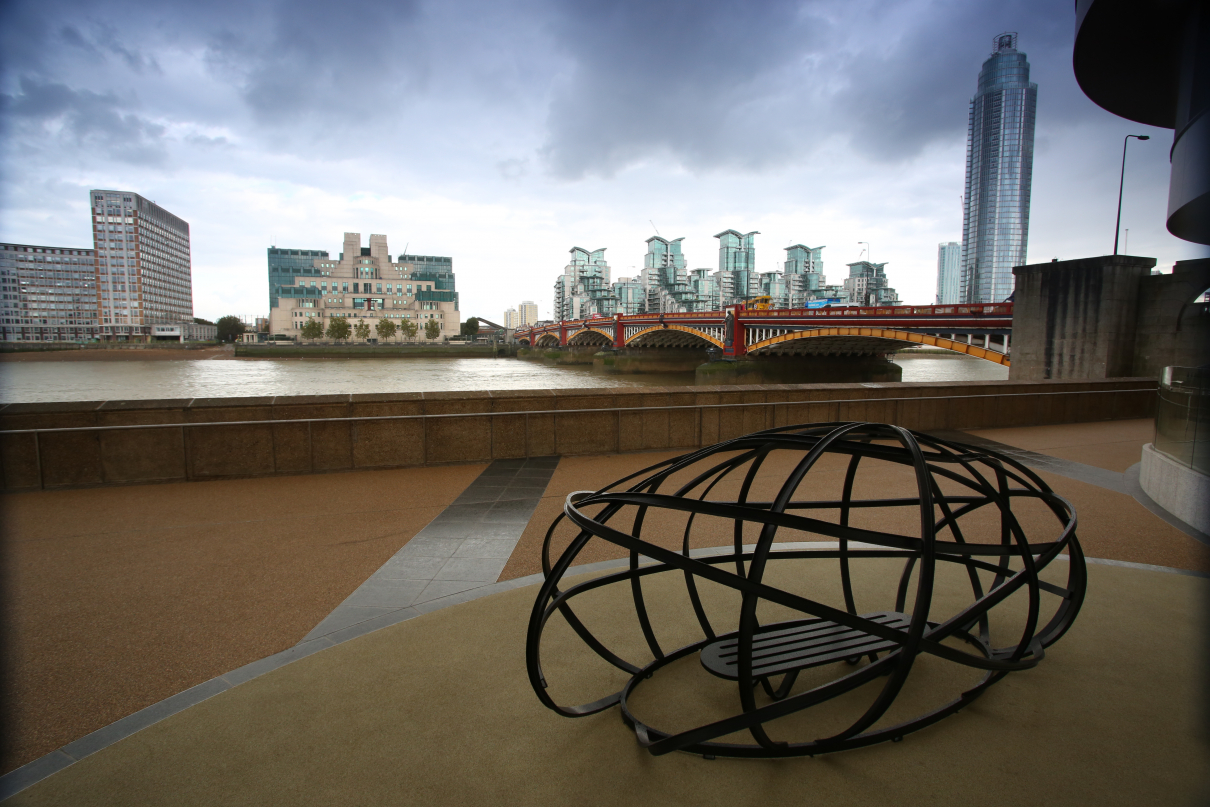 Resin bound gravel systems are not just for driveways and other residential installations. The surface is also popular for commercial, council and other public areas. Being so easy to clean and maintain makes it an excellent long-term investment. It is also incredibly durable and can easily withstand lots of pedestrian traffic.
The permeability of the resin bound surface also makes it ideal for locations where there may be a high puddle or flood risk.
This exceptional riverside installation by DCM Surfaces features natural, golden dried aggregates separated by solid stone sections. You can create a similar installation to this with one of our many golden coloured DALTEX dried aggregates, such as Golden Quartz, Brittany Bronze, Devon Yellow or Dorset Gold.
Lay resin bound to the highest standards
Derbyshire Specialist Aggregates is committed to promoting the very highest standards of resin bound installation. We currently run two resin bound training courses designed to help contractors learn and master the resin bound methodology.
NEW TO RESIN BOUND COURSE - £75 pp (ex VAT)
Full day Resin Bound Training
Includes a FREE Hygrometer & Thermometer
Free DALTEX Sample Case worth £20
For more information or to book, please contact us today.
The New to Resin Bound training course is a one-day training course run by experienced independent contractors, from a purpose-built center in Derbyshire. The training is practical and hands on and covers everything required to ensure installations meet BBA Accredited criteria – the highest industry standard.
DALTEX UVR SYSTEM QUALIFIED INSTALLER - £75 pp (ex vat)
Half day training course
Site Audit
Includes a Free Hygrometer & Thermometer
Free DALTEX Sample Case worth £20
For more information or to book, please contact us today.
By becoming a DALTEX UVR System Qualified Installer, you can give customers peace of mind, letting them know you use the highest quality materials - exactly as instructed by the manufacturer and BBA accredited guidelines. This training course is for experienced contractors who want to give their customers assurance that their work, equipment, installation and materials are of the very highest standards.
Back to Latest News