What You Need To Know About Resin Bound - The Features & Benefits
A quiet revolution has been taking place on driveways across the UK for the last 5 years. 
From traditional Victorian terraces to luxury new builds, the driveways, paths and patios of thousands of homes have been transformed with resin bound surfacing.
Likewise, carparks, office complexes and other public buildings all across the UK are being modernised with this incredibly versatile surface.
A resin bound driveway adds instant kerb appeal and is well known for stopping neighbours in their tracks. The beauty of resin bound is matched only by its practicality. It offers a unique range of benefits including permeability, low maintenance and slip resistance.
If you are considering a resin bound surface for your property, here is everything you need to know about the fastest growing driveway solution in the UK.
1. 

Resin Bound is permeable
A resin bound surface is porous and permeable. This means a resin bound driveway, when installed on an appropriate porous base, allows surface water to drain through to the ground beneath rather than collecting on the surface. This prevents annoying and unsightly puddles and pools of water from appearing after rainfall.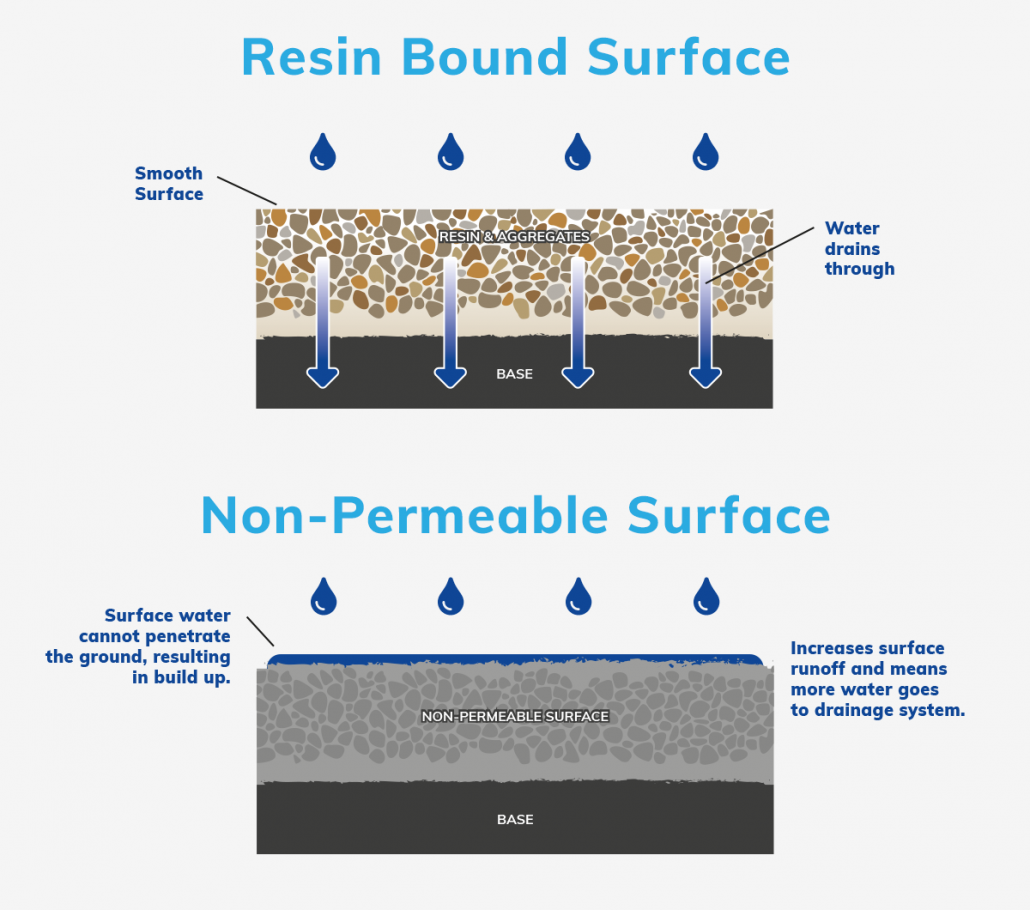 DID YOU KNOW?
A properly installed resin bound surface can handle up to 850 litres of water per m2 per minute. (It's never going to rain that hard!)
2. 

Resin Bound is SUDS compliant and doesn't need planning permission
WHAT ARE SUDS?
Due to climate change and increased risk of flooding, the government has introduced legislation to help manage water drainage better. SUDS are Sustainable Urban Drainage Systems and any new driveway requires planning permission unless it is SUDS compliant.
Resin bound driveways are SUDS compliant and will not require planning permission, (as long as the sub-base is permeable or a suitable soakaway exists).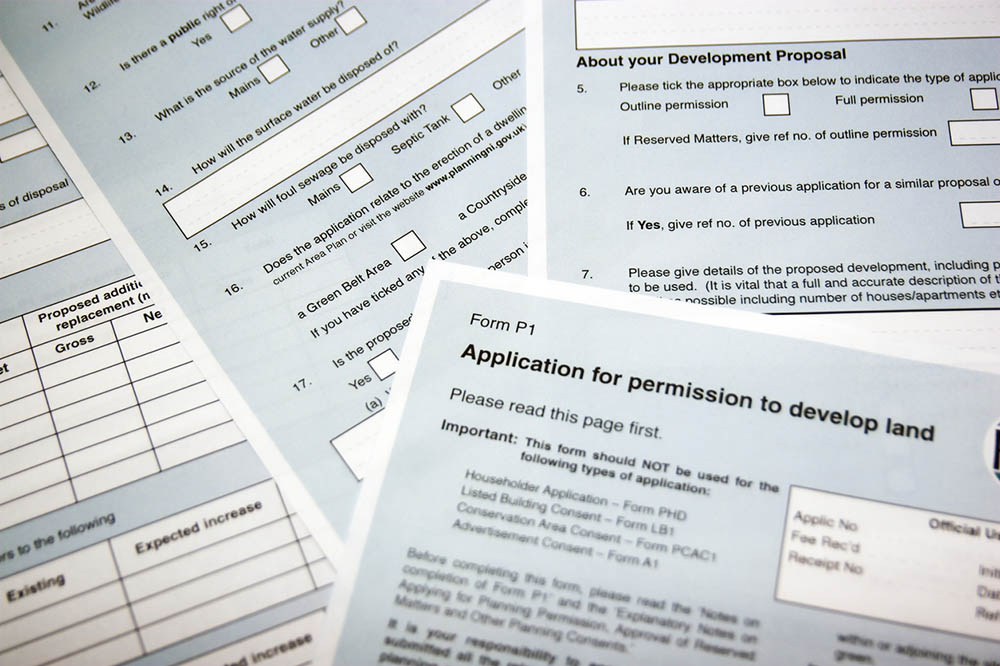 What does this mean for you?
Choose a resin bound driveway and you can avoid the frustration and delays associated with gaining planning permission.
No delay: Planning permission can take up to 8 weeks. With resin bound you can begin your project immediately and there is no need to wait.

Less  Expense: Applying for planning permission comes with a fee.

Less Uncertainty:

With resin bound, you stay in control and remove the uncertainty of even being granted planning permission or having to adapt and change your plans.
A reputable resin bound contractor will advise on the work that is required to ensure your resin bound driveway is SUDS compliant.
3. 

Resin Bound can transform properties in many ways
One of the biggest reasons for the increasing popularity of resin bound is its versatility. It can be used in both traditional and contemporary design schemes and as well as driveways, there are many other ways it can be used to transform a landscape scheme.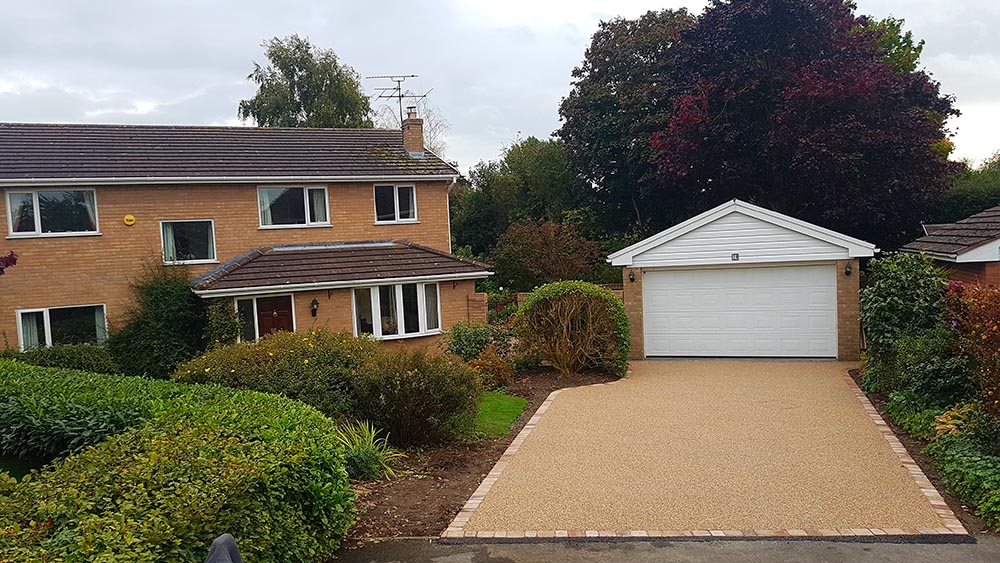 Domestic Resin Bound applications
Driveways

Garden paths

Patios

External foyers/porches

Garden features

Garden steps

Bespoke Logos

House numbers

Geometric patterns and shapes
Commercial & Public Resin Bound applications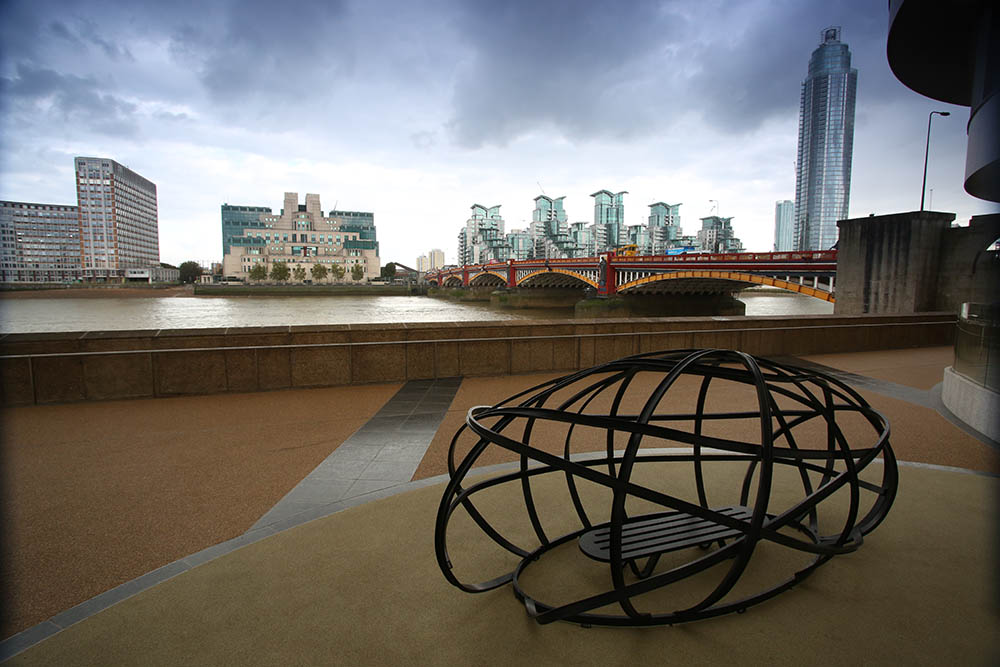 Car parks

Public walkways

Forecourts

Parks & recreational facilities

Tree pits

Cycle paths

Public steps

Pedestrian zones

Parks and Gardens 

Concourses 

Race courses and sports stadia 

Picnic areas 

Towpaths 

Schools, Medical Centres and Hospitals 

Terraces 

Bridges 

Shopping centres
4. 

Resin Bound driveways are low maintenance & easy to clean
If your dream driveway is one that looks beautiful but requires little effort to maintain, a Resin Bound driveway is ideal. It requires  little ongoing maintenance compared with other driveway types and the smooth and uniform finish makes regular cleaning easy.
What you need to clean a resin bound driveway
Hard bristle broom

Jet wash
The majority of resin bound driveway cleaning can be taken care of with a quick sweep using a hard bristle broom to remove leaves and a regular jet wash to keep your resin bound driveway looking beautiful.
Resin Bound driveways are weed resistant and a lot easier to maintain than other surfacing solutions such as block paving. Due to the surface, any weeds that appear cannot lay deep roots and a simple jetwash will disturb and remove them. No more long nightmare hours spent on your hands and knees trying to dig up or kill weeds which means more time to enjoy your beautiful, pristine resin bound driveway!
5. 

Resin Bound has endless colour choices
There is an ideal resin bound colour for every building type, style or age, and each will bring a unique 'wow' factor with it. Whether you are a traditionalist with an eye for  classic design or a creative who wants to make a bold contemporary statement -  or anywhere in-between - the choice of colours with resin bound mean you can achieve exactly the look you want.
There is no limit to the colours or combinations of colours you can choose for your resin bound surface. Derbyshire Specialist Aggregates offers the widest range of dried aggregates in the UK with a vast array of shapes, textures and sizes.  Colours span the spectrum and the incredibly popular DALTEX Bespoke collection includes a beautiful range of colours including greys, silvers,  golds, yellows, creams, reds, black, white and much much more.
6. Resin bound is versatile
Resin bound is amazingly versatile and it can be laid in intricate patterns and shapes to create a truly unique and bespoke design that reflects your personality.
Perhaps you're wanting clean lines with contrasting colours or patterns for your driveway, or you want to show your house number or perhaps you are a business owner and want your company logo to feature on the forecourt surface.
Whatever design aspirations you have for your driveway or outdoor surface, resin bound will bring your ideas to life.
7. 

Resin Bound is an anti-slip surface
We know how important it is to have an anti-slip surface, especially for pedestrian areas where the young or more elderly may walk. Resin bound driveways are installed with added crushed glass to increase all-important slip resistance.
8. 

Resin Bound can be laid on slopes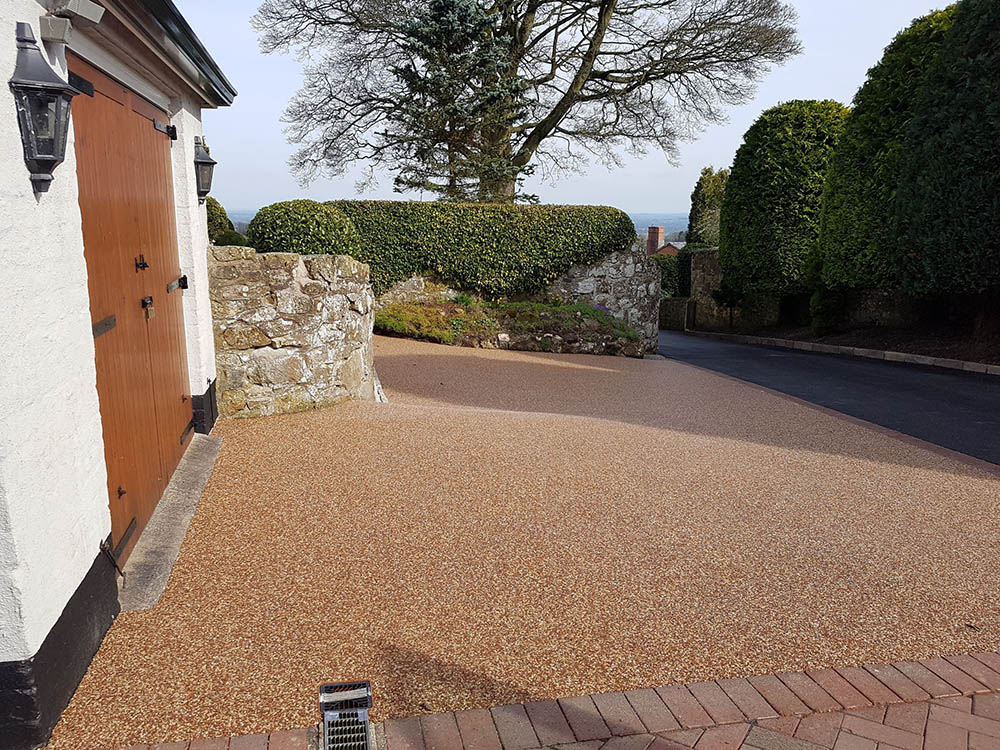 Is your property on a hill? No problem! 
You do not need to have a completely flat surface with resin bound which makes it ideal for domestic applications like driveways, paths and patios, as well as public or commercial surfaces, like car parks and walkways.
What this means for you
Thanks to its permeability,  a sloped resin bound driveway can guide rainwater into drains or suitable soakaway areas. 

A DALTEX UVR Resin Bound system is installed with crushed glass for added slip resistance.

Resin bound also has no lipped edges or unlevel surfaces which can sometimes create additional tripping hazards on sloped surfaces.
9. 

Resin bound can be laid on steps
If you have external steps and want your eye-catching resin bound surface to extend right up to your front door, your steps can be resin bound too. 
This is a great way to achieve consistency in design and really turn heads.
Ready to get started with Resin Bound?
No other external surface solution offers beauty and practicality to this degree. When you consider all the advantages resin bound offers, it is no surprise that resin bound is the fastest growing surfacing solution in the UK and the choice of so many happy homeowners.
DALTEX - The No.1 Brand in Resin Bound
Derbyshire Specialist Aggregates is the home of DALTEX - the no 1 brand in resin bound. With over 30 years experience, we are committed to helping contractors, installers and homeowners understand more about resin bound.
DALTEX dried aggregates are sourced from across Europe and worldwide and meticulously dried and screened to produce a high quality product, which when combined with high quality DALTEX UVR stable resin, delivers a beautifully consistent resin bound finish.
Back to Latest News