DALTEX Resin Product Quality Guarantee
Derbyshire Specialist Aggregates – the manufacturer of DALTEX dried aggregates - has over 30 years' experience in the aggregates industry. We are committed to promoting the very highest standards of resin bound installation and are happy to offer a 15 year DALTEX Peace of Mind Guarantee for the DALTEX UVR System.
As the No.1 brand and the name to trust in resin bound, we are happy to offer to our customers a 15-year Peace of Mind Guarantee for the DALTEX UVR System.
DALTEX- the No 1 Brand in Resin Bound
The DALTEX UVR Resin Bound System is produced to the highest quality standards and has been researched and independently tested in laboratory and real-life applications to ensure strength, workability and performance. 
Our DALTEX UVR Resin is a solvent-free aliphatic polyurethane resin, specifically formulated for resin bound.
We guarantee that DALTEX UVR resin is made from the highest quality raw materials and manufactured in the UK.
The resin that is contained in our DALTEX system has been independently assessed and meets the requirements of a 1.1:1 ratio of Part A and Part B.
Peace of Mind for you...
We guarantee that the colour of the polyurethane resin will not change once installed and are happy to provide a 15-year guarantee with the DALTEX UVR resin bound system. (Product only, installation excluded). The resin bound surface must be installed in accordance with manufacturer quality standards and our system specification. In the unlikely event that a resin bound surface begins to experience failure, we will provide our customers with support and agree to rectify the issue should our product be responsible*.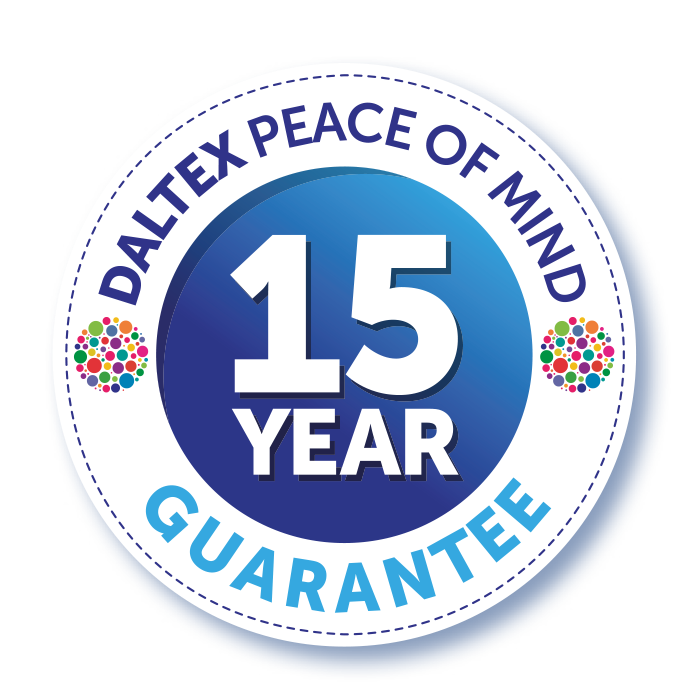 *Terms and conditions apply.
Terms and Conditions
1. This guarantee is to certify that we can offer the full level of certification for zero degradation of the colour of our UV Resin 7kg and 7.5kg only. 2. UV Resin 7kg and 7.5kg must be installed in accordance with quality standards and our system specification. 3. Colour damage or staining caused by dirt, debris, chemicals, solvents, fuel or anything external to UV Resin 7kg and 7.5kg, is not covered. 4. This guarantee covers only the polyurethane UV stable resin and does not cover mineralogical variation in the aggregates (Including, Iron staining/rust spotting), which may change the cosmetic appearance of resin bound. 5. Our guarantee does not cover surface changes due to natural weathering. 6. Aftercare maintenance of the resin bound surface should be followed thoroughly. This guarantee does not cover damage or discolouring due to lack of aftercare maintenance of the resin bound surface. 7. This guarantee does not cover the workmanship and the installation of a resin bound system. 8. The Guarantee shall be void if Utility Companies or any other party has disrupted or repaired the resin bound surface or base. 9. The Guarantee shall not apply to any defects arising from or attributable to: The incorrect application by the Specialist Contractor of the Products. 10. Poor or negligent housekeeping and maintenance. 11. Ageing and any purely aesthetical changes including but not limited to colour change, change in gloss, scratching, staining, loss of traction, marking or discolouration. 12. Excessive moisture, vapour pressure or other contaminants including but not limited to failure of any in situ membrane. 13. Alkaline reactions with the substrate; 14. Any maintenance, repairs or penetration made to the Products or the surface on which they are applied during application or subsequent to installation without the prior knowledge and prior written approval of the Supplier. 15.Natural or man-made events including, but not limited to severe storms, gales, hail, flood, lightning, tornados, earthquakes, earth-tremors, fires, wilful damage, vandalism and or malicious mischief. 16. Any latent defect in the structure or surface on which the Products are installed or applied including without limitation structural movement, settlement, softening, shrinkage, cracking, deflection and/or due to changes in use of the structure or surface where such change in use may have an effect on the Products. 17. Loss of adhesion due to substrate failure or improperly prepared or contaminated substrates. 18. Placement, erection and or construction of any installation on, against or through the Products after the application of the Products was completed. 19. Abnormal use and wear and tear, especially in areas of intensified use such as pinch points and turning points. 20. Exposure to any process or cleaning chemical 21. Abuse of the Products including any physical or chemical attack or damage, impact damage, damage caused by third parties or foreign objects, plant or animal life, civil disturbance, act of war, terrorism or sabotage. 22. Using the Product outside the published performance criteria or due to improper application or mixing. 23. Failure to protect the Product from exposure to traffic, chemicals (including water) or adverse weather conditions until full cure of the Product has been achieved as specified in the relevant Data Sheets(s). 24. Changes of use of the structure or abnormal use of the structure. 25. The death, dissolution, winding up, act of insolvency or cessation of trading (as the case may be) of the Specialist Contractor. 26. A failure by the Client not to properly mitigate any loss suffered as a result of a claim in respect of this Warranty; and Failure to specify the correct product specification (stone type, thickness etc.) to be suitable for the final use environment. 27. The guarantee is subject to our standard terms and conditions of sales found on our website www.resinbondedaggregates.com 28. This guarantee is non-transferable.