Resin Bonding - How It's Done
This type of application refers to the process of scattering loose dried aggregates onto a coating of resin after the resin has been applied to the surface. It is often referred to as a scattercoat, broadcast or coat system. This method involves applying the resin over a suitable base using a squeegee, and then 'scattering' the chosen aggregate over the resin before it sets.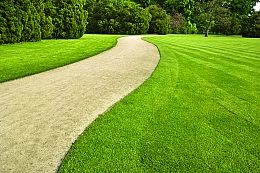 What sort of base should I be putting the system on?
Resin-bonded systems can be applied to a new or existing base. This could typically be an existing surface of tarmac, asphalt, concrete or other monolithic material as long as it has been cleaned and prepared.
Ensure that the base is in good condition as the finish and longevity of any system applied is dependent on the soundness of the base that it is applied to. Making sure that the surface is properly cleaned and that any loose materials and dust are removed and s
ealed if necessary. To make sure that the resin adheres to the base any contaminant such as oil, traffic film, algae or fungus will have to be removed with a suitable de-greaser.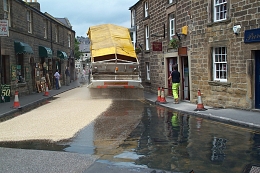 Make sure that the base is level and that any damaged areas or cracks have been repaired before the resin is applied. Always make sure that the base is suitable for the traffic load it is expected to carry once the resin system is applied. Suitable bases can vary depending on the system used, it is recommended that advice from the resin supplier should be sought prior to application. Surfaces that have fewer joints and are predominately large slab areas such as tarmac or concrete should provide the best finish. Any bases that are made up of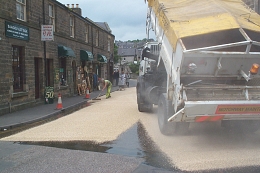 paving products such as block paving, sets or flags etc are NOT recommended for use as the base for a resin-based system as the amount of cracks or lines below the surface would ultimately lead to cracks in the resin and failure of the system due to the extreme pressure loaded onto the resin during day to day usage.
When laying a new base for the resin bonded system make sure it has been allowed to cure
properly prior to the application of resin systems. In the case of bitumen surfaces a minimum of 28 days should be given to allow it to weather and oxidize.
For concrete, at least 7 days should be given to allow it to cure properly. It is important with any base used that the moisture levels on the surface meet an acceptable level as recommended by the resin manufacturer. In all cases, the manufacturer's advice and recommendations should be followed regarding preparation, pre-cleaning, etching or whatever is required. For any surfaces that are absorbent a primer should be used. For concrete surfaces a primer is recommended to ensure a good bond to the surface for the resin bound and bonded finishes. This is generally a two pack fast curing epoxy primer with a scattering of C52 sand which will set in 90 mins or so. Mask off any areas that are close by or edges with a suitable tape, but make sure this is removed prior to the resin being fully set.
Other types of bases
Despite claims by some manufactures that wood decking, paving flags or block paving may be suitable, general opinion within the trade suggests this is not the case. Whilst decking could possibly be coated on an internal application, the poor stability of timber will ultimately lead to cracking in the resin. If a wooden base is to be used, only a proper exterior grade wooden deck surface should ever be considered.
Can the system be laid in any weather?
Variations in temperature and humidity can greatly affect the application process and the speed of the curing process. If there is a possibility of rain or damp the products should not be laid. If there is a possibility of rain with 24 hours of the systems application it would be advisable to protect the resin by covering it up to prevent water reacting with the uncured resin. We would always recommend following the resin manufacturer guidelines on suitable conditions in which to lay the resin.
Who can apply the systems?
Although not beyond the skilled DIY'er, resin bonded surfacing should be laid by experienced, specialist contractors. Call us for our recommendations of contractors in your area.
Types of resin and how to mix.
There are two principal types of resin for bonding these are Aromatic Resin and Aliphatic Resin with differing properties and uses.
Aromatic Resin is a non UV stable polyurethane resin used in both resin bound and bonded applications and will be affected by sunlight in that it will change colour to a darker shade and is generally used for darker aggregates or non decorative applications. This resin is less expensive than the Aliphatic UV stable resin.
Aliphatic resin is a UV stable clear polyurethane resin for all applications and is not affected by the sunlight keeping its appearance and showing the aggregates to their best effect. Although more expensive - it will not fade.
Mixing of Resins
The resin and hardener should be mixed with a drill paddle mixer for several minutes to ensure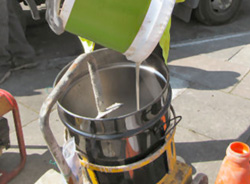 everything is combined, it is at this time, if an accelerator is required in colder temperatures (below 15 degrees) and if there is a chance of dew or light rain overnight it is added now. An accelerator is used to fast cure the resin if temperatures are expected to drop below the recommended temperature, as stated by the resin supplier, in the curing period or if moisture may be expected. In warm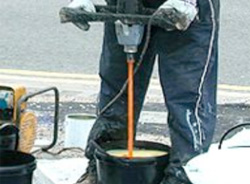 temperatures setting times could be 2 to 4 hours but in autumn and winter resin can still be tacky next morning, therefore an accelerator prevents the resin being affected overnight when temperatures drop and the moisture increases.
How is the resin laid?
The resins usually comes in two parts and should be mixed together thoroughly for around 2-3 minutes until the resin becomes homogenous, this is usually done with a drill and paddle mix attachment.
Mask off any edges that need to be protected with masking tape prior to pouring the resin.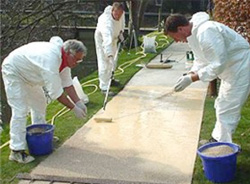 The resin mixture is then poured in a series of lines and spread evenly over the prepared surface using a serrated squeegee.
Leave for around 10 minutes to allow the resin to self-level. Then broadcast the aggregate onto the surface ensuring that the resin is completely covered.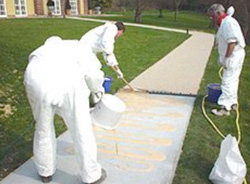 Be careful not walk on the aggregate or resin whilst broadcasting. Once the aggregate has been broadcast, any masking tape should be removed. The aggregate will settle on the surface but keep an eye out for any resin rich areas and ensure sufficient aggregate is applied to them to keep the surface appearance consistent. If adjoining areas are to be treated leave a wet edge (sometimes referred to as a hot line) and start the application for this area as the previously laid area is setting trying to keep the run going until the full area is completed. If large areas are to be covered careful planning is required to ensure a suitable finishing or day joint can be formed. A suitable point might be a drainage grid line or kerb.
How much Aggregate do I need?
On a resin bonded application a typical scheme would use between 8 and 10kg per square metre.
What colours are available?
We have over 50 different aggregates available to use, therefore virtually any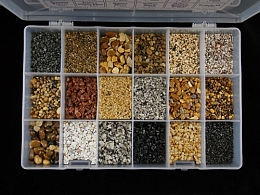 colour scheme can be catered for. By blending carefully on site with different colours, you can create a unique range of colours. A number of aggregates can also be coloured to allow customers or clients to select finishes of any colour that they wish.
What can go wrong?
When correctly applied, aggregate bonded systems give a long lasting, attractive finish that requires very little to no maintenance. One of the key requirements is the bond between the resin and the base it is applied as this is critical. By using an experienced, reputable, approved contractor, this can eliminate the majority of the issues associated with this type of finish.
If the surface has not been sealed correctly and the base it was applied to was unsuitable, frost or moisture can cause the top surface to detach from the base. Any remedial work to this type of system, as with tarmac or concrete, would be visible as they would require a patch cutting out of the original surface and then resurfaced. Given the ageing of the original product and colour variations of the stone it would be nearly impossible to blend in.
Iron Staining
Certain aggregates used in the application of resin bonded systems can contain certain amounts of iron minerals as part of their natural chemical make up. On exposure to weather this may result in areas of rust spot staining. This is a natural occurrence within the aggregate and at no point prior or during application can any potential iron be identified. This can be easily remedied after rust staining has been identified.
Resin bonded gravel suppliers or installers cannot be held responsible for any loss or damage suffered as a result of staining. The higher risk resin bonded products are the 10mm Yellow and Yellow 2-5mm.
IT IS VITAL THAT THE AGGREGATES ARE DUST FREE, CLEAN AND CONSISTANT OR THEY WILL NOT BOND.
Can the surface be cleaned?
One of the advantages of resin based surfaces is that it is extremely low maintenance. Always follow the instructions given by the resin manufacturer when it comes to cleaning, however a gentle power wash is usually all that is required to clean the surface.
Please Note: This site is for information only and technical information and application instructions (including H & S information, safety data sheets, method statements and COSHH information ) should be supplied by the system supplier. Derbyshire Specialist Aggregates Limited accept no responsibility for any schemes undertaken using information supplied on this web site.