Looking for a Resin Bound Supplier?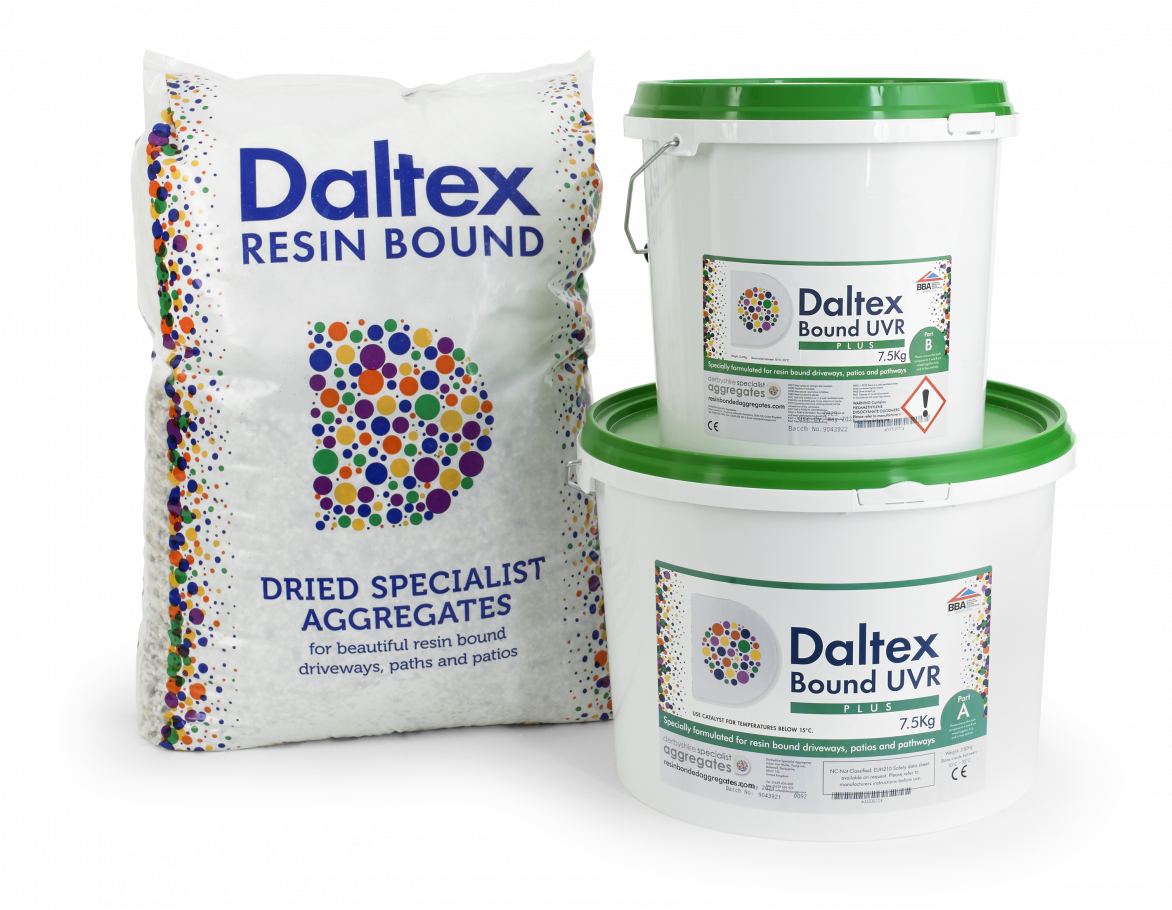 Go direct to the manufacturer
Are you a resin bound contractor looking to install the highest quality resin bound systems with confidence?
Derbyshire Specialist Aggregates is not just a trusted resin bound supplier, they are also the only manufacturer of market-leading DALTEX dried aggregates, and a supplier of high quality DALTEX UVR Resin, which are combined to deliver beautiful and consistent results.
There are huge advantages of coming to us direct
Derbyshire Specialist Aggregates is the UK manufacturer of DALTEX dried aggregates.
We are committed to having 100% stock availability on all our DALTEX dried aggregate colours and sizes, and we are focused on helping resin bound installers deliver the very highest standards in resin bound installation.
Resin bound installers all over the UK come to us direct to save time and money. DALTEX is the number one choice for resin bound installers in the UK.
Why choose us as your resin bound supplier?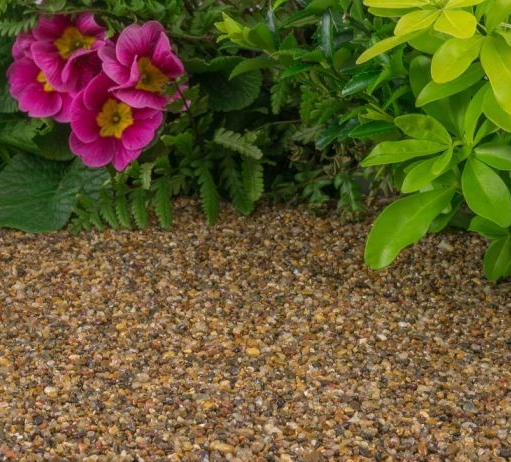 As the UK manufacturer of DALTEX dried aggregates, there are a number of key benefits in coming to Derbyshire Specialist Aggregates direct.
One order, one delivery, one contact
With Derbyshire Specialist Aggregates, you get everything you need in one place through a single, easy process. We are committed to making your job as easy as possible, allowing you to focus on your work.
Superior quality DALTEX dried aggregates – part of a BBA approved system
Here at Derbyshire Specialist Aggregates, we are the UK manufacturer of the highest quality DALTEX dried aggregates. You can rest assured our dried aggregates, when combined with DALTEX UVR resin, form part of a BBA approved system. BBA certification and inspection services are recognised by UK building control, local authorities, industry insurers and construction trade associations.
A stunning range of resin aggregate colours and blends
Derbyshire Specialist Aggregates offers the widest range of single colours available in the UK. We are also the exclusive manufacturer of brand new DALTEX Bespoke Blends, offering a superb choice of 48 bound gravel colour blends, including a variety of sizes and textures.
100% stock availability
What happens if your resin bound supplier doesn't have the dried aggregates you need? This can cause delays and extra costs. By coming to us direct for your DALTEX dried aggregates, you get our commitment to 1000s of tonnes in stock at all times, ready for next day when you need it.
Next day delivery
Our delivery options are flexible and convenient, from single pallets to full loads. You can get your dried aggregates delivered the very next day. Upgrade your delivery from standard to Excel for extra peace of mind. Available as economy or next day with timed and AM options. With Excel delivery, you will get your delivery on time or your delivery charges refunded!
Online Daltex Trade Account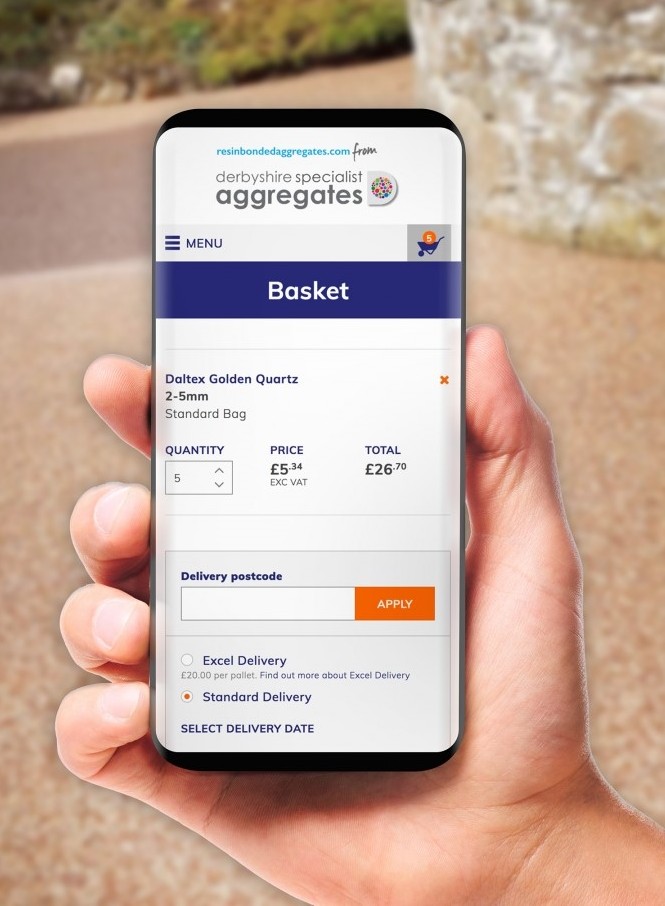 By ordering online through Derbyshire Specialist Aggregates, you get a wide range of advantages.
Order online as a trade customer, and you get the following benefits:
Order on your mobile, desktop and tablet: With an online trade account, you can order effortlessly on the go.
Save on cost: By ordering through your online trading account, you get 5% off. This discount applies to the Derbyshire Specialist Aggregates standard list price only and is exclusive to online trade customers!
Flexible ordering time: Online trade account customers get an extended cut off time of 2pm for next day delivery.
More efficient process: Get an automated email confirmation, so you are always in the know when ordering.
More flexible: With your online trade account, you can order your dried aggregates and resin wherever you are, 24 hours a day, 7 days a week.
Save time on repeat orders:

 

As an online trade account user, you can access records of your orders for an even faster and easier order next time.
Resin Bound Technical Support
Here at Derbyshire Specialist Aggregates, we are experienced and highly knowledgeable experts in all things resin bound. By coming direct, you get access to our whole range of support options.
If you require any assistance in your resin bound project, you can use our technical helpline for ongoing support and advice on any installation, past, present and future! If you need help with your resin installation, call our technical support team on 01629 700650 or contact us direct.
Resin bound training courses
Derbyshire Specialist Aggregates is committed to promoting the highest possible standards of resin bound installation. We offer a 2 part specialist training course including a free online course covering all the theory plus a practical follow-up at our purpose-built resin bound training centre in Derbyshire. The course covers a wide range of topics, from the fundamentals of resin bound, the installation process, site surveys, preparation and more.
Part 2 of our resin driveway training is practical and hands on and will highlight everything you need to know to ensure you are installing correctly to BBA accredited standards – the highest industry standard available. Plus, become a DALTEX UVR system qualified installer. DALTEX UVR qualified installers must complete and pass the Derbyshire Specialist Aggregates training and site audit. Ongoing administration and auditing requirements must be completed to ensure projects are approved as installed to BBA standards.
To find out more or to book your place at one of our training days, please contact us today. To learn more about our resin bound training, click here.