Resin Bound Maintenance Guide
A Resin Bound System is a hard-wearing, low-maintenance surface solution that offers a host of great benefits, including design flexibility, strength and ease of upkeep. Low maintenance, of course, does not mean any maintenance. Thankfully, looking after a resin-bound surface is easy and straightforward for your customers.
This guide will take you through the ways your customers can look after their resin-bound surface and keep it in good condition for longer.
How a resin bound surface should be used
Resin-bound surfaces are intended to be used for normal pedestrian or vehicular traffic and are not designed to withstand abnormal loads or uses.
Protection should be provided wherever possible against abnormal damage. Heavy goods vehicles should not be permitted to park on, or regularly traverse resin bound surfacing unless it has been allowed for in the overall construction.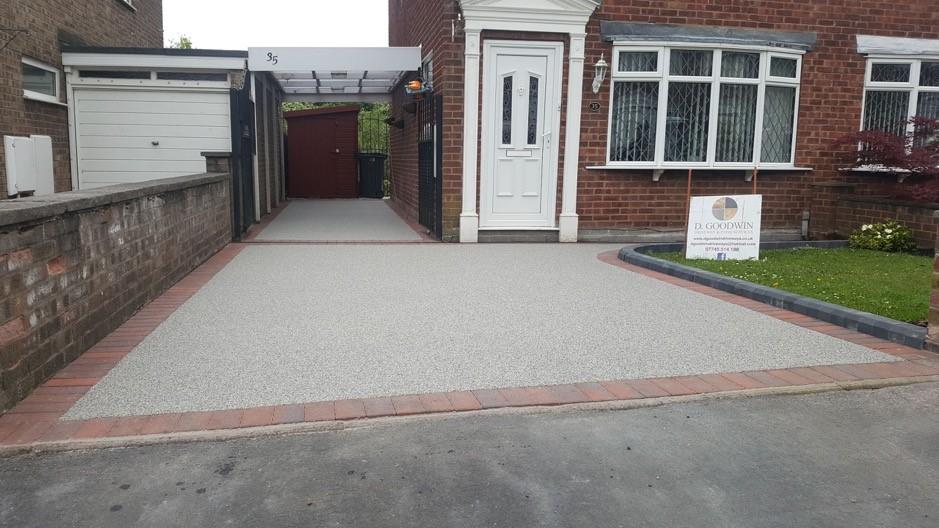 Your resin bound driveway will have no problem with parked cars or other regular uses for a driveway; however, you should be careful not to damage it with any of the following abnormal usages.
Skips: Heavy skips with edges should not be placed directly onto your resin bound driveway. For lighter skips, load bearing planks may be used, but we recommend placing a skip elsewhere if possible.
Sharp points: Avoid anything that applies a sharp point of pressure onto the surface, such as the stand of a heavy motorcycle.
Dragging: You should never drag heavy objects across your resin bound driveway.
Spillage risks: Spillage of solvents should be avoided as these will soften and damage the resin binder.
Resin Bound surfacing is resistant to a wide range of chemicals. The full chemical resistance builds up over time and care should be taken within the first 7 days of installation to not expose the surface to chemicals.
Prevent tyre marks on a resin bound driveway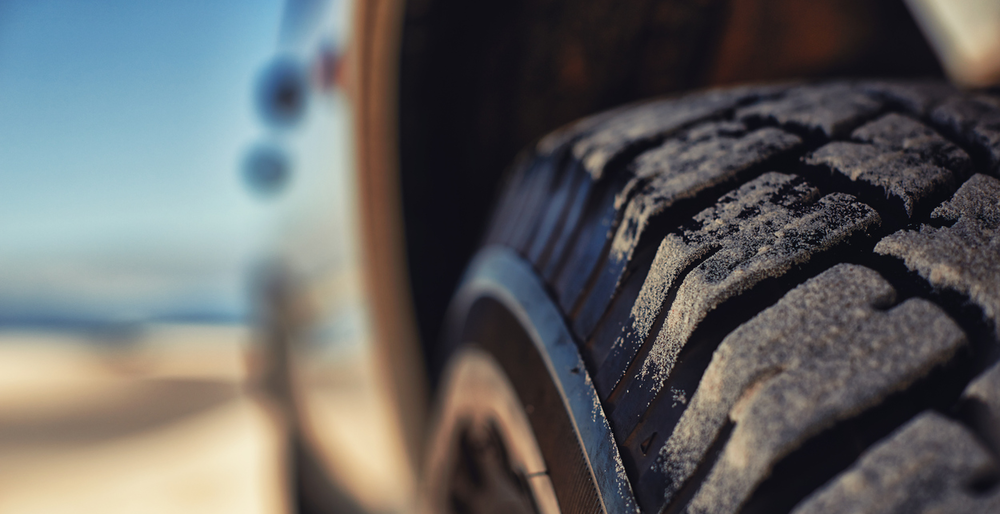 You can help prevent tyre marks by refraining from turning your steering wheel while your car is stationary on the surface.
Tyre marks are not actually caused by rubber transferring from the tyre to the surface – they are caused by oils in the surface being heated by the friction of tyres, or residual heat resulting from a long journey.
Routine cleaning
A number of potential issues with a resin bound surface may be prevented by regularly sweeping it clean with a stiff broom. This will remove leaves and detritus materials and will prevent moss growth. Hosing down with a standard jet-wash will also help remove any foreign bodies, stains and other potentially damaging elements.
Regular jet washing
The surface must be cleaned periodically using a pressure washer or a sweeper fitted with water jetting and vacuuming equipment.
How to jet wash a resin bound surface
To jet wash your driveway, follow these simple steps:
We recommend spraying with a flat nozzle, if available, to improve precision of spraying the flat surface.
Use a jet wash/pressure washer with a pressure up to 150bar. Excessive pressure could damage your surface.
The water should be cool, but not too cold. A moderate temperature will prevent damage to the resin.
When spraying, your nozzle should be a minimum of 20cm from the surface. If a high-pressure jet wash is sprayed too closely, it could damage the surface.
Spray using a back and forth "sweeping" motion.
We also recommend jet washing your resin driveway after sweeping to remove any smaller debris that a broom may miss.
Removing chewing gum from a resin bound driveway
Chewing gum can be a real pain. It is unsightly and, once hardened, can be difficult to remove. If you cannot remove through sweeping or jet washing, try using a freezing spray on the gum before carefully removing with a wall scraper or similar tool. Do not try and dig beneath the gum using a hard edge, as you may damage the surface.
Removing moss and algae from a resin bound driveway
Weed growth should be treated prior to surfacing and it is highly unlikely that any new growth will be sustained.
Periodical application of a proprietary moss and algae killer, such as "algon", in accordance with the manufacturer's instructions, will remove and prevent any regrowth. Ingrained algae growth can be removed, and the colour of the original surface restored by the application of a strong bleach solution. This should be used in accordance with manufacturers guidelines and local environmental constraints. After application, the surface should be well rinsed with clean water.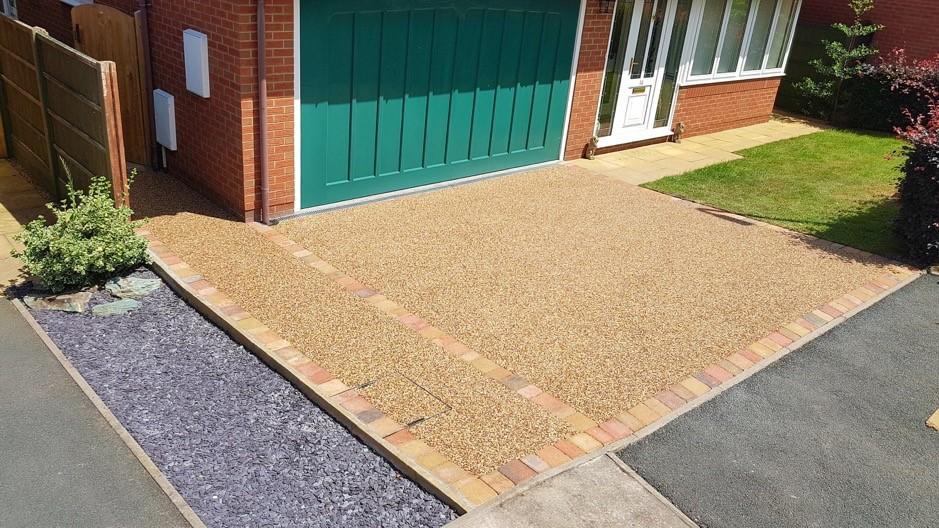 Removing weeds from a resin bound driveway
Due to its construction, a resin bound surface is designed to be resistant to weeds. However, no matter how much care is taken, weeds may occasionally appear (as on any surface). This is usually a result of windblown seeds.
Fortunately, small numbers of weeds can be removed by hand without damaging the surface. If the weeds are removed by hand, it is important to ensure that the full root of the weed is extracted, not broken off.
Some weeds are more prolific if they are simply cut off at surface level. If the weeds are deep rooted, it is advisable to kill them off with an appropriate herbicide or weed killer. Localised areas of weed seeding infestation can be treated with domestic weed killers without causing damage to the surface.
Please note that staining may occur from tanning if surfaces are not kept clean from leaf debris, twigs, seeds etc.
Removing cement or concrete marks from a resin bound driveway
Cement or concrete marks can be removed with careful use of diluted hydrochloric acid or a proprietary cement remover, immediately followed by a thorough rinsing with clean water.
Please note that if a lime-based aggregate is used, the acid will tend to dissolve this as well.
Cleaning oil spills on a resin bound driveway
Oil and grease can leave unsightly marks on your resin bound driveway. You should take maximum care to avoid spillages or oil and greasy chemicals. Any spillages should be cleaned immediately and flushed with water.
Any oil spillages can usually be washed away by rainfall; however, this doesn't always occur regularly. You can also wash away oil or grease using a mixture of warm water and a mild household detergent. This should be allowed to penetrate for 10 minutes, then sprayed down with a jet wash afterwards.
Removing mineral stains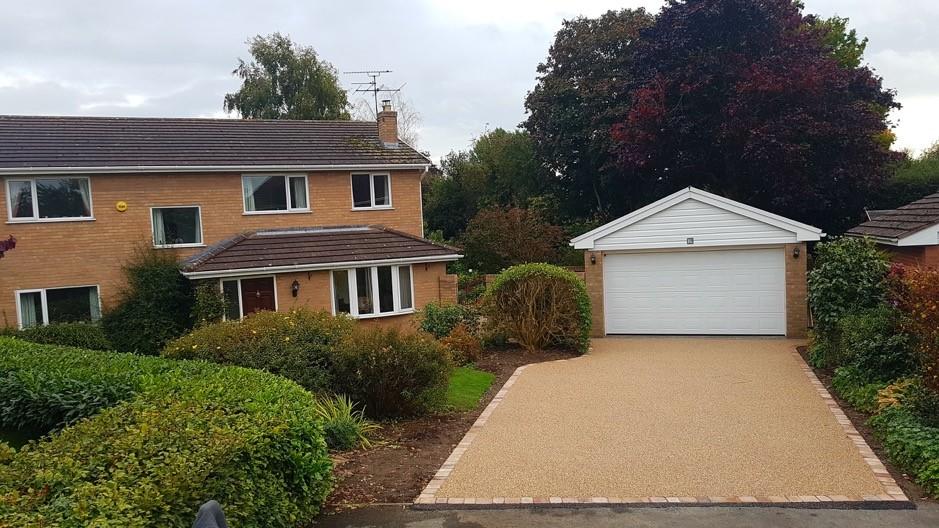 The resin bound system is made up from natural dried aggregates. Whilst every step is taken to minimise its presence, naturally occurring iron pyrites may be present.
If staining occurs, oxalic acid is an effective method of removing the stains from the surface and is readily available. The specialist acid solution should be washed off using cold water immediately after use.
Clearing snow from a resin bound driveway
Throughout Winter months, snow and ice can become a problem with any driveway surface. Unless the surface is sheltered, there is no way of preventing frost and snow completely. Fortunately, it is easy to clear.
Because a resin bound driveway is smooth and flat, you can clear snow with a standard snow shovel without spreading loose aggregates everywhere. This is a common issue with loose gravel driveways where aggregates can get mixed up with the snow.
We do not recommend using a metal shovel as this may damage the surface if not used carefully.
Another benefit of a permeable resin bound driveway is the moisture of melted or clear snow can be absorbed into the ground below, which helps prevent icy patches.
Preventing Ice & Frost Build up on a resin bound driveway
Salt can be used on the surface to help eliminate ice and frost. Once weather conditions return to normal, the salt/grit needs to be washed off thoroughly to remove all salt traces.
Patch Repairs on a Resin Bound Surface
If the surface is damaged, small areas can be repaired. The damaged area should be chiselled out. The same aggregate blend can then be mixed with DALTEX UVR Resin and installed in the area. Care should be taken to 'feather' the edges of the repair into the surrounding area, to give a strong, seamless and durable repair.
Other tips for a longer lasting resin driveway
In the event of any heavy loads being placed onto your resin bound driveway, always use wooden planks beneath to spread the load and prevent the weight from damaging the surface.
Tackle spills and mess immediately. The quicker you act, the easier they will be to clear.
Take care with any hard or sharp objects like motorcycle stands, heavy plant pots, gardening machinery, or anything else which may damage the surface if dropped or dragged.
Need any assistance?
If there is anything else you would like to know about resin bound cleaning and maintenance, please feel free to contact us with any questions or issues you may have – even if you haven't purchased from us before. We're here and always happy to help if we can. 
Our technical helpline also provides ongoing support and advice for any future, past or current resin bound installations you may be involved in as a trade. Call 01629 636500 if you are looking for assistance.
For more information on resin bound systems and how they can be looked after, please see our comprehensive training notes.
Back to Latest News