How to Grow your Resin Bound Business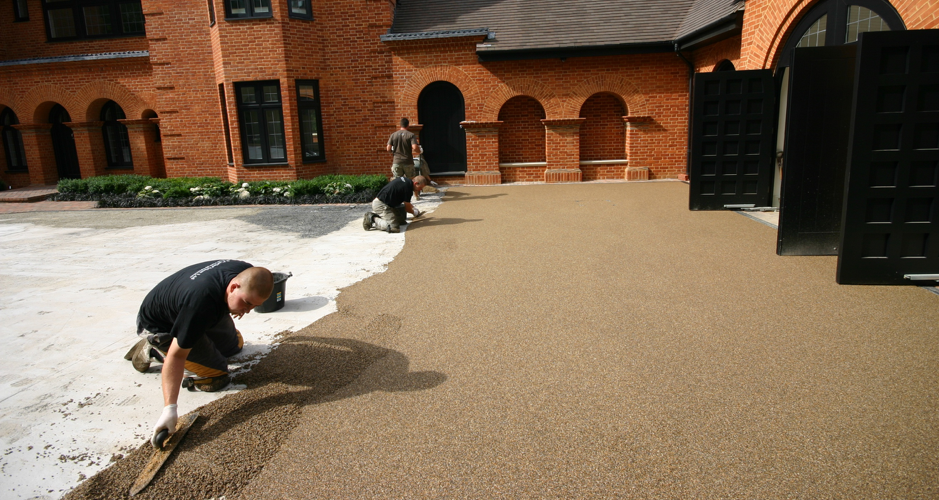 Resin bound systems are one of the fastest growing surfacing applications in the UK. It is a highly versatile surface solution that delivers an unrivalled range of benefits compared with alternative surfaces.
There has never been a better time to specify resin bound and grow your business in this exciting and in-demand trade.
This guide will take you through the various ways you can improve your resin bound installation process, promote yourself effectively as a skilled and trusted contractor, and ultimately gain more customers.
Contents
Why is resin bound in such high demand?
No other external surfacing solution offers the same range of visual and practical benefits as a resin bound system. It is the best choice for a beautiful, smooth and flat finish that is hardwearing and will last for many years when looked after. 
Resin bound system benefits
| | Resin Bound | Tarmac | Concrete | Block Paving | P.I.C | Resin Bonded |
| --- | --- | --- | --- | --- | --- | --- |
| Non Fade | ✓ | ✘ | ✘ | ✘ | ✘ | ✓ |
| Permeable | ✓ | ✘ | ✘ | ✘ | ✘ | ✘ |
| Slip Resistant | ✓ | ✘ | ✘ | ✘ | ✘ | ✓ |
| Weed Resistant | ✓ | ✘ | ✘ | ✓ | ✓ | ✓ |
| Frost Resistant | ✓ | ✘ | ✘ | ✘ | ✘ | ✘ |
| Seamless | ✓ | ✓ | ✘ | ✘ | ✘ | ✓ |
Beautiful and versatile
Resin bound aggregates provide an attractive and seamless finish and are a fantastic way to add stunning visual appeal to any property.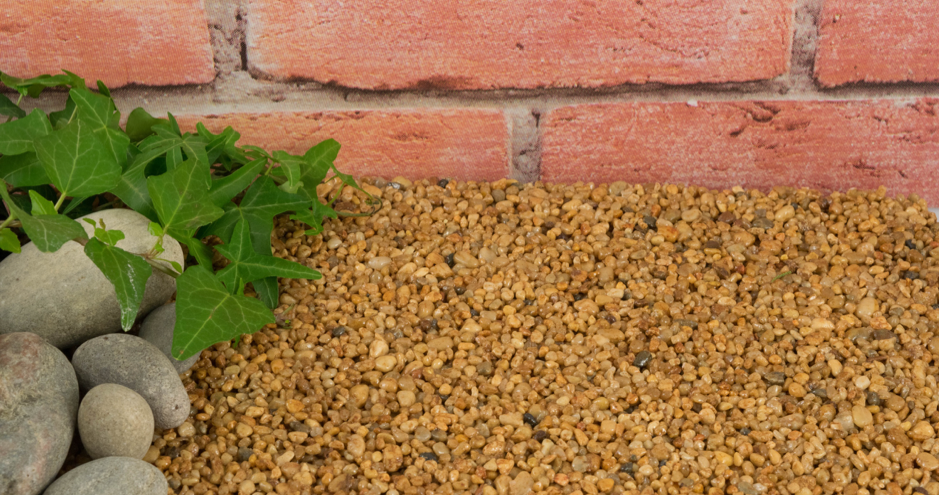 Hardwearing and durable
Resin bound surfaces are strong and durable and will remain so for many years when looked after.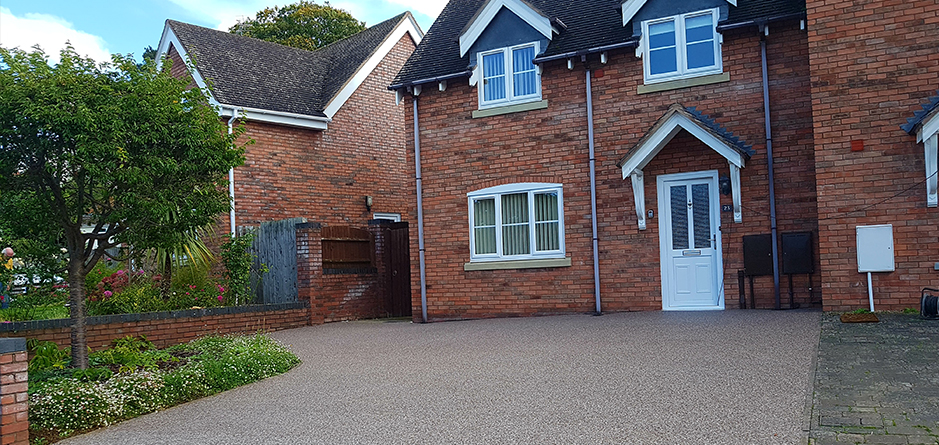 Low maintenance
While there is some maintenance required to keep a resin bound surface pristine, this maintenance and cleaning is super easy for your customers. 
Permeable and SUDS compliant
Resin bound is a SUDS compliant solution. Find out more about SUDS in our Knowledge Centre.

UV stable
We strongly recommend the use of UVR (aliphatic) resin for external applications. The effect of natural light on the surface is even and reduced (compared to non-UV stable resin which can discolour and fade).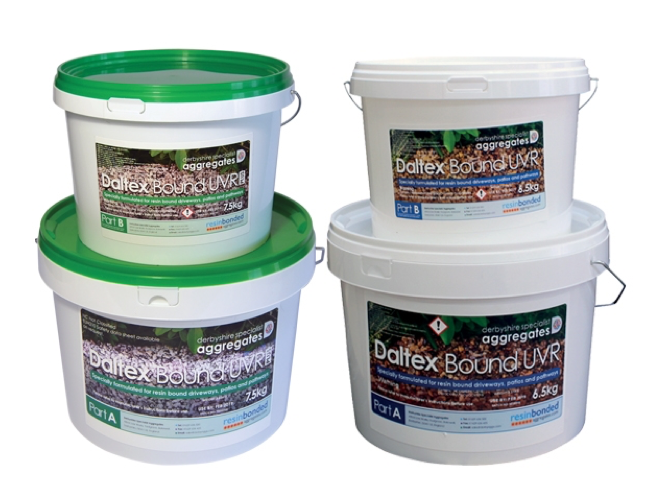 Ensure your work is always to the highest standards
The not-so-secret trick to a sustainable and successful resin bound business is to ensure the quality of your work is consistently high. Whether a small or large scale job, you should always ensure you meet the highest possible standards of resin bound installation.
Stay at the cutting edge of the industry
The resin bound industry is growing fast and developing in exciting new directions. To be a successful resin bound contractor, you must be aware of the latest developments in the industry.
The recent launch of new DALTEX Bespoke Blends is a great example of this. Each blend is made up of different aggregate sizes and textures and colours that span the whole spectrum – from the richest reds to stylish greys to soft and subtle golden browns.
Understand BBA approved systems
BBA is the British Board of Agrément, the UK's leading construction certification body. BBE accreditation is the highest industry standard available for resin bound.
The BBA is impartial and only products and systems that have passed a series of comprehensive assessments – including laboratory tests, on-site evaluations, quality management checks and inspections of production are awarded an Agrément Certificate.
A responsible and successful contractor will always choose high quality products and lay them in the correct conditions as advised by the manufacturer.
You can become a DALTEX UVR System Qualified Installer, which demonstrates that you have a clear understanding of how the product should be mixed and what conditions it should be laid in.
Resin bound training
We recommend that all trusted and reputable resin bound contractors are trained to deliver the highest possible standards in resin bound installation. 
Mistakes in resin bound work can be costly for yourself and for your customers if they need to pay for additional work as a result. There are many ways that inadequate preparation and installation methods can cause a resin bound system or your resin bound installation to fail. Common issues include:
Unexpected bad weather
Mix curing too quickly
Insufficient stock
Reflective cracking
It is very important that you seek the best training possible when trying to grow your resin bound business. This will help you deliver high-quality results consistently, and will also help you work more efficiently, with less waste and happier customers. Your reputation as a trader is crucial to your success.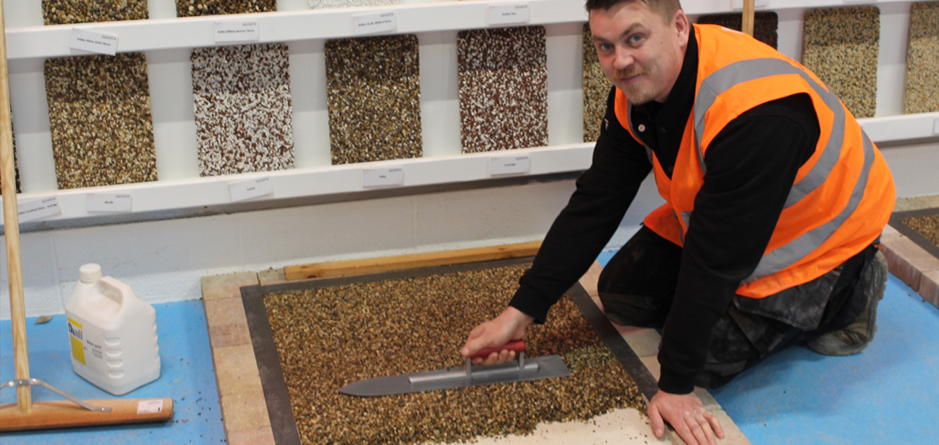 We run highly-rated one-day Resin Bound training courses, presented by experienced independent contractors. Our training courses are informal, informative and practical. You can find out more and enquire on our Resin Bound Training page.
Only contractors who have undergone training and passed the training module and site audit run by Derbyshire Specialist Aggregates can advertise that they are installing DALTEX UVR Systems to BBA standards to their customers.
Growing your resin bound business online
When it comes to growing your business as a contractor, it is simply no longer feasible to grow effectively without some kind of online presence. The web is a huge part of people's lives, and the majority of your potential customers will be searching for your services online. 
The good news is there is plenty that a resin bound contractor can do to stand out online. 
Get listed on a trusted tradesperson website
Websites such as Checkatrade and Rated People offer accessible listings for consumers to find and contact professionals across a wide range of trades, including resin bound. This type of website is highly trusted by consumers, so appearing on one can enhance your reputation and help promote you as a reputable trader.
Get featured in online business directories
Similar to reputable tradespeople websites, you should also aim to get yourself listed on a reputable online business directory, such as Yell.com. This is simply a modern, digital version of the Yellow Pages. Users searching for your services will be able to find you, access information about your work and be able to contact you or click through to your website.
A strong and modern website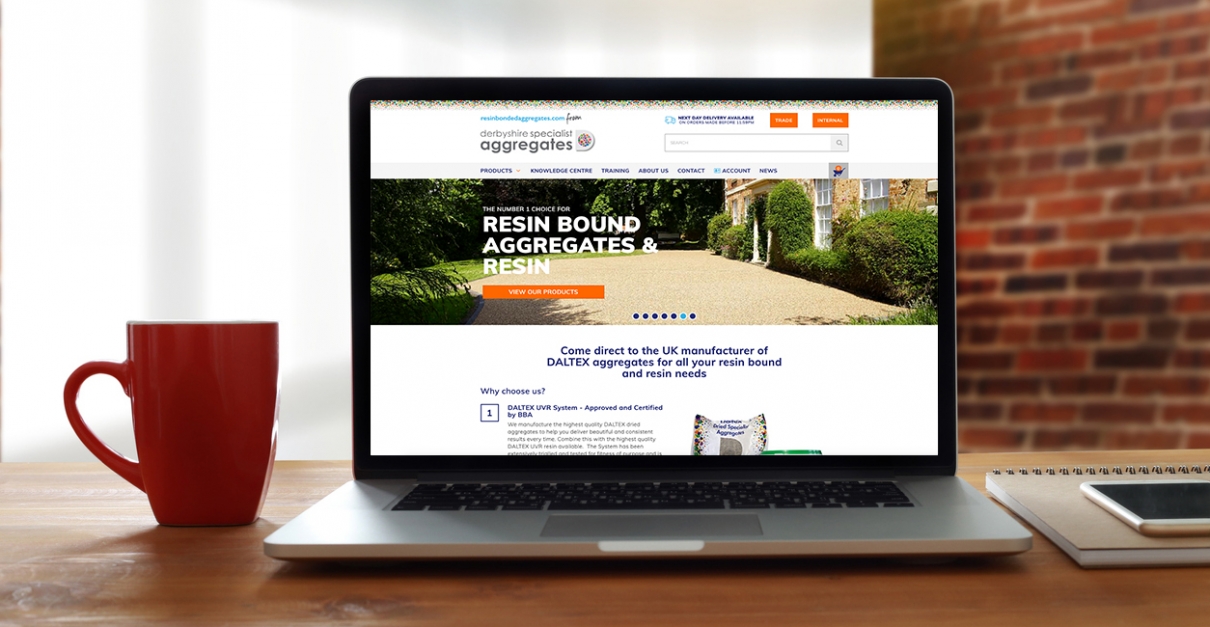 There is a great range of website builders available – most of these are free to use, up to a certain website size or complexity. You don't need to be a programmer to build and manage an attractive website that works! 
Google offers a free website builder through Google My Business, which allows you to create great websites that can be managed easily from your laptop or mobile.
Your website can be used to list your contact details, to generate enquiries about your work, showcase your work, and share any other information your potential customers may find useful.
Important tip: Remember, a lot of people use their mobile phones and tablet to browse online. Make sure your website looks great on mobile devices!
Establish yourself on social media
People spend a lot of time plugged into social media – this makes it a great place for potential customers to find your business on their computers, tablets and smartphones.
Facebook and Instagram are particularly useful for resin bound contractors for a number of reasons:
You can share impressive photos and videos of your work
You can communicate directly with your potential and existing customers
You can offer detailed information about your business
You can take advantage of low cost and effective advertising opportunities
Start a blog about your work
Writing and managing a blog can be time consuming. If done right, however, it can be a really useful asset to your resin bound business. 
A well-informed blog will demonstrate that you are passionate about your work. It is a great opportunity to showcase your skills, your methods, and what makes you stand out as a trader. Some blogs can even help people find your business through search engines like Google. 
Google My Business listings
Google My Business is a really useful tool provided by Google to help businesses big and small improve their exposure in search engines.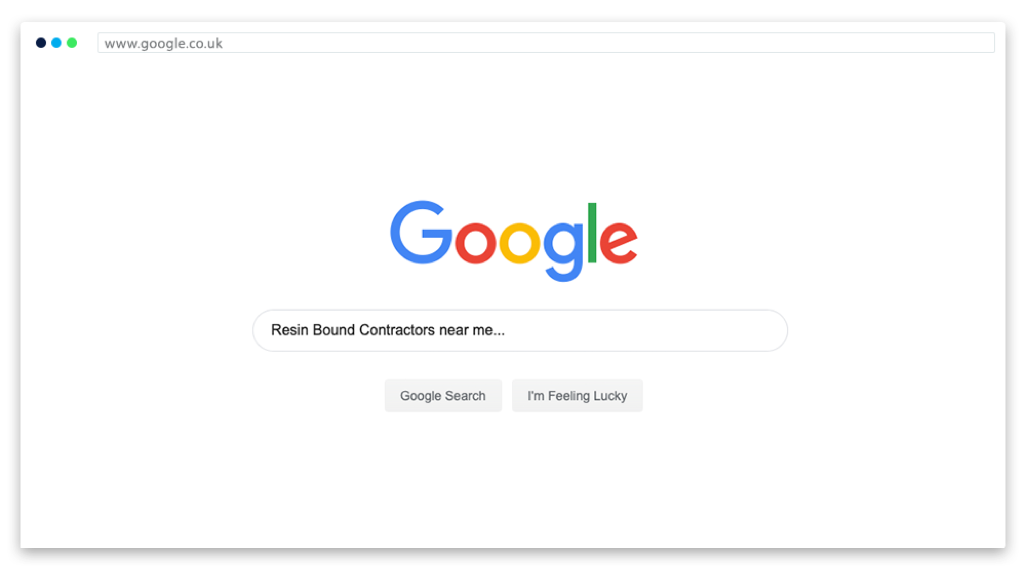 Have you ever Googled a local shop or business and seen a big box filled with information about them, such as their location, reviews and contact details? You can do this too by registering your business with Google My Business. It costs nothing to sign up to.
Growing your resin bound business offline
A large portion of your potential customers will look for your services online, but that doesn't make old-school marketing approaches any less valid or important to growing your resin bound business. Whatever you do online, make sure your traditional marketing areas are covered too! 
Don't underestimate word-of-mouth
Word of mouth is important for any business, but for local traders it is crucial. Reputation goes a long way, and if you keep your customers happy, they will spread the word about you and potentially send more customers your way. 
On the other hand, disappointed customers will also share their thoughts – often more than happy customers do. Ensure your local reputation is as strong as it can be by delivering the highest quality resin bound installation every time. 
If a customer is happy with the work you have done for them, why not ask them politely to tell any friends who might be looking for a similar service? You can also ask them to leave a positive review on your Facebook page or Google business listing. 
Run ads in local newspapers or magazines
Regional newspapers are still widely read in local communities, and they offer relatively low cost advertising opportunities for traders and businesses. Classified ads in particular are a useful and cheap way to get your name out there in front of a large local audience. 
You can be clever with who you target too – if there is a local gardening or home development/improvement magazine in your region, by advertising your resin bound trade there, you know you are being seen by people more likely to be interested in what you do.
Attend trade shows and events
Trade shows are industry events where businesses and professionals can showcase their great work to potential customers and business partners. 
As a resin bound contractor, why not try to find local gardening, property development or home improvement trade shows?
Take examples of your work along, and any other useful marketing materials, and speak to your potential customers face to face about how you can help them. 
Don't forget the business cards!
Business cards are simply a must-have for any trades or small business owner. You never know when you might bump into your next potential customer – having attractive, well designed business cards with your contact details clearly visible can help ensure people don't forget about you.
Find a resin bound supplier that you trust
If you are a resin bound contractor looking to grow a sustainable and successful business, the last thing you need is your supplier of dried aggregates or resin to experience a shortage, logistical issue or delay. This can lead to additional expenses, wasted time and unhappy customers.
This is why it is so important you find a resin bound supplier that you trust. 
Derbyshire Specialist Aggregates is not just a trusted resin bound supplier, they are also the only manufacturer of market-leading DALTEX dried aggregates, and a supplier of high quality DALTEX UVR Resin, which are combined to deliver beautiful and consistent results.
We are committed to having 100% stock availability on all our DALTEX dried aggregate colours and sizes, and we are focused on helping resin bound installers deliver the very highest standards in resin bound installation. 
Call our Resin Bound Technical Helpline
If you require any further assistance, our dedicated Resin Bound technical helpline is available to provide ongoing support and advice for any future, past or current resin bound installation you may be involved in.
Please feel free to contact us with any question or issue you may have – even if you haven't purchased the items from us! We're here and happy to help. You can call our technical helpline on 0333 259 4102.
Back to Latest News