Base Build-up Course - Concrete
Typical Base Build Up – Private Driveways / Paths / Patios
It is important to understand the base that you are working with before planning your Resin Bound system. This guide is to help you understand the concrete base course.
This base course is non-permeable, meaning additional drainage is required in order to comply with SUDS regulations.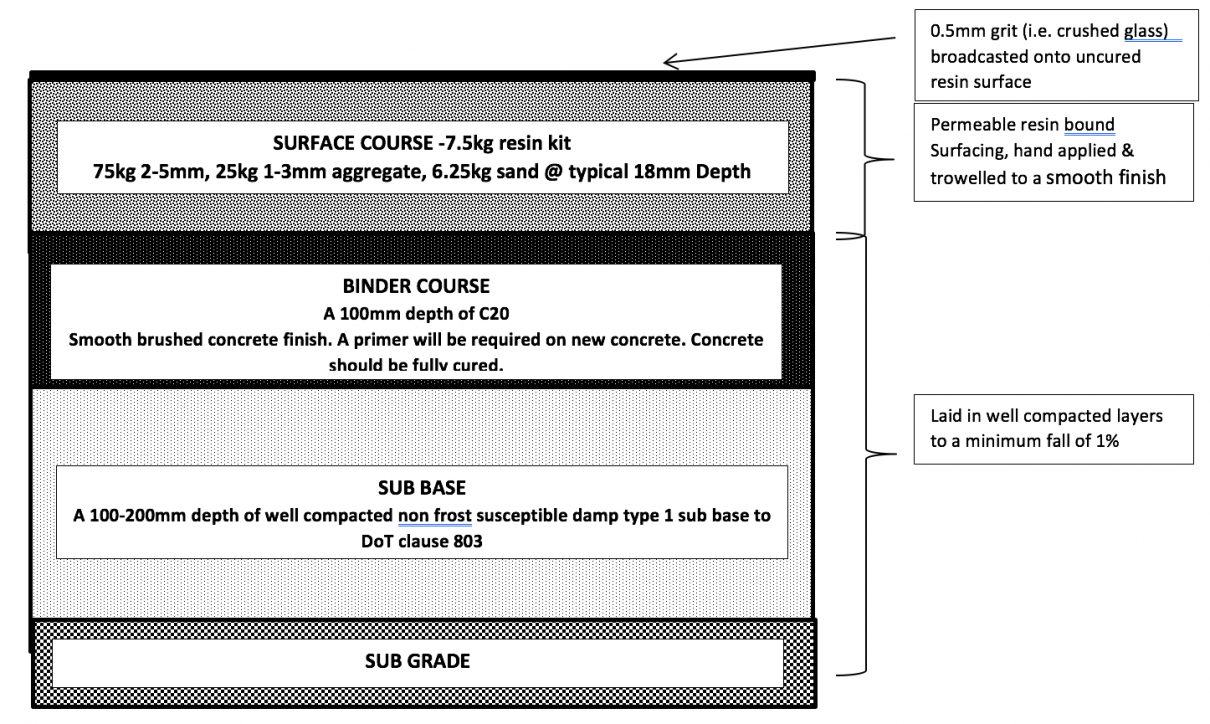 Purpose
The purpose of this base course is to provide an attractive, durable and seamless natural stone or gravel finish.
Advantages
This is an aesthetically pleasing and strong surface which allows water to pass through the surface. It is also easy to clean and maintain. 
Further information
Resin bound can be overlaid onto existing concrete or asphalt surfaces of suitable construction for the traffic expected.
Joints of cracks should be broken out to a minimum of 200mm width and filled in with a well compacted macadam or concrete base layer (see above diagram).
Important
The specification is based on normal good practice for flexible surfacing and does not absolve the specifier from designing a construction suitable for the expected traffic and ground conditions pertaining on a given site. Areas that may be heavily trafficked by heavy vehicles should have structure layers designed according to DoT requirements.
The thickness of the sub base layer required is dependent on sub grade soil condition.
RESIN TECHNICAL SUPPORT
If you need help with your resin installation, call our technical support team on
01629 636500
or
contact us