Resin Bound vs Block Paving - Which Driveway Is Better?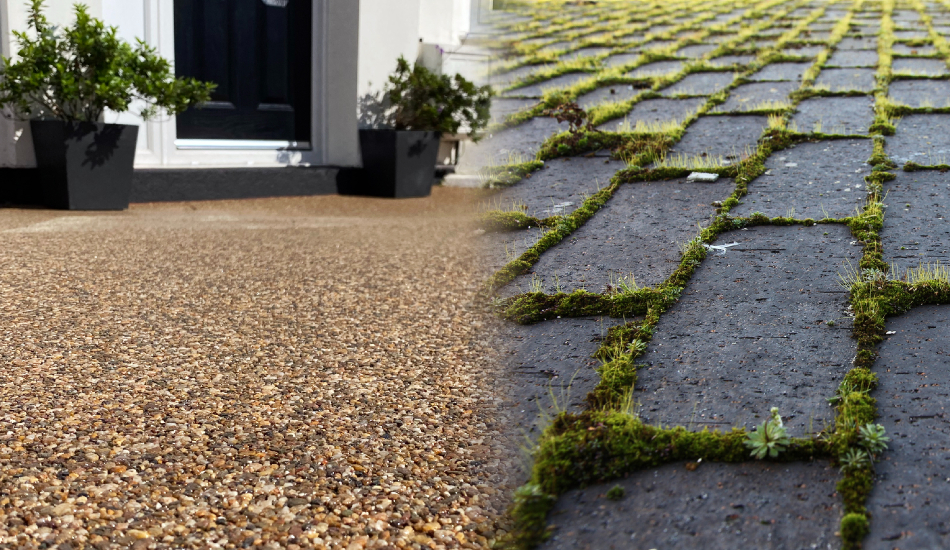 Choosing the colour and style of a new driveway is a big decision and there are many factors which determine which driveway surface is the best for your property. The most important factor will always be appearance but the practicality of a driveway including maintenance needs, the cost of materials and of course, its durability are also important.
In this blog we outline the advantages of Resin Bound surfacing vs block paving for driveways, and why Resin Bound has become the fastest growing surface solution in the last 5 years and an incredibly popular choice for new driveways.
What is Resin Bound vs Block Paving?
Resin Bound is a permeable surfacing solution that results from mixing UV-Stable resin and dried aggregates. This creates a mixture that is then trowelled onto a suitable base to provide a monolithic, uniformed, seamless finish that can be used for a range of residential and commercial projects. Resin Bound surfaces look stunning and are very practical to maintain.
Block paving, also known as 'brick paving' is a surface consisting of interlocked bricks, usually clay or concrete. Block paving is popular as a decorative alternative to monochromatic surfaces such as tarmac or concrete and can be used to create patterns and contrasting borders.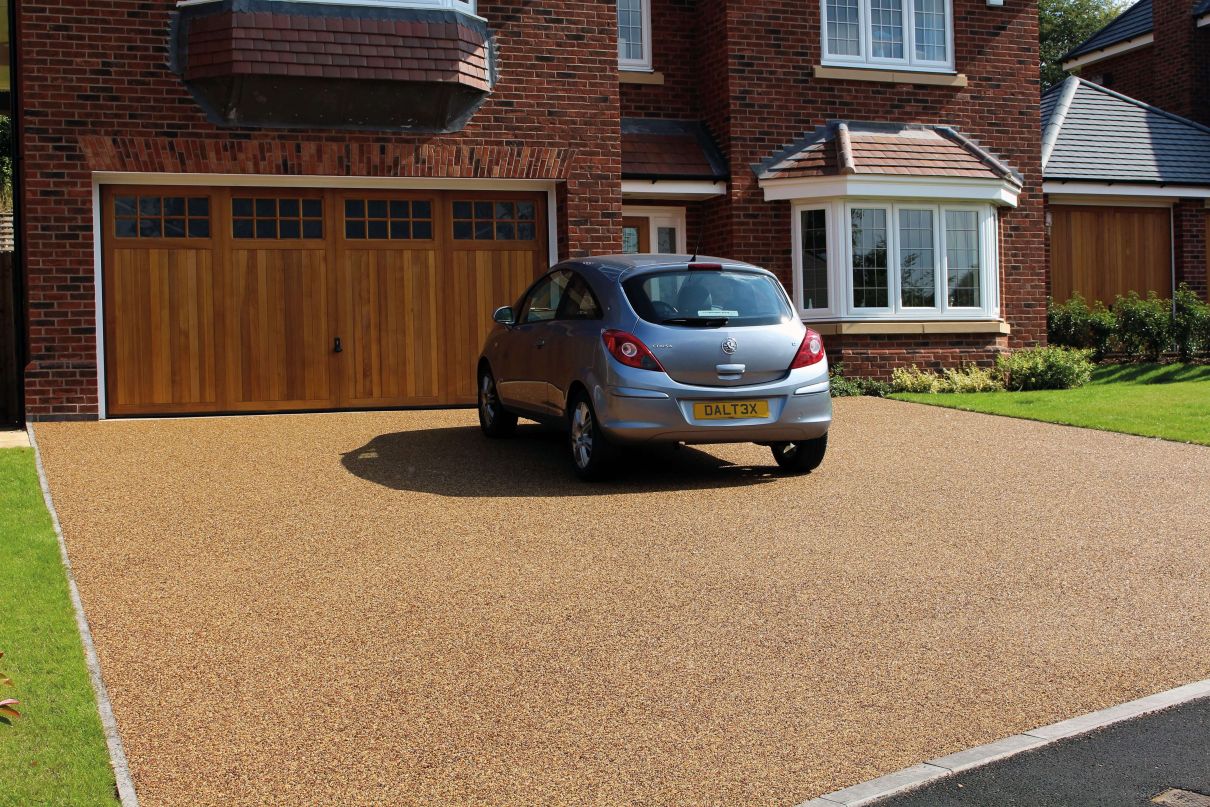 Resin Bound vs Block Paving appearance
Choice of colours & design versatility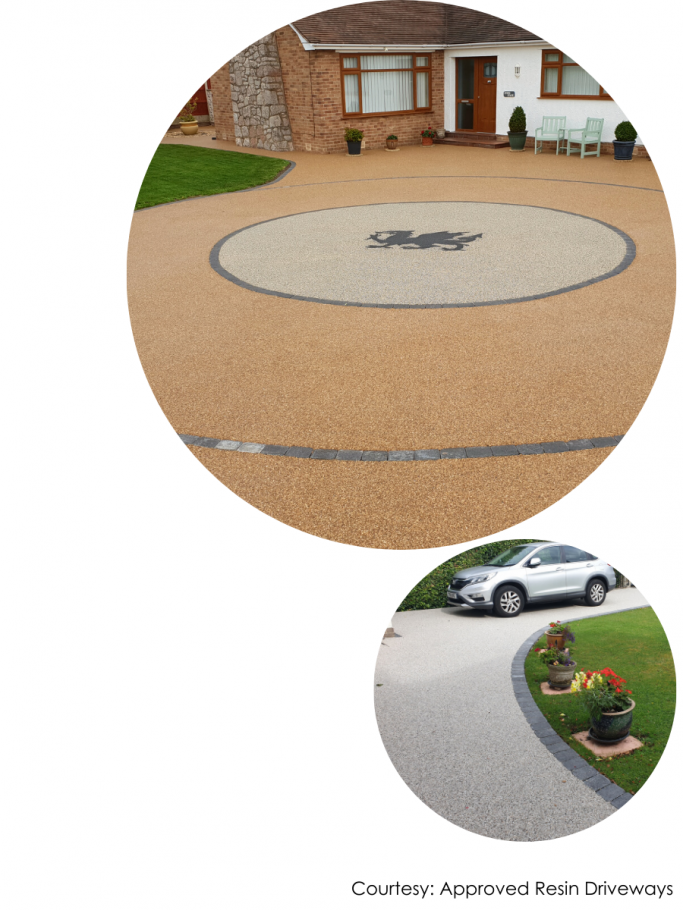 Design versatility and the range of stunning Resin Bound colours appeal to all homeowners. 
It is almost impossible to walk past a resin driveway without noticing its stunning appearance - the natural colours trowelled to a beautifully smooth, compacted uniform finish create instant kerb appeal.
Resin Bound offers a premium look that can be both traditional or contemporary and it complements properties of all ages and styles, from luxury new builds to traditional Victorian terraces and cottages. Incredibly versatile, Resin Bound can also be applied to a wide range of areas including slopes, steps and borders, paths and patios.
Block paving is a traditional choice that can be used to create interesting shapes and patterns. However the finer gradient of gravel used in Resin Bound means designs can be far more intricate and detailed. Gravel colours can be used in any combination to create individual, bespoke designs including geometric patterns, logos, numbers and lettering or even your own initials!
The Daltex Bespoke Resin Bound colour range offers a superb choice of 48 stunning gravel blends. Each blend is made up of different aggregate sizes, textures and colours that span the spectrum. From warm golds and yellows to contemporary silvers and greys, from monochrome white, black and green to russet browns and subtle pinks, DALTEX offers the widest choice of colours in the UK.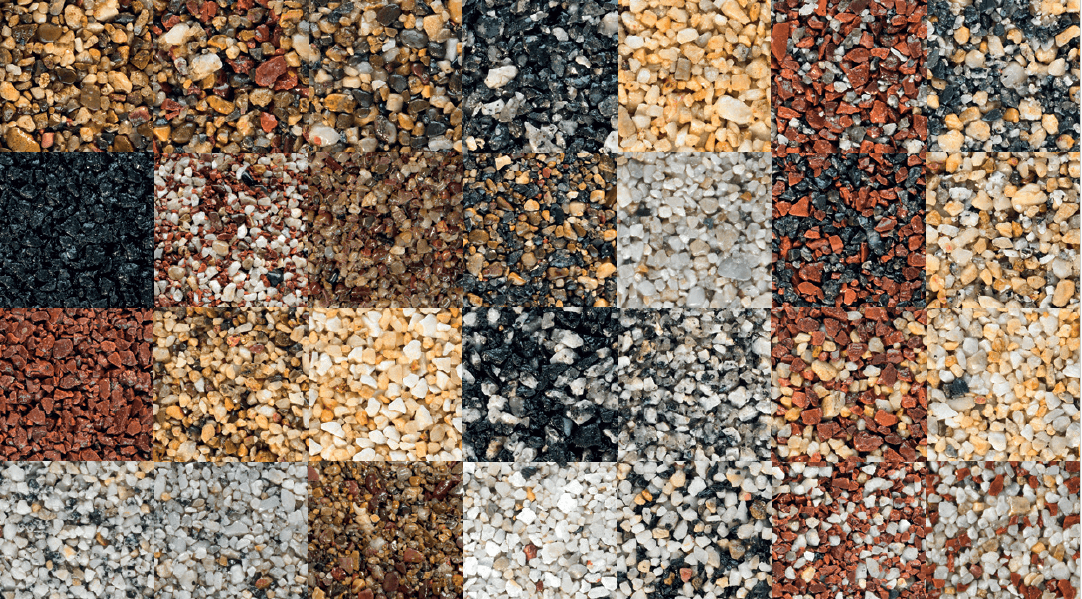 Download a copy of the Daltex Bespoke colour brochure.
Resin Bound vs Block Paving – which driveway is more practical?
Maintenance
When it comes to practicality, Resin Bound driveways offer several advantages over block paving.
Resin Bound driveways are easy to clean and maintain and weed resistance is a major benefit. Due to the uniform, tightly knit surface, weeds find it difficult to establish a root system. To keep the driveway surface looking pristine, all that is required is an occasional sweep with a broom and simple jet wash.
Block paved driveways on the other hand are susceptible to weed growth and maintenance is often a long, tiresome process involving hours spent on hands and knees pulling out weeds from the gaps between each brick. 
Dust and dirt will also settle on the paving meaning regular jet washing is required to maintain stone colour.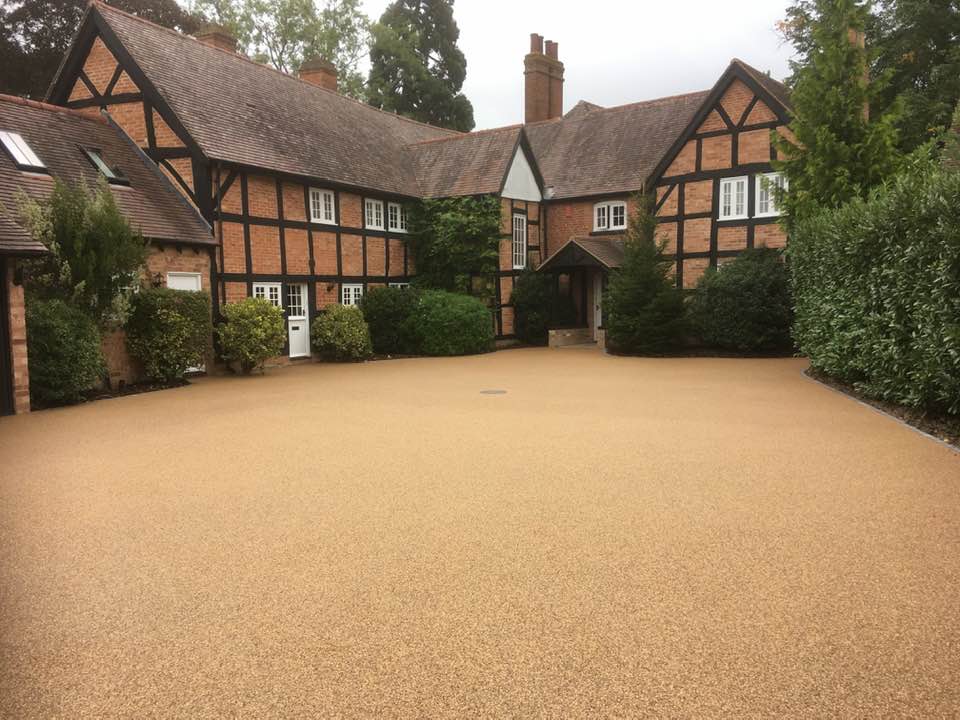 Permeability
Government legislation requires all new driveways conform to SUDS regulations to help reduce flooding.  Resin Bound is compliant and its permeability allows water from rainfall to drain straight to the ground beneath, meaning puddles are a thing of the past!
Permeable block paving options are available although some standard block paving is not porous and may leave puddles after rainfall. 
Safety
Safety is an important consideration when choosing a new driveway.
Block paving surfaces may suffer from stone becoming loose, uneven or cracking. Resin Bound, on the other hand, is closely knit and trowelled to a flat finish and has no lipped edges. This helps minimise tripping hazards and the added sprinkling of crushed glass added during installation improves slip resistance. 
Resin Bound vs Block Paving - Conclusion
Both Resin Bound and block paving are very popular driveway choices. However, the stunning appearance of a Resin Bound driveway is difficult to beat. Add to that its practicality and versatility and it's easy to see why Resin Bound has become the driveway solution everyone is asking for. 
Want to find a DALTEX Resin Bound driveway installer near you? Or need advice?
DALTEX Resin Bound is trusted and used by thousands of architects, specifiers, landscapers and driveway contractors throughout the UK and comes with a product quality guarantee.
If you need help finding a DALTEX Resin Bound installer near to you, call us on 01629 636500. We're also happy to help with any questions you have about Resin Bound!
Back to Latest News