The Ultimate Guide to Resin Bound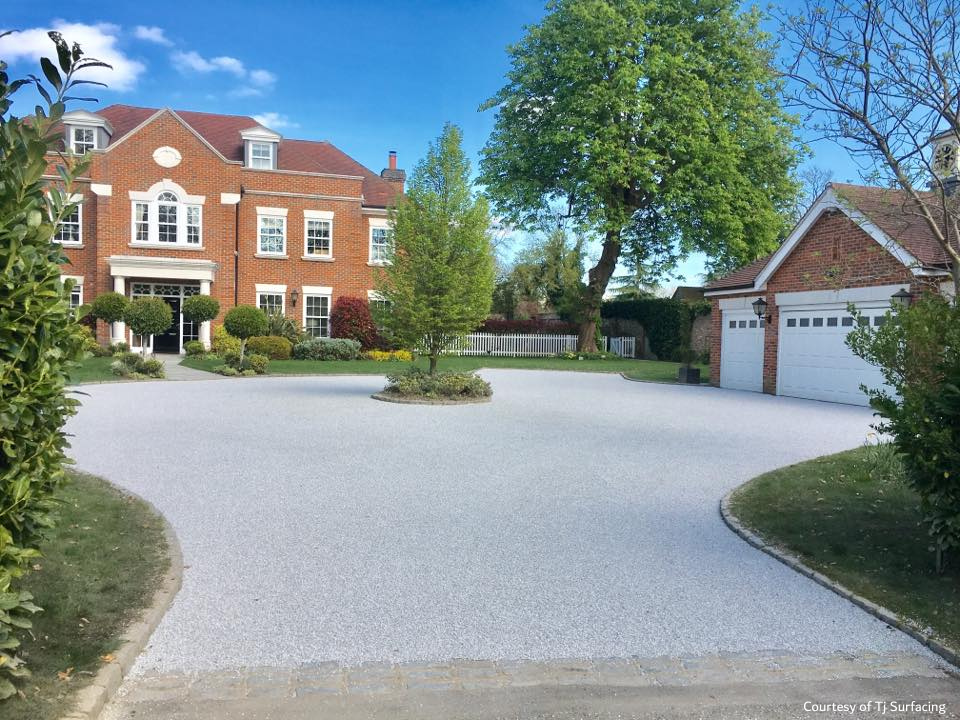 More and more residential and commercial driveway surfaces across the UK are being transformed with Resin Bound and high demand for this attractive yet practical choice has made it the fastest growing surfacing solution in recent years.
The secret to Resin Bound's rising popularity comes down to three things - its beauty inspires the designer; its practicality satisfies the installer, and the finished result delights the customer.
Derbyshire Specialist Aggregates is the manufacturer of DALTEX - the UK's No.1 brand in Resin Bound.  Every year, over 500,000 square meters of DALTEX Resin Bound are specified and installed for a diverse range of projects and it is trusted by thousands of architects, specifiers, landscapers and contractors across the UK. 
This guide answers the most common questions we hear regarding Resin Bound, from what is Resin Bound to the do's and don'ts of installation.
What is Resin Bound?
Resin Bound, also known as 'stone carpet', is a permeable surfacing solution that is made from mixing UV-Stable resin and dried aggregates together in a forced action mixer. This creates a Resin Bound gravel mix that is trowelled onto a suitable sub-base to provide a permeable, smooth, seamless finish that looks stunning and is incredibly practical to maintain.
Resin Bound vs Resin Bonded – what is the difference?
Resin Bound and Resin Bonded surfacing may sound similar, but they are in fact very different surfacing solutions, and you can tell the difference between Resin Bound and Resin Bonded on sight.
Resin Bound combines resin with dried aggregate before laying, and after trowelling it produces a flat, even finish that is permeable.
Resin Bonded provides a textured finish and gives the appearance of loose gravel by spreading a layer of resin across the surface and then broadcasting aggregate into it. This creates a natural looking stone but unlike Resin Bound, Resin Bonded is non-porous and is not SUDS compliant.
Where can Resin Bound be used?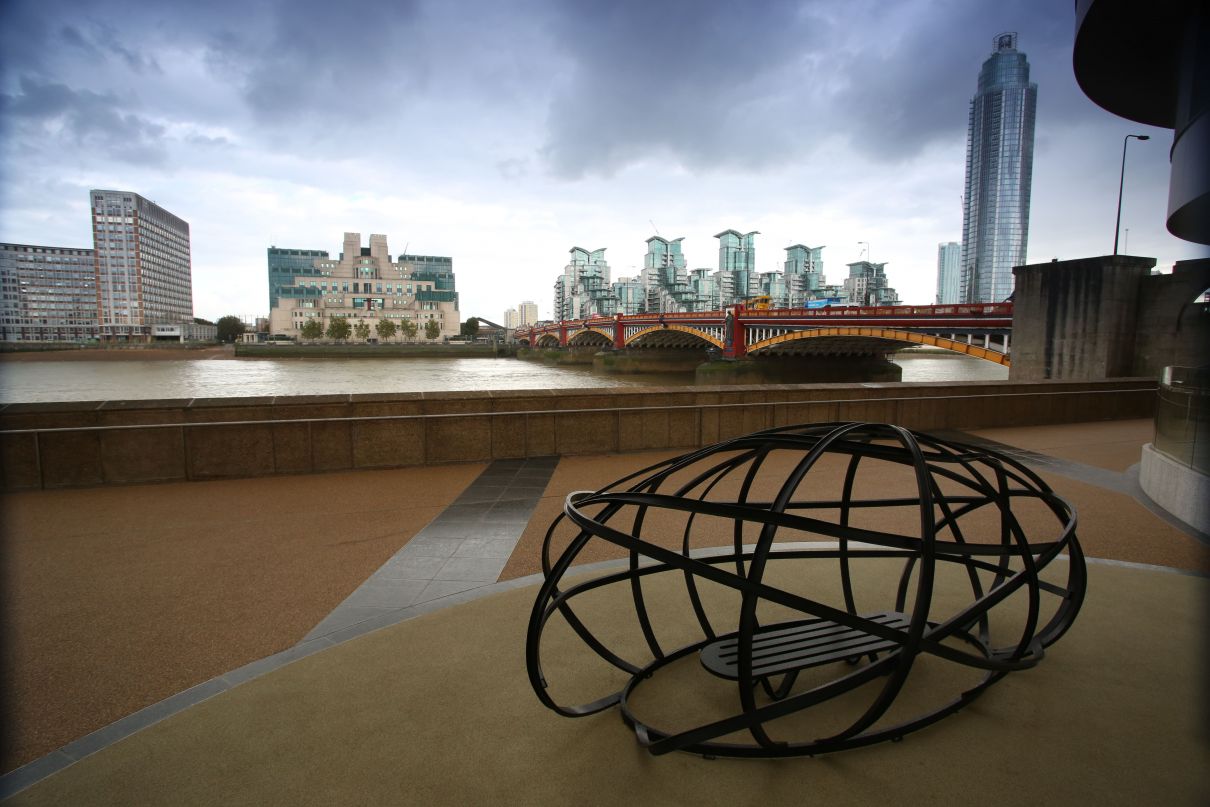 Resin Bound can be installed in a wide variety of residential and commercial areas including:
Driveways 

Walkways & Paths

Patios

Parks and Gardens

Concourses

Car Parks

Cycle Paths

Race Courses and Sports Stadia

Picnic areas

Towpaths

Schools, Medical Centres and Hospitals

Terraces

Bridges

Shopping Centres
What are the advantages of a Resin Bound surface?


To learn more about the features and benefits of Resin Bound surfaces, read our dedicated blog here.Although many hard surfacing systems are available such as macadam, concrete, block paving and imprinted concrete, nothing matches the practical performance and visual appeal of a Resin Bound surface.
Frequently asked questions
Are Resin Bound driveways permeable and SUDS compliant?
Urbanisation has led to increased flood risk and as a consequence, all new driveways have to comply with SUDS regulations. SUDS are Sustainable Urban Drainage Systems, and a new driveway requires planning permission unless it is SUDS compliant.
You will not need planning permission if a new or replacement driveway of any size uses permeable (or porous) surfacing which allows water to drain through, such as gravel, permeable concrete block paving or porous macadam, or if the rainwater is directed to a lawn or border to drain naturally. If the surface to be covered is more than five square metres planning permission will be needed for laying traditional, impermeable driveways that do not provide for the water to run to a permeable area. - UKGOV Planning Portal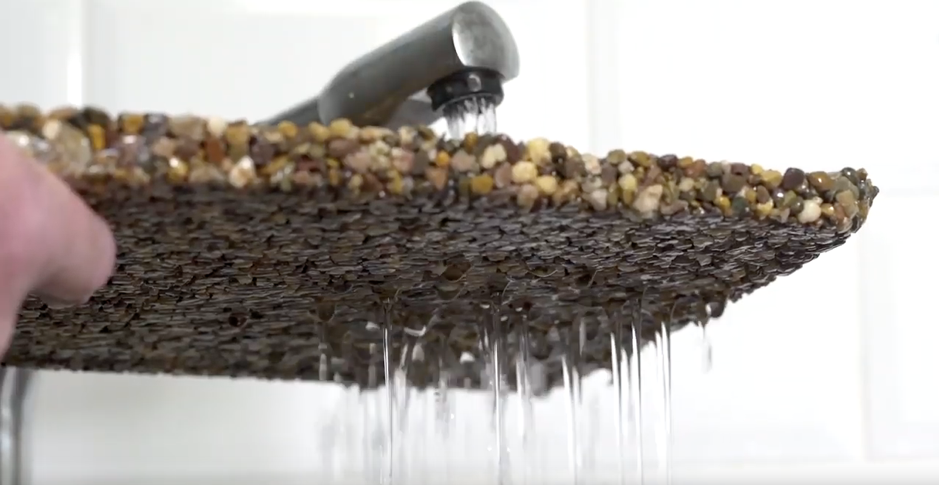 Resin Bound is permeable, which means a Resin Bound driveway, when installed on an appropriate porous base, allows surface water to drain through to the ground beneath. As a result, Resin Bound surfaces are SUDS compliant and will not require planning permission. 
DID YOU KNOW: The porosity of a Resin Bound surface means it is able to absorb up to 850L of water per m2 per minute?
What gravel colours are available for Resin Bound?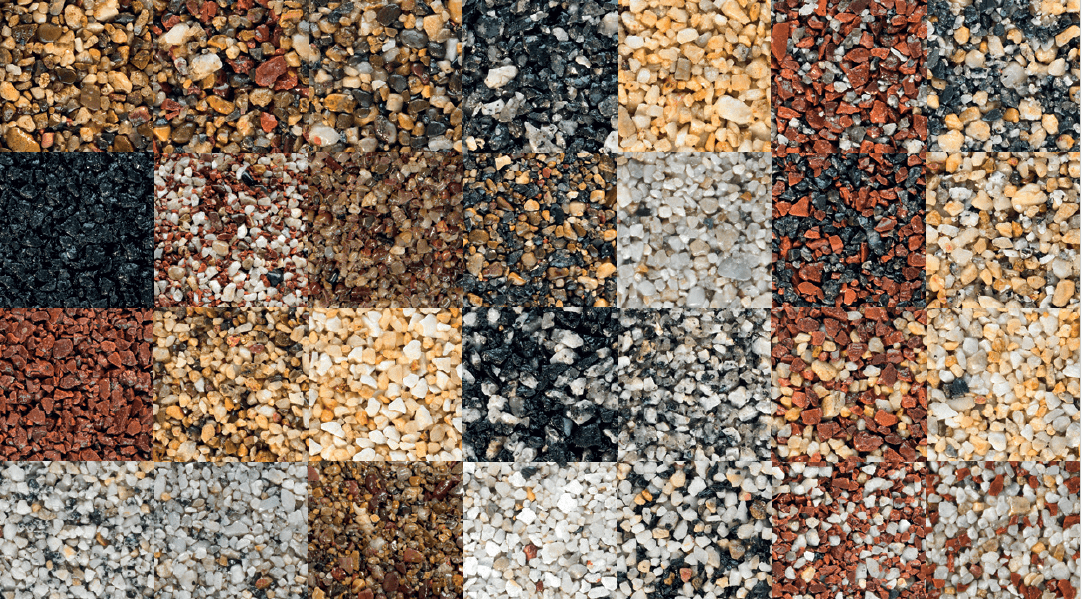 Resin Bound gravel is available in a wide range of stunning colours, from contemporary greys to blacks, warm golds, creams, reds and greens; the popular DALTEX Bespoke range features a spectrum of 48 aggregate colours to suit every age and style of property.
How versatile is Resin Bound surfacing?
Resin Bound is very versatile and offers limitless design opportunities; from geometric patterns to personalised letters; bespoke logos to contrasting colour blocks, design choices are limited only by the imagination.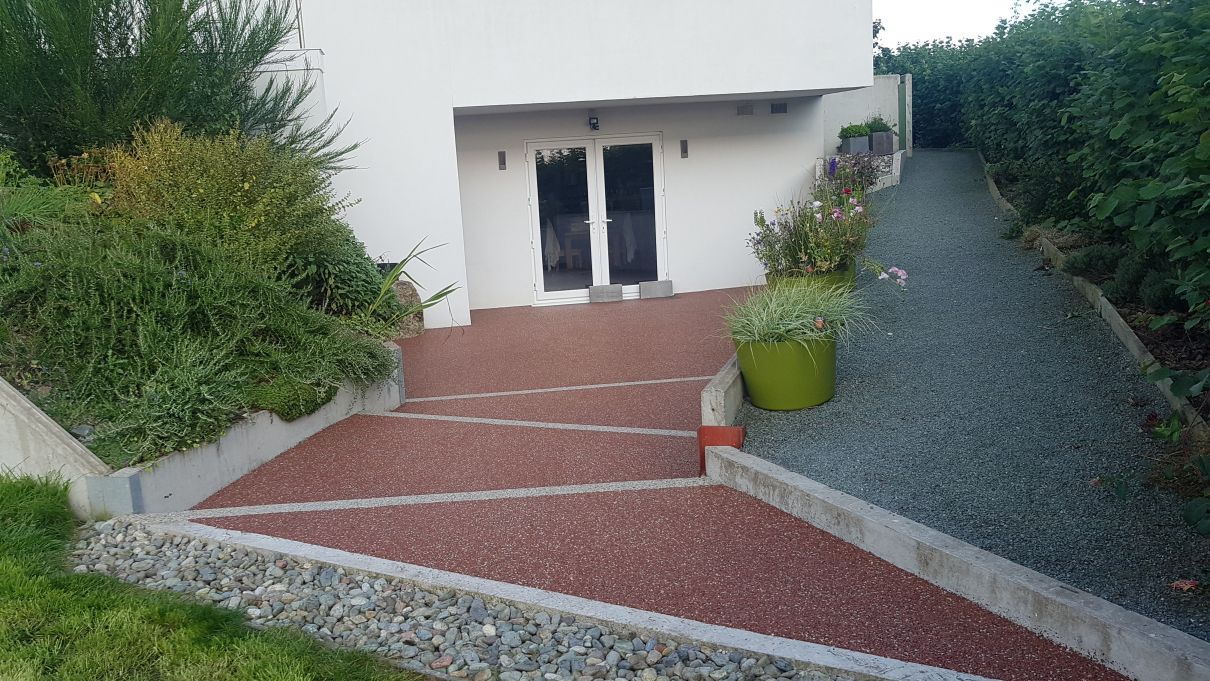 Better yet, it can be applied to all areas including slopes, steps and borders.
How practical are Resin Bound driveways?
As well as being beautiful and versatile, Resin Bound driveways offer a range of practical advantages.
One of the main advantages of a resin driveway is that they are considerably easy to maintain when compared to traditional driveway surfaces. In fact, an occasional sweep with a broom and a jet wash is all that is required to keep the surface looking pristine.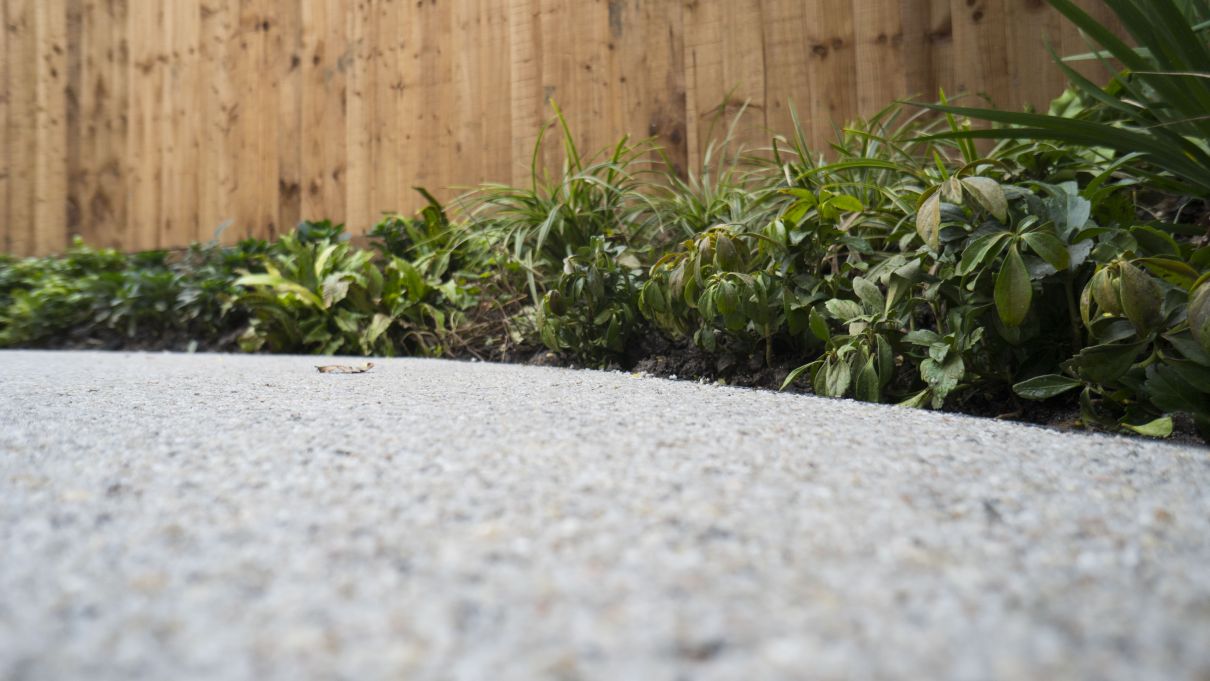 Weed resistance is another major benefit for homeowners. Long, tiresome days spent on hands and knees is a thing of the past as weeds cannot lay deep roots due to the surface.
The occasional weed, if it appears, can be easily removed with a jet wash.
Resin Bound has no lipped edges or unlevel surfaces which can sometimes create tripping hazards on sloped surfaces, and the added sprinkling of crushed glass provides added slip resistance.
For more information on how to clean and maintain a resin driveway, we recommend reading our helpful Resin Bound maintenance guide.
How do you choose high quality Resin Bound materials?
A successful Resin Bound driveway installation relies upon the quality of the dried aggregates and resin used.
As the Resin Bound market has grown, the number of Resin Bound suppliers on the market has increased and resin and dried aggregates of varying quality and reliability are available.
A number of key factors need to be considered when choosing a supplier and materials.
Frequently asked questions
What aggregate should you use for Resin Bound surfacing?
Resin Bound aggregates are manufactured specifically for Resin Bound surfacing, and there are several important things that installers should consider before they choose which gravel to use. 
As the manufacturer of DALTEX, we believe there are 7 key factors that affect the quality of Resin Bound aggregates.
Resin Bound gravel must be clean

Resin Bound gravel must be dry

Resin Bound gravel must be as free from dust as possible

Strong packing 

Batch consistency 

Stock availability

Wide range of colours
Derbyshire Specialist Aggregates source aggregates from across the UK and worldwide and provide an unmatched range of dried aggregate colours, sizes and shapes to suit all types of Resin Bound and Bonded applications.

We follow a highly tuned and carefully mastered manufacturing process to produce our high quality Resin Bound aggregates. It is this care and precision that makes DALTEX aggregates the industry standard for quality and consistency.
What resin should you use for Resin Bound surfacing?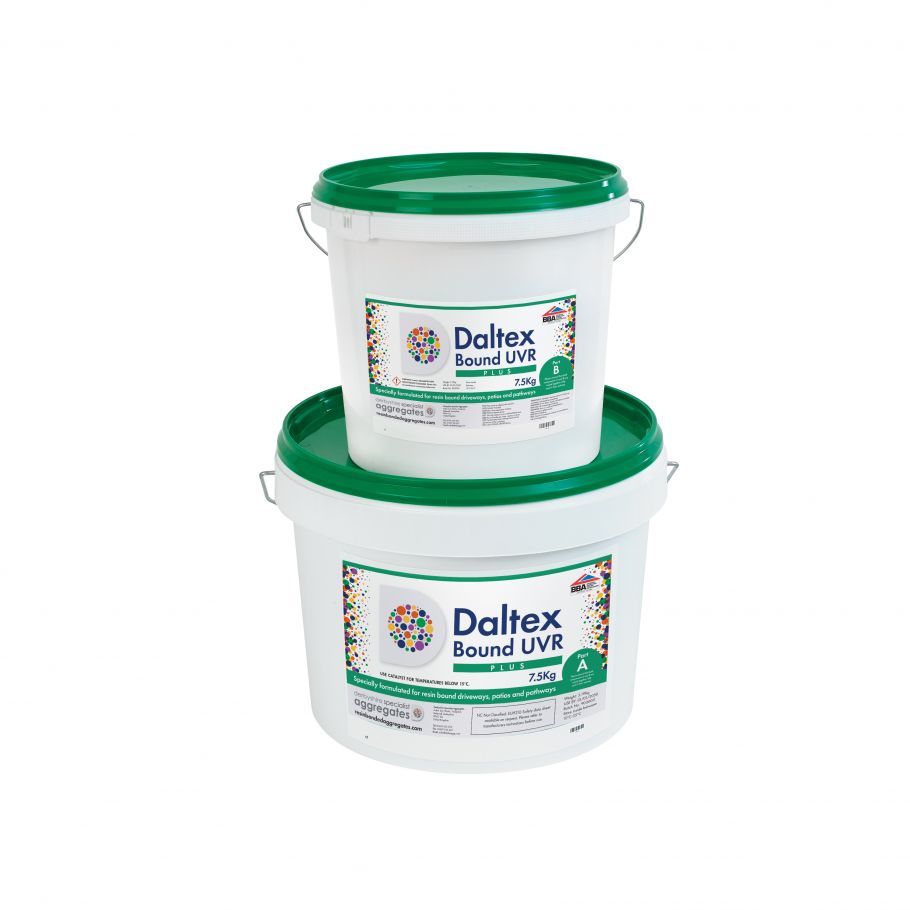 To achieve a beautiful, durable and consistent Resin Bound surface, it is important that a high quality resin is used.
Resin is one of the most expensive components of a Resin Bound installation and the quality of resin used will be a significant factor in determining the success and strength of the finished Resin Bound surface – but not all resin systems are the same.
There are two types of resin for Resin Bound installations – UV stable resin or non-UV stable resin. We strongly recommend that only UV stable resins are used for Resin Bound driveways, paths, patios and other external surfaces as it provides a range of advantages over non-UV.
To achieve a full strength cure, it is important that the correct ratio of resin to hardener is used. Optimum performance is achieved with a hardener to resin ratio of H1: R:1.03-1.05.
DALTEX UVR Plus Resin has been developed specifically for delivering high quality UV resistant Resin Bound surfaces and each resin kit has 1 part hardener to part 1.04 resin.
What are the benefits of using UV Stable resin for Resin Bound surfacing over Non UV?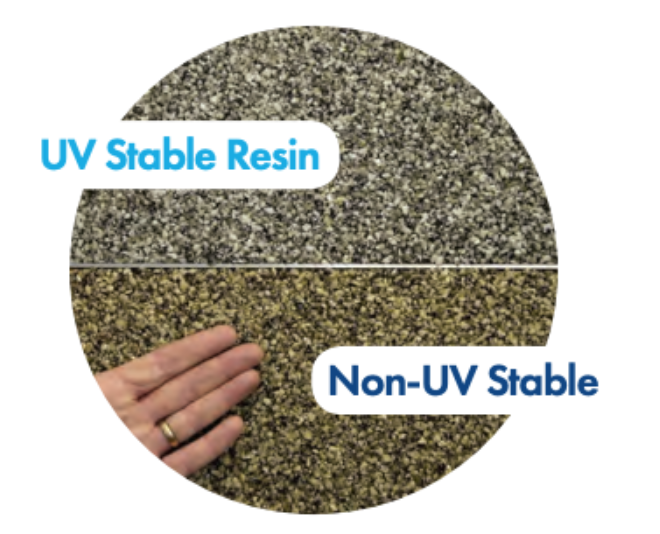 The effect of natural light on the surface is greatly reduced and fades evenly.

The natural stone finish is maintained.

UV systems (Aliphatic hardener) are more flexible and less liable to cracking.

UVR resin is easier to trowel and is far more tolerant of differing conditions.

UVR resin provides more protection if rain occurs once laid.

Whilst UVR does cost more than non-UV resin, the difference in price is insignificant compared to having to re-lay a surface.
What is the ideal mix design for Resin Bound surfacing?
Through research and experience, we believe that having the correct ratio of resin to aggregates is critical to achieving a lasting, durable surface. 
The DALTEX UVR System is a Resin Bound surfacing system comprised of a two-part polyurethane binder (DALTEX UVR resin) and a range of DALTEX dried aggregates (typically 1-3mm & 2-5mm), plus C52 sand, and we recommend the following amounts of aggregates.
DALTEX Bound Plus UVR 7.5kg

75kg (3 bags) of 2-5mm DALTEX dried aggregates

25kg (1 bag) of 1-3mm DALTEX dried aggregates

6.25kg (1/4 bag) of C52 sand 
Total 106.25kgs – % resin 7.05%
Coverage approximately 3.55m2 at 18mm and 4.0m2 at 15mm
For BBA Approved Resin Bound installations, a minimum depth of 18mm must be used. This is so the surface achieves the required tensile strength for the application.
The system has been independently tested and is regularly reviewed by the BBA (the British Board of Agrément), the highest industry standard for Resin Bound. BBA certification is widely recognised throughout the construction industry as a symbol of quality and reassurance.
When installed according to DALTEX installation instructions and mix design, this BBA approved system has proven to demonstrate quality and durability time after time.
What are the best bases for Resin Bound?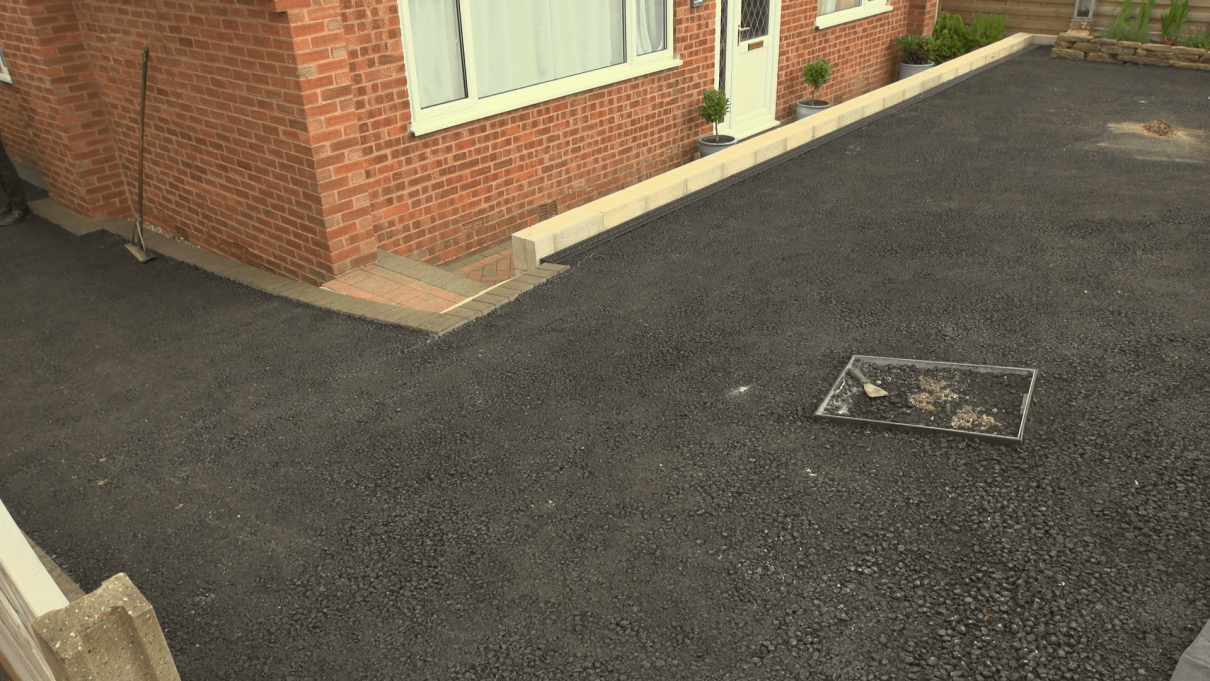 A Resin Bound driveway surface will only ever be as stable as the base it is laid on. For this reason, it is essential that the base beneath is strong, stable and monolithic. 
Before identifying the best base for a Resin Bound project, it is important to consider the traffic expected once the Resin Bound surface is applied. A typical base for a resin driveway can include:
Open Grade Tarmacadam

Concrete

Permeable no fines concrete

Permeable grid system
Learn more about the suitable bases for resin driveways in our dedicated blog.
Frequently Asked Questions
Do you need drainage for a resin driveway?
To help manage urban runoff, all new driveways must conform to SUDS regulations. This means new Resin Bound driveways must provide suitable drainage either through a suitable permeable base or an appropriate soakaway.
Can Resin Bound be laid on gravel or soil?
Resin Bound must be applied to a structurally sound sub-base. Gravel and soil are not suitable bases for Resin Bound as expansions and subtractions in the substrate will lead to reflective cracking.
What NOT to lay Resin Bound on:

How is a Resin Bound driveway installed?
Resin Bound driveways are installed onto either new or existing stable surfaces by a team of at least 3 specialists consisting of a mixer, a luter and a troweller, and each team member has their own responsibilities and areas of expertise.
Read more about the important roles within a Resin Bound installer team in our dedicated guide on how to install a resin bound driveway.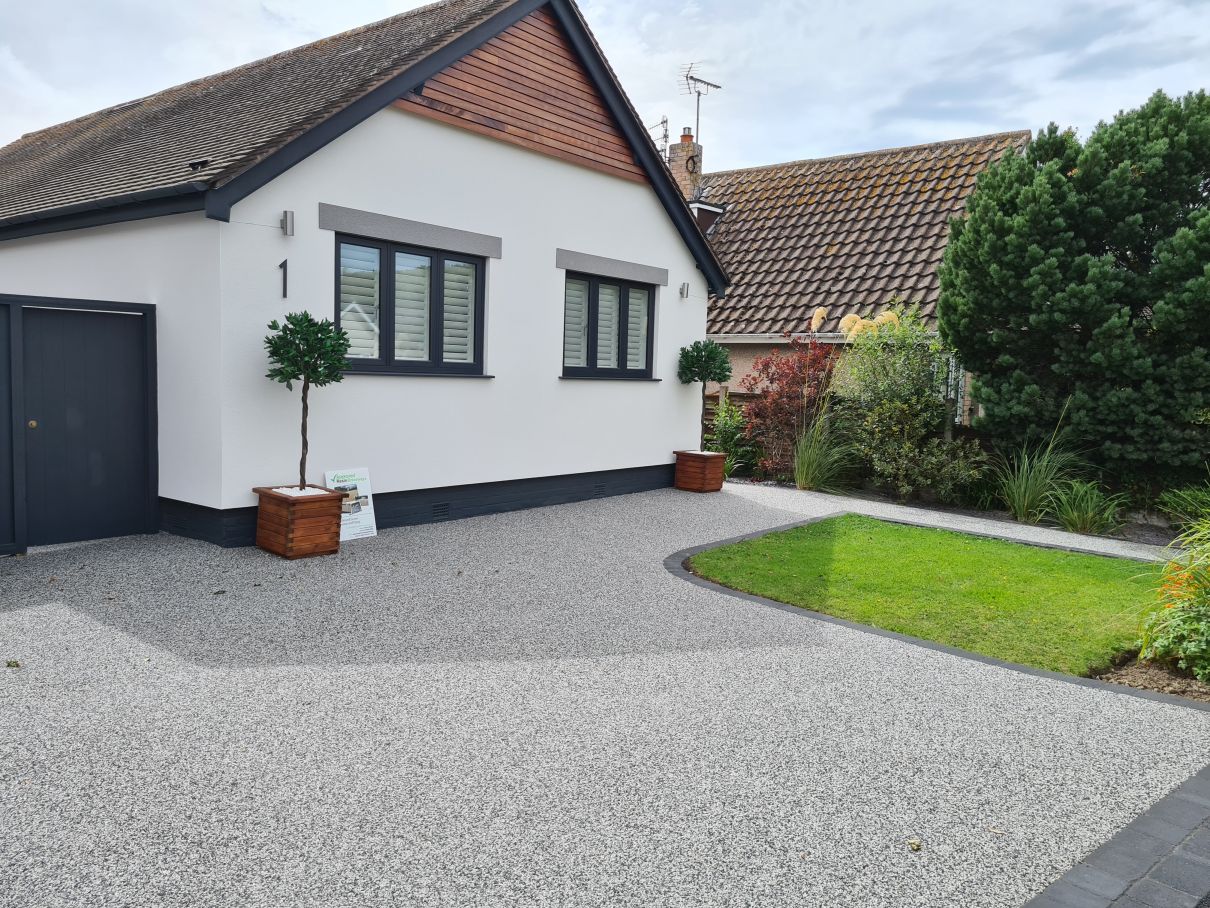 Photography courtesy of Approved Driveways.
Frequently asked questions
Can you lay resin in the rain?
Resin Bound can not be installed during rainfall. Moisture is the number one enemy of Resin Bound, and if it rains during a resin driveway installation, the entire driveway surface could be compromised leading to the removal and wastage of materials. 
How long does it take to lay a resin driveway?
The time taken to complete a resin driveway installation will vary depending on the experience of the contractors, the size of the surface and base requirements. A team of 3 experienced resin driveway installers may be able to lay between 70m2 – 150m2 of Resin Bound in a day.
How long before you can walk or drive on a resin driveway?
Once the Resin Bound surface has been laid, it will take approximately 8 hours for the resin to cure, however we do not recommend any foot traffic for at least 24 hours.  For vehicular traffic, we recommend waiting at least 48 hours.
Can you lay a resin driveway yourself?
Resin Bound driveway installations should never be attempted without specialist training. Derbyshire Specialist Aggregates offer an introductory online Resin Bound training course which is free and includes the do's and don'ts of Resin Bound, and we hope it shows why we recommend resin driveways are only ever installed by experienced and skilled teams.
Read more about DIY Resin Bound driveways here.
Need more information? Ask the experts
For easy to access information regarding Resin Bound, our knowledge centre has the answers to many of the frequently asked questions relating to Resin Bound driveways installations, Resin Bound materials and avoiding common problems.
If you are unable to find an answer to one of your questions, our team of specialists is available to help on 01629 636500, or email us directly at marketing@derbyaggs.com.
YOU MAY ALSO BE INTERESTED IN:
Back to Latest News