Choosing A Grey Resin Driveway - Colours, Costs & Ideas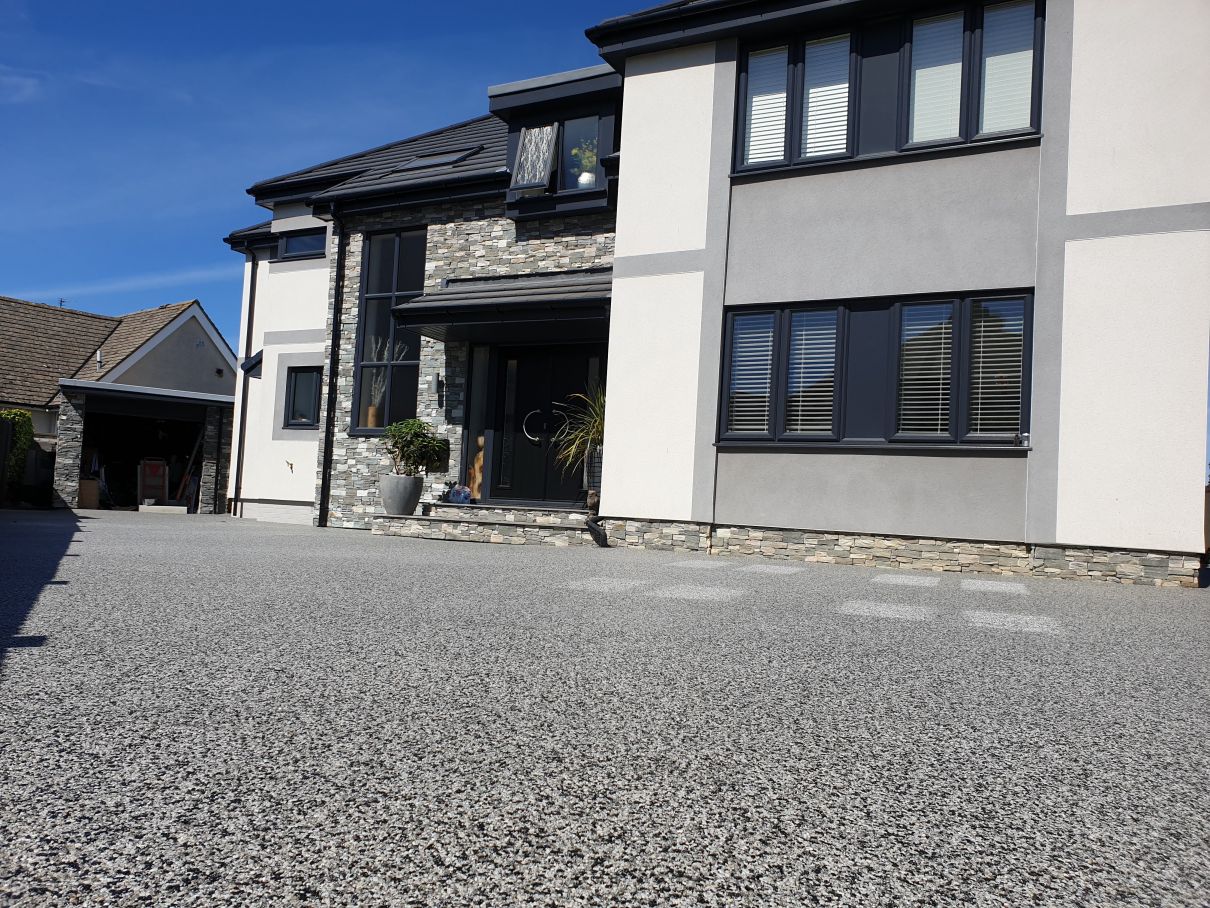 Photography: Approved Driveways
Resin Bound surfacing has seen an explosion in popularity in recent years as homeowners across the UK have discovered just how beautiful and practical Resin Bound driveways, pathways, and garden patios can be.
Gone are the days of being restricted to monochromatic driveway surfaces such as concrete, tarmac, or block paving with the choice of Resin Bound colours creating stunning looking driveways that boost kerb appeal, require little maintenance and are certain to add value to your property.
Discover the Resin Bound colour you want to come home to...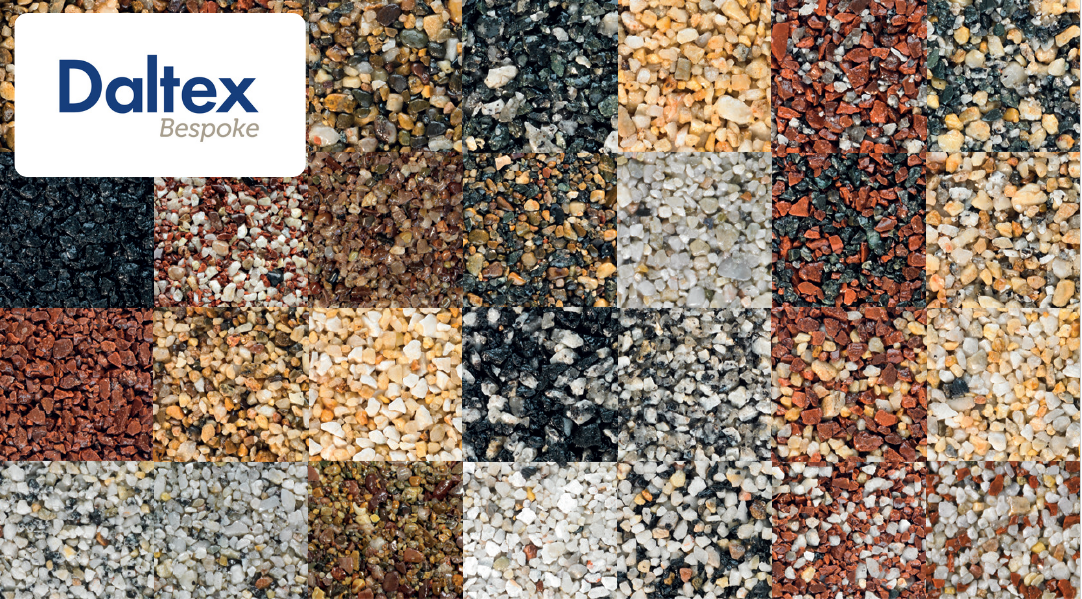 One of the main advantages of Resin Bound driveways is the extensive range of gravel colours available; from contemporary greys to stylish silvers, warm pinks to deep golds and reds, there are many colours to choose from. 
DALTEX is the UK's number one brand in Resin Bound, and the DALTEX Bespoke range of Resin Bound aggregate blends offers a huge selection of colours, textures and shapes to ensure you find the ideal colour to complement the exterior of your home and make your dream driveway a reality.
Why are grey resin driveways so popular?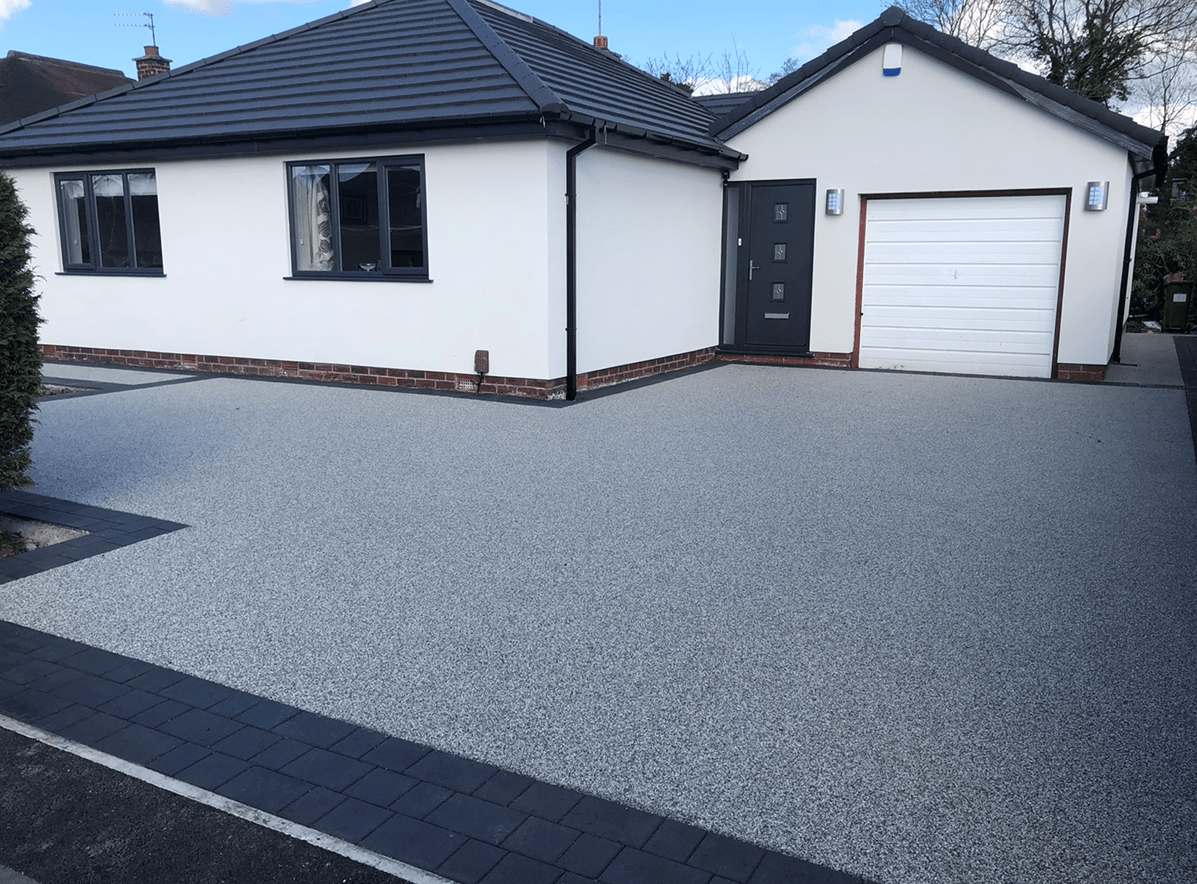 Silver & Grey Resin Bound driveway with dark grey block paving edging. Photography: Driveway Designs NW
Grey has been one of the most popular colour trends for homes throughout the 21st century. Due to the surge in popularity for Resin Bound, this trend is moving from the interior of homes to exterior spaces with beautiful new grey and silver Resin Bound driveways, patios and paths.
With 48 DALTEX Bespoke blends to choose from, homeowners are often drawn to the beauty of the grey and silver gravels on offer, with countless tones to choose from, including darker, lighter, or flatter greys and silvers. This is because: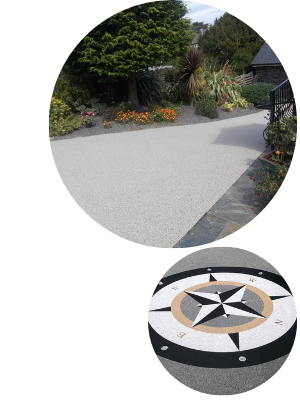 Grey Resin Bound suits all types of property. From traditional Victorian terraces to modern luxury new builds to small, homely cottages, grey Resin Bound driveways look equally stunning in any setting and at any size.
Grey resin driveways can enhance almost any type of brickwork, paver edging or pebbledash colour scheme. They are highly versatile and provide an excellent opportunity to make a statement by contrasting with bold colours such as red or green.
Greys and silvers can be used in any design and they make a perfect background for any inset driveway design feature such as a logo, house number, shape or even a family crest!
Resin Bound driveways are permeable and don't require planning permission as long as a porous sub-base or suitable soakaway is used and complies to Sustainable Urban Drainage System (SUDS) regulations.
Need inspiration? Choose from a variety of attractive silver and grey Resin Bound aggregates
Daltex Gunmetal Grey
The newly launched Daltex Gunmetal Grey is already proving to be a very popular choice - this eye-catching, naturally rounded blend of dark and light grey interspersed with cream and brown throughout creates a spectacular finish and is often combined with darker black borders to create a stylish boundary line.
Daltex Ocean Pearl
Daltex Ocean Pearl is a stunning combination of light and dark grey shades interlaced with gorgeous flecks of cream and amber. Ocean Pearl is a real showstopper and is perfect for all types of Resin Bound surfacing projects including walkways and patios.
Daltex Anthracite
The epitome of style. Daltex Anthracite invokes a stylish and sophisticated feel with its silver tones mixed with accents of grey, amber, and cream aggregate. A highly popular choice for creating grey resin driveways that are bound to stop neighbours in their tracks!
Daltex Slate Grey
This gorgeous slate coloured Resin Bound gravel is permeated with shades of lighter grey throughout. Daltex Slate Grey is a timeless classic that suits all styles of property and looks particularly stunning when installed against contrasting borders.
Daltex Titan Silver
A modern classic. Daltex Titan Silver is a contemporary speckled silver mix which works well with most colours and designs and can be paired with black or green for show stopping results.
How much do grey resin driveways cost?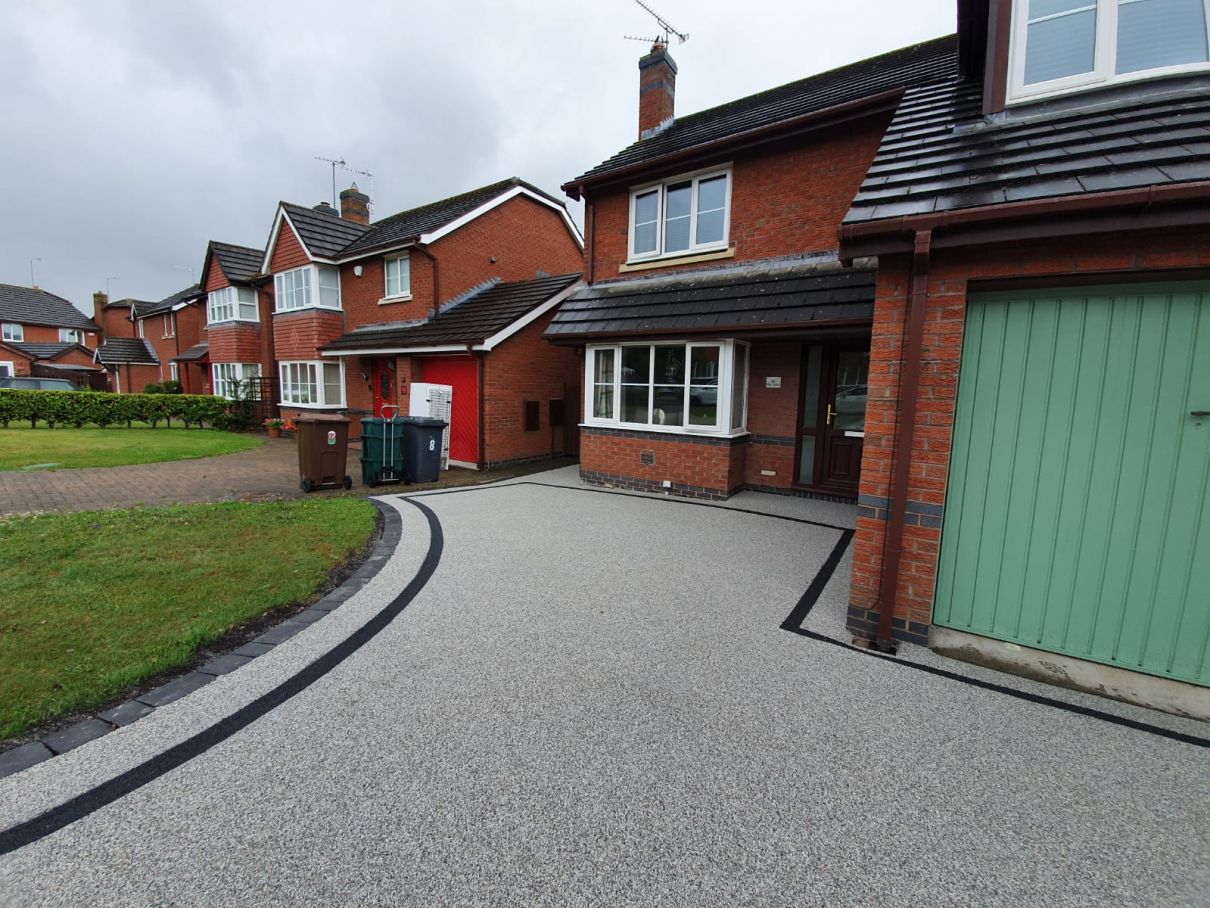 Grey Resin Bound driveway with dark black Resin Bound gravel edging. Photography: Approved Driveways
The cost of a Resin Bound driveway is determined by several key factors. How large is your driveway? Will a new sub-base need to be installed? Is high quality UVR resin used? 
Costs vary, but as a general guideline, a new Resin Bound driveway will cost anywhere between £50-80 per m2, excluding any base preparation. However, this range will vary according to the points referenced above.
For more information about resin driveway costs, read our dedicated blog:
How much does a Resin Bound driveway cost?
Grey Resin Bound aggregate samples
To help you choose the right colour for your resin driveway, we provide samples so that you can lay them against the brickwork of your home - we recommend doing this at all times of the day to see how the colour changes in different lighting conditions. 
Need help finding a Resin Bound installer?
Need help finding a DALTEX Resin Bound installer? Have more questions you want to ask? Our experienced Resin Bound team is always happy to help answer any questions you may have! 
Call us on 01629 636500, or send us a message today.
Back to Latest News