Why Should You Consider A Resin Bound Patio?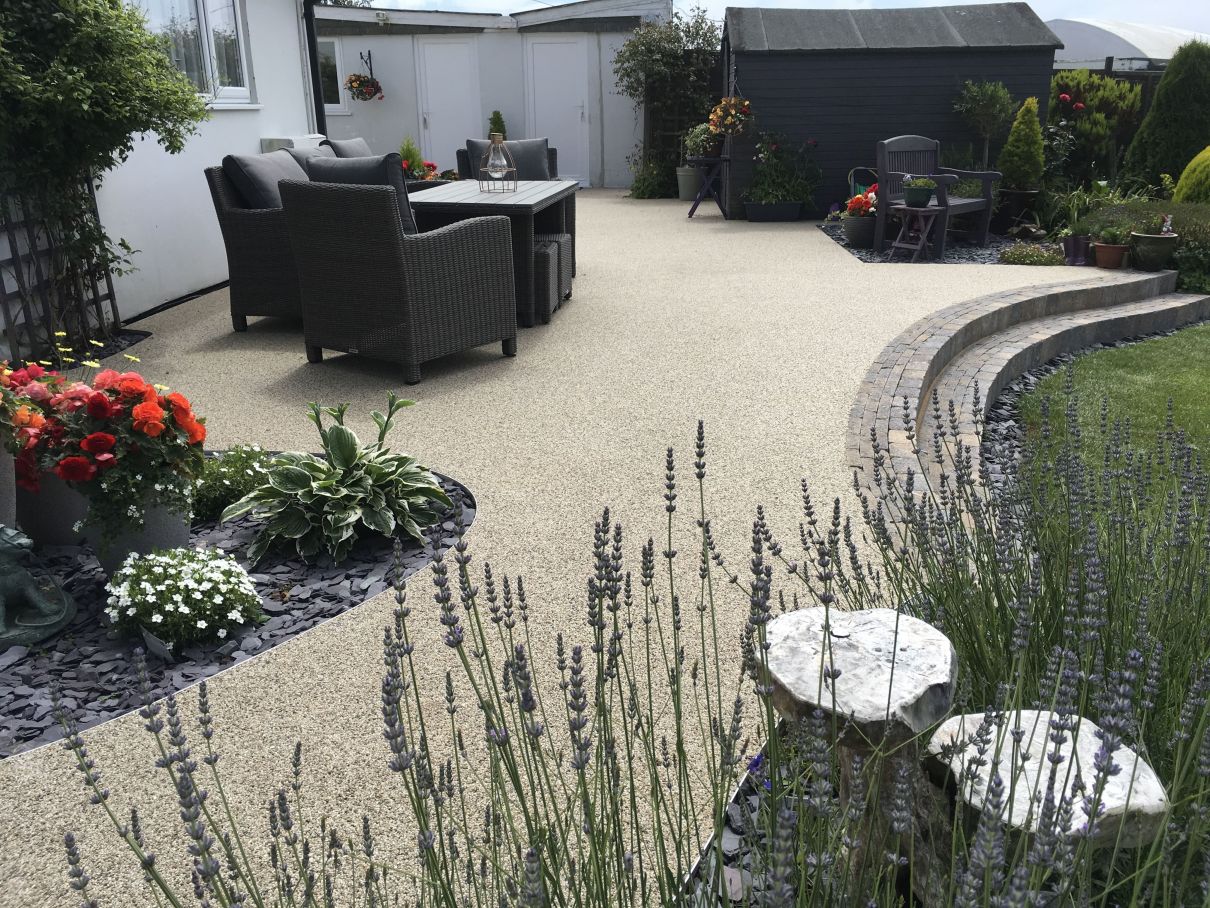 Just as the kitchen has become the centre of our homes, a patio is quickly becoming the central focus of our gardens. A patio matches all moods and all occasions - it can be filled with the laughter of family and friends or the perfect spot to sit and quietly escape the world. 
For years, this useful and versatile garden space has been created mostly out of monochromatic concrete or block paving but the beauty and practicality of Resin Bound has seen Resin Bound patios soar in popularity.
This article highlights the advantages of a Resin Bound patio and outlines why Resin Bound has become the choice to make for improving garden spaces of all sizes and shapes.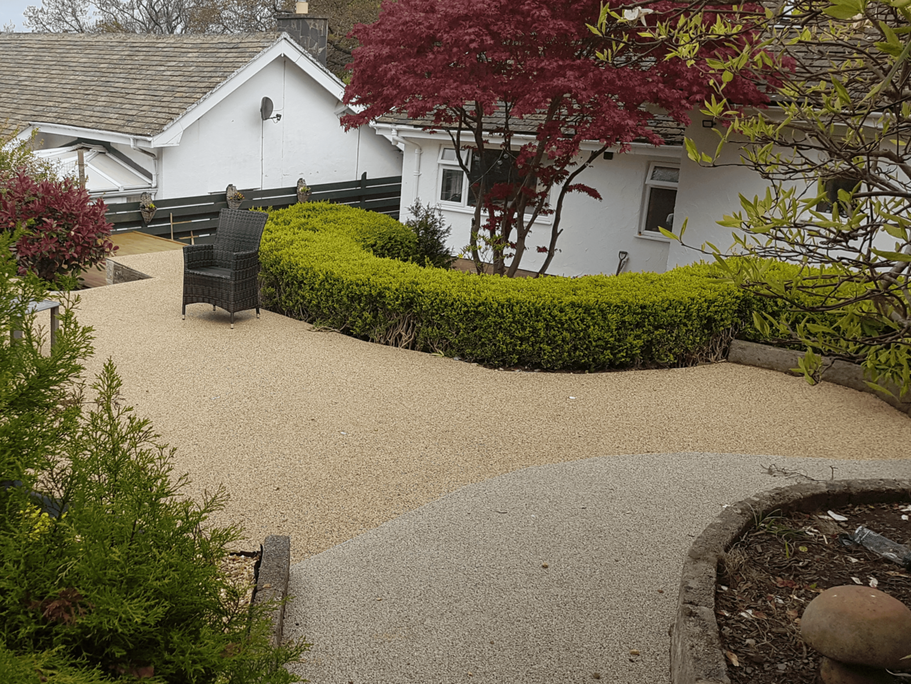 Courtesy Approved Resin Driveways
What is a Resin Bound patio?
Resin Bound patios are naturally beautiful, stylish and very practical. They are made from mixing high quality dried aggregates and UVR resin, which is trowelled to produce a uniform, even and consistent finish. 
The size, shape and colour of a Resin Bound patio is unlimited - they can be created from any design and include borders or contrasting colours or you may even wish to claim your sitting spot with your own initials! 
Resin Bound patios can match the design of any garden or home
One of the main advantages of Resin Bound patios is the extensive range of gravel colours available in many different shades and textures; from contemporary greys to rich golds, natural greens to fiery reds, you can select the colour that best enhances the beauty of your home's brickwork or creates the mood and style of outside space you want. A Resin Bound patio can be contemporary and sharp or just as easily the welcoming focus of a traditional style cottage garden.
The Daltex Bespoke Resin Bound range features 48 stunning gravel colours. Each blend is made up of different aggregate sizes and textures. Colours can be used in any combination to create a unique and personalised design - even logos can be incorporated!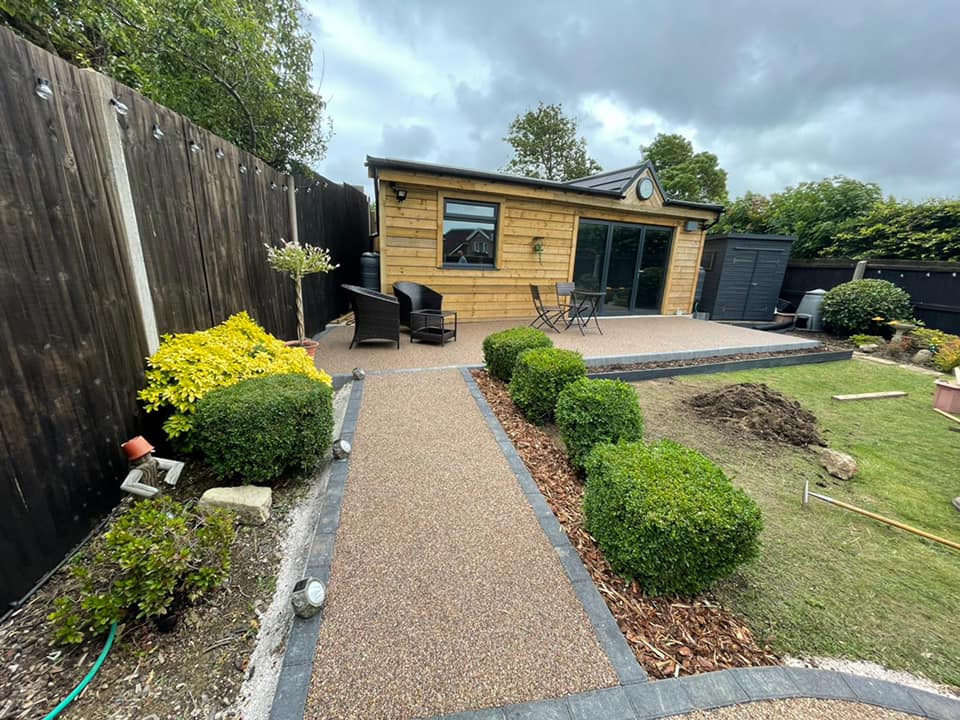 Courtesy Premier Resin Drives

Resin Bound patios are easy to maintain and practical
Most of us have spent a few tedious and painful hours on hands and knees trying to de-weed a driveway or patio area. Unlike block paving, Resin Bound patio surfaces are incredibly quick and easy to clean and weed resistance is a big advantage! To maintain a Resin Bound patio, all you need to do is give it an occasional sweep with a broom and a simple jet wash. Job done!
Resin Bound has more practical benefits. Importantly, it is permeable and SUDS compliant, meaning (as long as the base is suitable) your patio will be puddle free throughout the year. Resin Bound is so porous, it can absorb 850 litres of water per square metre per minute. Even in the UK, it's never going to rain that hard - we hope!
Safety is another important factor to consider. Traditional patio paving may become uneven over time, however the smooth finish of a Resin Bound patio eliminates tripping hazards. Glass is added to a Resin Bound surface to aid slip resistance and connecting resin pathways can be used around a patio - even on slopes - and can provide access to wheelchairs and mobility scooters if required.
For more information on Resin Bound patio cleaning and maintenance, take a look at our Resin Bound maintenance guide.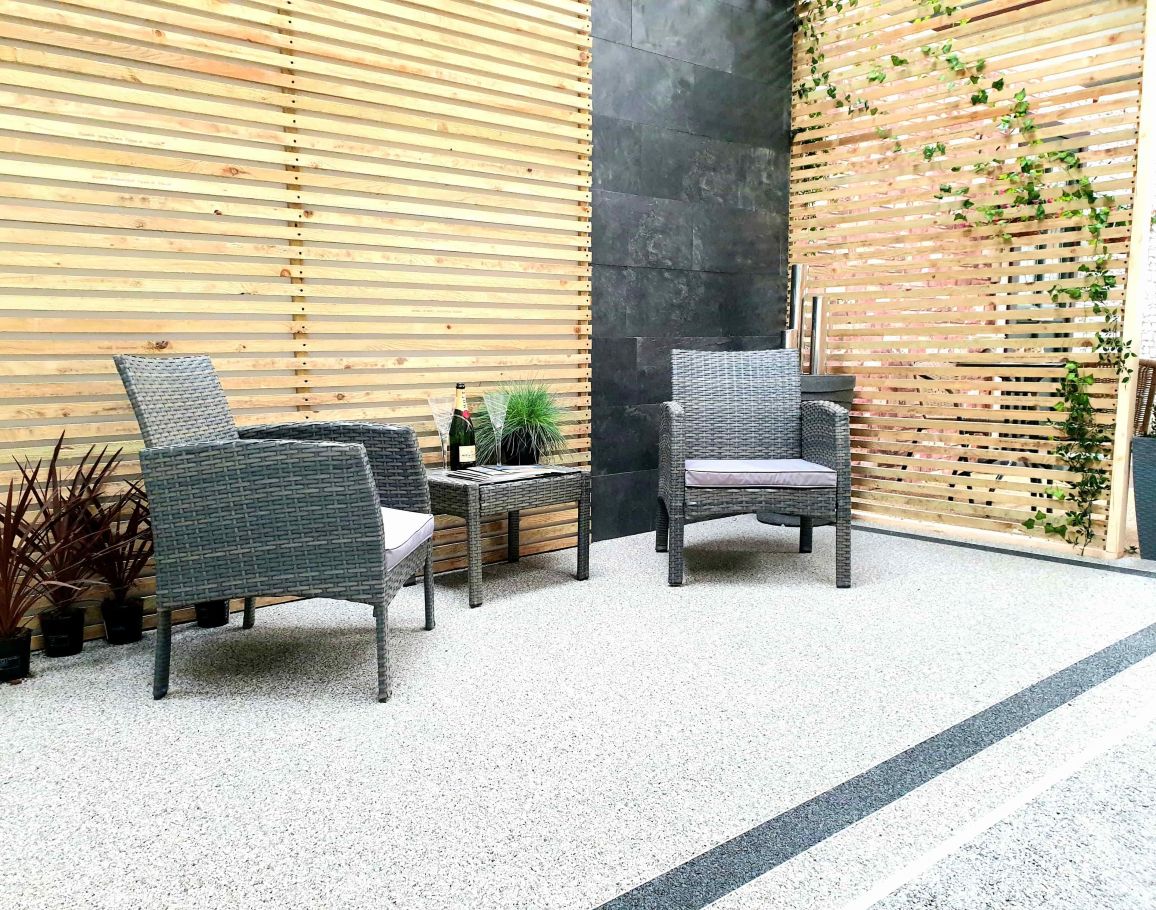 How much does a Resin Bound patio cost?
The cost of installing a Resin Bound patio varies depending on a number of factors, most notably the size of the patio area, the complexity of the design, base condition and whether UVR resin is used. 
As a general guideline, a Resin Bound patio will cost approximately £50-£80 per m2 (excluding any base preparation). This is just a guideline, and the real cost could be higher or lower according to the factors mentioned above.
Can I lay my own Resin Bound patio?
Installing a Resin Bound patio is not a basic DIY undertaking and should never be attempted without training. A DIY installation can lead to all sorts of problems which are both difficult and expensive to rectify.
More information: Is A DIY Resin Bound Driveway A Good Idea Or A Costly Mistake?
Thankfully there are many experienced contractors who specialise in installing Resin Bound patios, paths and driveways. 
A reputable and experienced Resin Bound contractor will follow a very precise recommended mix specification to achieve a beautiful and consistent result.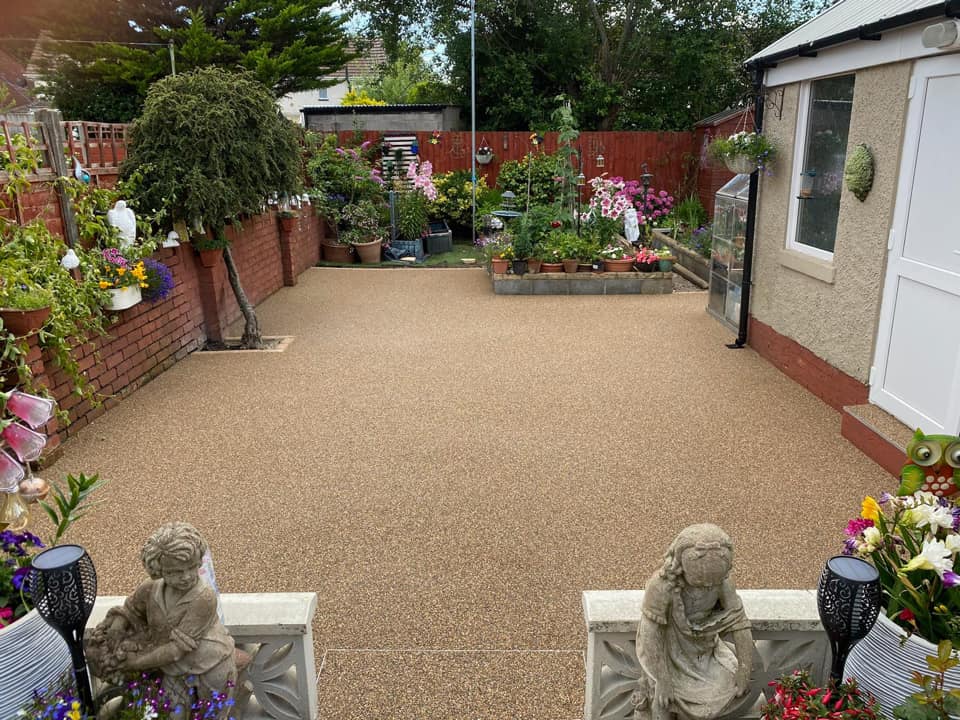 Find a Resin Bound patio installer near you
We strongly recommend choosing a contractor who installs Resin Bound to approved manufacturer standards for the installation of a Resin Bound patio.
The DALTEX UVR Resin Bound System is trusted by thousands of architects, specifiers, landscapers and driveway contractors throughout the UK and has a 15 year product quality guarantee. 
If you need help finding a DALTEX Resin Bound installer near to you, simply fill in the form below. We're also happy to help with any questions you have.
For more information on Resin Bound patios, driveways or paths visit Daltex.co.uk.

Back to Latest News