Is A DIY Resin Bound Driveway A Good Idea Or A Costly Mistake?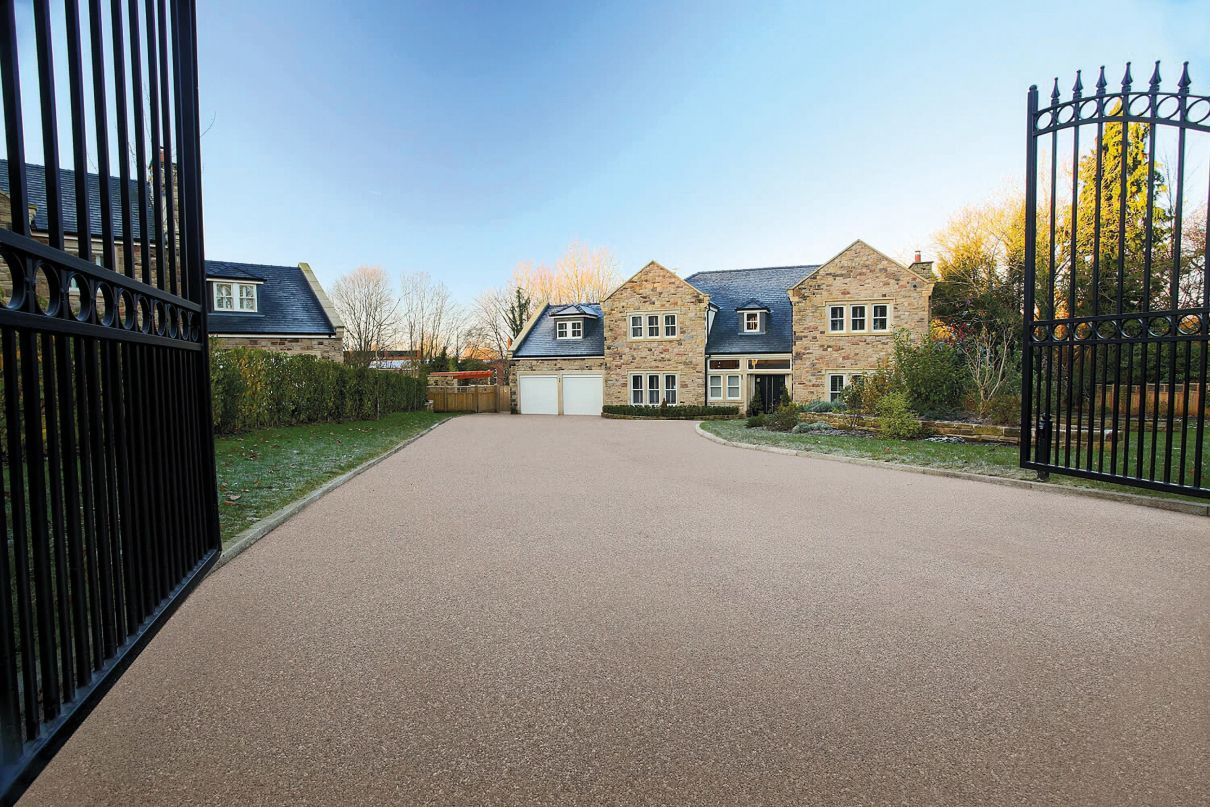 From traditional Victorian cottages to luxury new builds, more homeowners than ever are considering installing a Resin Bound driveway to help improve kerb appeal and add value to their home.
This attractive and practical solution has many advantages over other surfacing solutions but it is not the cheapest option and many homeowners may be tempted to manage costs by undertaking the installation themselves. 
However, turning a Resin Bound driveway into a DIY project can lead to all sorts of problems which are both difficult and expensive to rectify. 
DALTEX is the UK's no. 1 brand in Resin Bound. Manufactured by Derbyshire Specialist Aggregates, DALTEX is used for over 500,000 square meters of Resin Bound surfacing every year and the company strongly recommends installation is undertaken by a qualified and experienced team.
What can go wrong with a DIY Resin Bound driveway?
Installing Resin Bound driveways, paths and patios is not a simple DIY undertaking. Accuracy is required at every stage of the installation, and there are many factors that need to be considered to ensure the installation proceeds smoothly.
The attractive finish and practical advantages of a Resin Bound driveway including its permeability can only be achieved if the surface is installed according to manufacturer guidelines with suitable base preparation and high quality materials. 
If preparation is insufficient, incorrect equipment or materials are used, or the weather conditions are unsuitable then many significant problems may occur including:
Inconsistent colour fading & patching

Reflective cracking

Weak bonding causing crumbling

Surface shading

Aggregate becoming loose
These problems will impact the look and performance of the Resin Bound surface and are expensive or impossible to rectify without a complete re-fit.
Groundwork and base preparation for Resin Bound is critical
A Resin Bound finish will only be as good as the base beneath. An unstable base or ground movement could severely impact the longevity of a Resin Bound driveway. Many existing bases are not permeable and do not conform to SUDS guidelines, so the advantage of a puddle-free porous surface cannot be achieved.
For a long lasting and durable finish that conforms to SUDS guidelines, a new base may need to be installed before Resin Bound is applied. This requires a comprehensive understanding of the suitable bases for Resin Bound.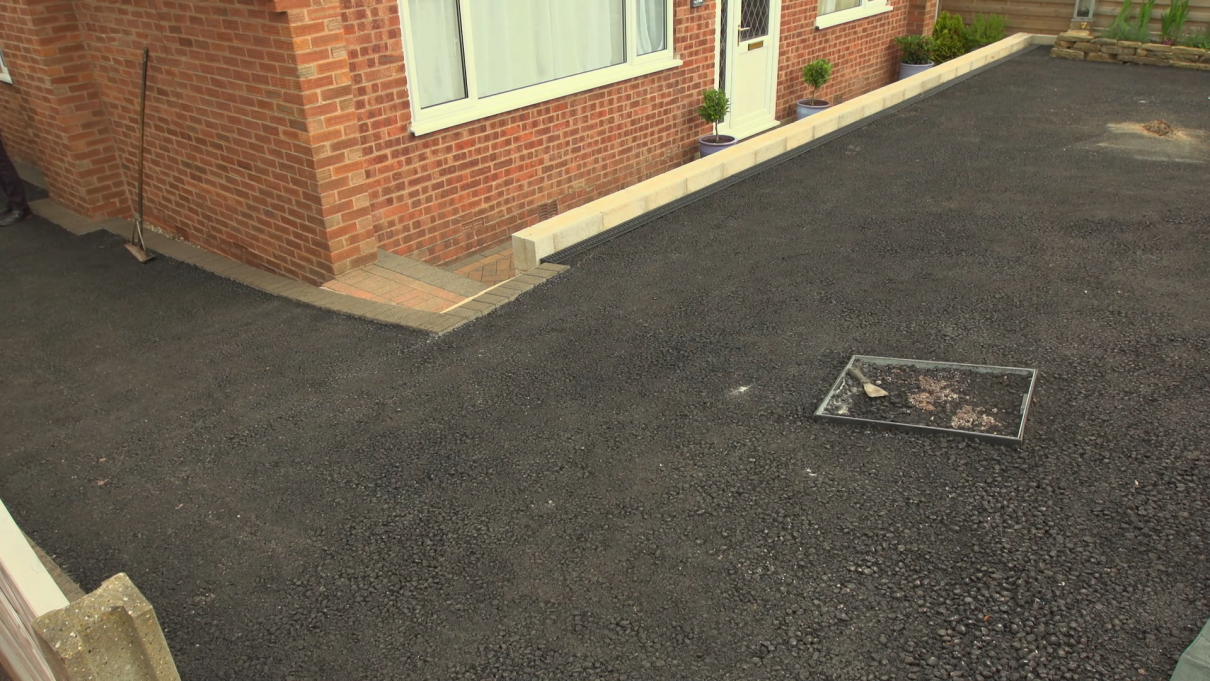 Following a site survey, the installer may decide to install a new tarmac or permeable concrete base, especially if the existing surface consists of unstable block paving, loose gravel, turf or soil, all of which are unsuitable for Resin Bound.
Experienced Resin Bound surfacing contractors will always survey the pre-existing driveway surface for:
Base stability

Cracks

Expansion Joints

Damage

Tree Roots

Edging

Slopes

Steps

Manholes

Threshold Edging

Cleaning

Priming

Meterage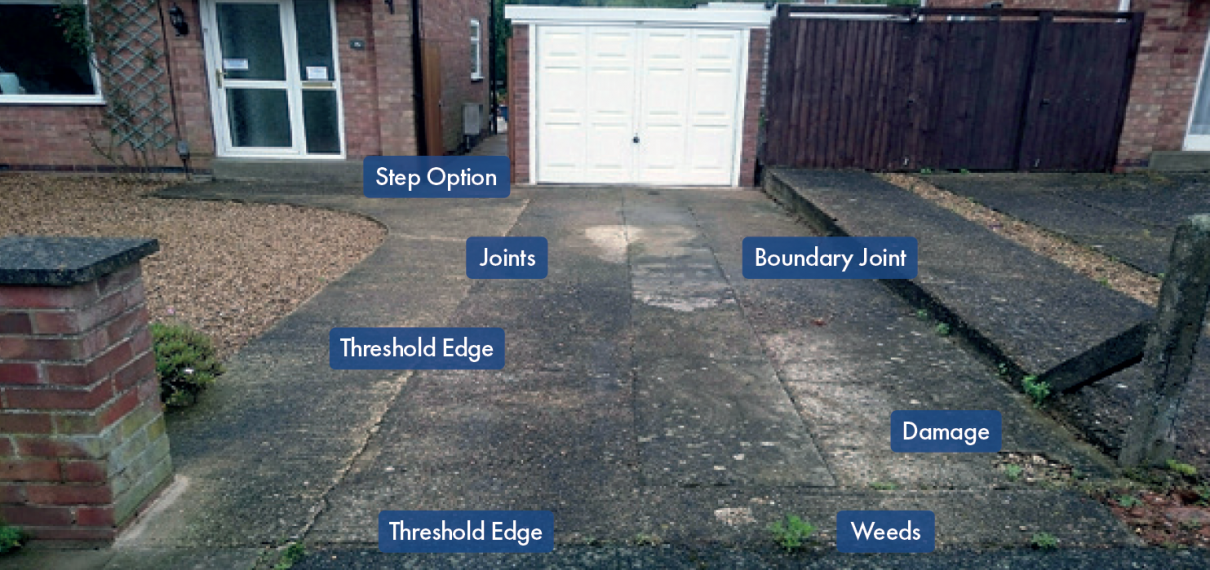 Weather and environmental conditions must be considered
There are many factors that can influence the success of a Resin Bound installation – but a major cause of project failures concerns heat, moisture, and environmental conditions. 
Without the correct training and an understanding of how heat and moisture react with Resin Bound, these issues are far more likely to occur; particularly for DIY resin driveway installations.
Surface clouding is caused by moisture dropping onto the Resin Bound surface before it has had adequate time to cure. This results in an unattractive white bloom, spoiling the resin driveway, path or patio. Even worse - this is typically only noticeable once the driveway surface has dried.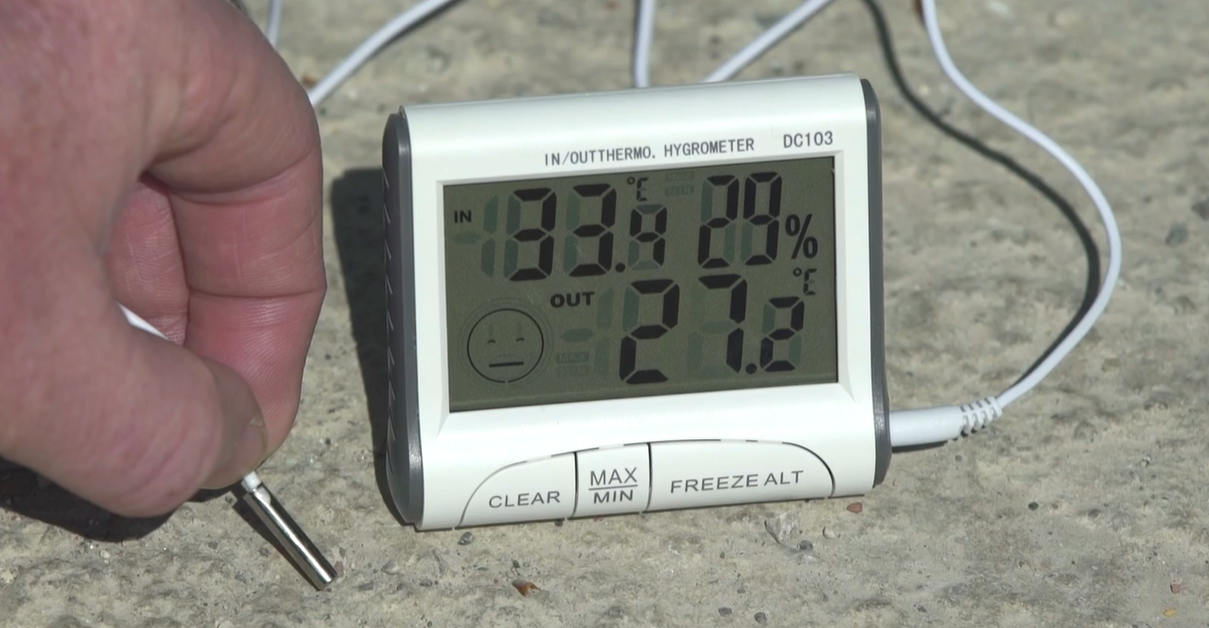 An experienced Resin Bound driveway installer will monitor the surface for moisture and analyse the air for humidity using the correct equipment. If humidity levels are higher than 80%, the installation date will need to be rescheduled. An experienced installer will also monitor and record the ground temperature.
An installer will closely monitor the weather. Moisture is the number one enemy of Resin Bound, and if it rains during a DIY resin driveway installation, the entire Resin Bound surface could be compromised leading to the removal and wastage of materials.
Resin Bound driveway installation following unexpected rainfall: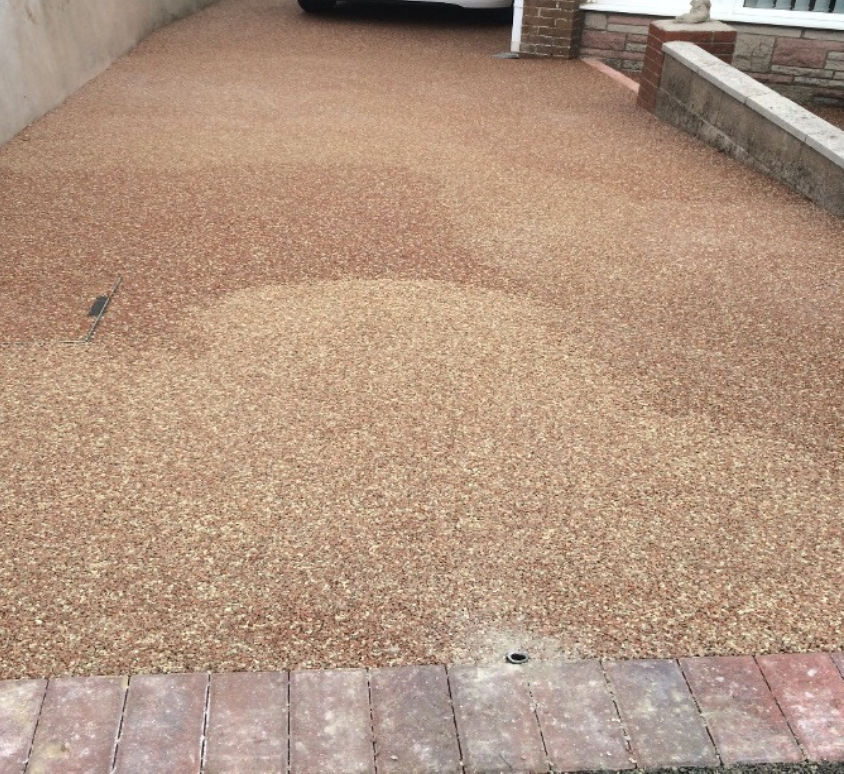 Excess (or lack of) heat may also impact the curing speed of the resin, so an experienced installer will understand how the product reacts to varying temperatures. At lower temperatures, a specific measurement of catalyst is mixed with part A of the resin to maintain cure speed (the time taken for the resin to harden).
Installing Resin Bound driveways requires specialised equipment, skill and accuracy at every stage
Installing a Resin Bound driveway requires specialised tools and equipment.

For example, resin and dried aggregates must be mixed in a forced action mixer. Alternative mixing equipment such as cement mixers for DIY resin kits will not sufficiently or evenly coat the aggregate in resin and should never be used.
Resin Bound materials that have not been mixed properly or consistently may result in inconsistent shading between mixes and a poor bonding strength which could cause loose stones or crumbling.
Installing a Resin Bound driveway is not a one man job. The precise installation process of Resin Bound should involve a team of three or more highly trained professionals, including a Mixer, Luter and Troweller.
The importance of high quality resin
The quality of the resin will affect the final result. 
There are two types of resin for Resin Bound installations – UV stable resin (aliphatic) or non-UV stable resin (aromatic). In order to produce a beautiful, consistent Resin Bound surface, it is important that the resin used is suitable. 
Derbyshire Specialist Aggregates strongly recommend that only UV stable (UVR) resins are used for external Resin Bound applications. 
Non-UV resin darkens when exposed to sunlight which results in uneven shading; for example, the area where a vehicle is parked, or beneath a wheelie bin or plant pot will stand out from areas that are continually exposed to sunlight - and this can often happen in as little as two weeks. Non-UV is a strong resin, however it can sometimes become brittle and could in some circumstances crack.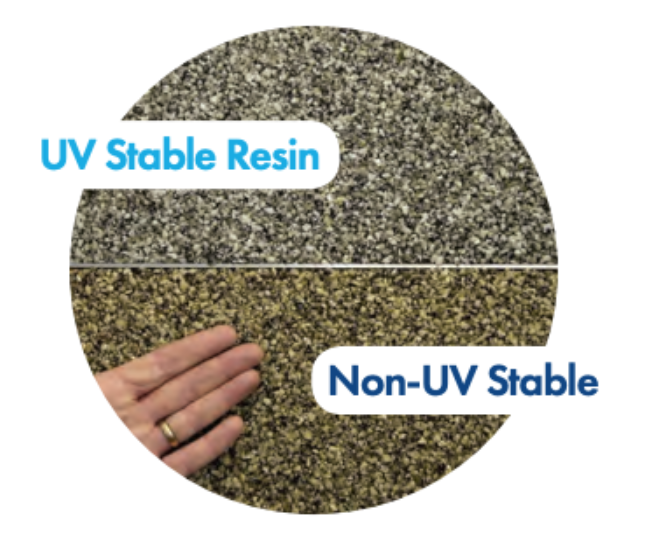 BENEFITS OF UV STABLE (UVR) RESIN FOR RESIN BOUND
The effect of natural light on the surface is greatly reduced and fades evenly. 

The natural stone finish is maintained. 

UV systems (Aliphatic hardener) are more flexible and less liable to cracking. 

UVR resin is easier to trowel and is far more tolerant of differing conditions. 

UVR resin provides more protection if rain occurs once laid.
Whilst UVR does cost more than non-UV resin, the difference in price is insignificant compared to having to re-lay a surface.
Resin to Hardener Ratio Is Important
To achieve a full strength cure, it is critical that the correct ratio of resin to hardener is used. Before choosing a resin, you should always look for Resin Bound systems that state the resin (Part A) and hardener (Part B) content. 
Hardener is approximately 3 times the cost of resin, so some cheaper resins on the market save raw material costs by reducing the ratio of hardener to resin. Low hardener systems remain softer for longer risking further exposure to moisture.
Optimum performance is achieved with a hardener to resin ratio of H1: R:1.03-1.05.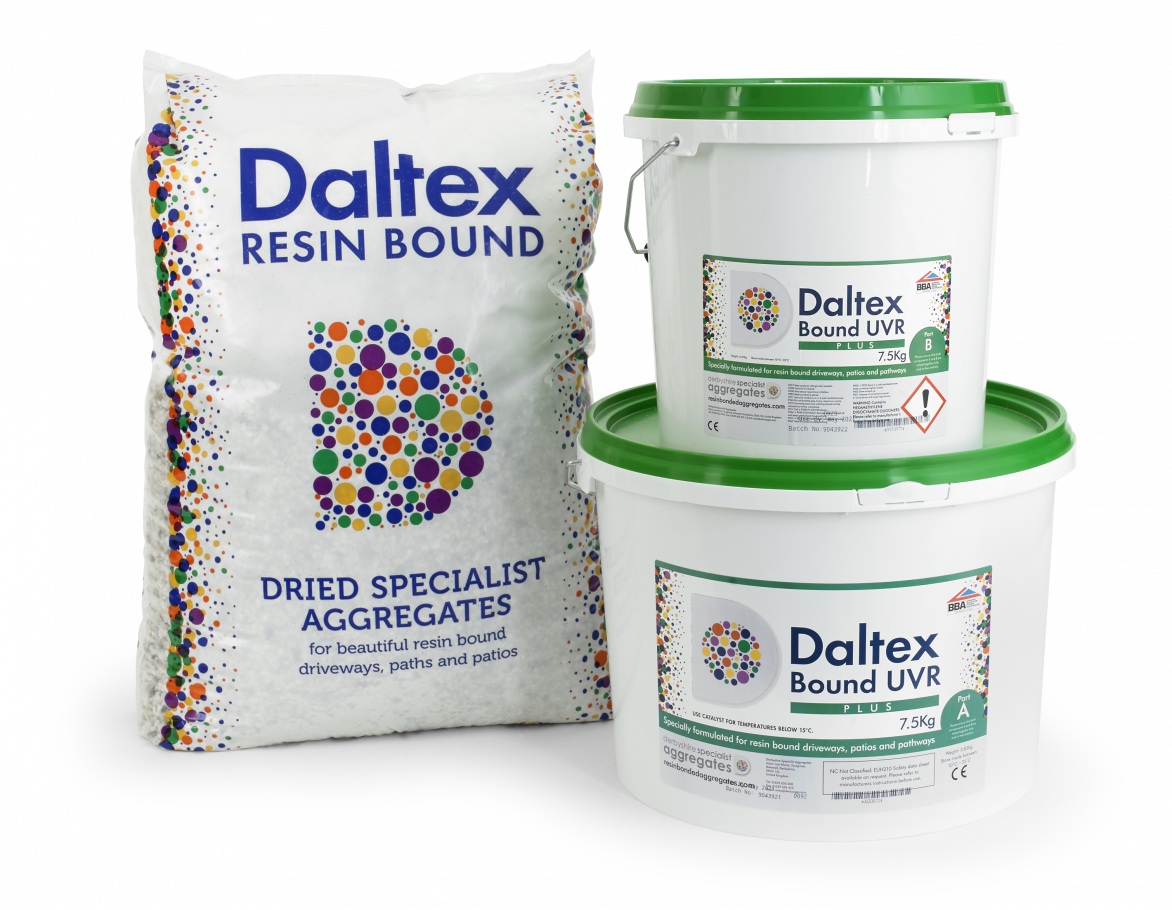 DALTEX UVR Plus Resin is manufactured in the UK and is certified and approved as part of a BBA System and has been developed specifically for delivering high quality UV resistant Resin Bound surfaces. Each DALTEX UVR Resin kit has 1 part hardener to part 1.04 resin.
Mix design specifications for Resin Bound must be followed
When installing Resin Bound driveways, paths or patios, a specific Resin Bound mix design should be used. This consists of a specific size and quantity of aggregate, UVR resin and C52 sand. The correct ratio of resin to dried aggregates is critical in achieving a lasting and durable finish.
Read more about the recommended DALTEX mix design for Resin Bound driveways, paths and patios.
Knowing what to do when something goes wrong with Resin Bound
Although undertaking a DIY Resin Bound driveway may seem like a cost saving, it is a risk to undertake such a project without training, and an expensive mistake to rectify. An experienced installer recognises optimal conditions and how the product performs in different temperatures.
For example, a DIY first timer may not know what to do if it starts to rain, if they run out of materials before the driveway has been finished or somebody walks on the surface before it has had time to cure.
All of these situations will seriously impact the finished result. However, a skilled resin driveway installer can save the installation from having to be refitted with prompt and appropriate remedial action.
Conclusion: Considering a Resin Bound driveway? 
Resin Bound installation should never be considered without training. Derbyshire Specialist Aggregates offer an introductory online Resin Bound training course which is free. This will introduce everyone to the do's and don'ts of Resin Bound and we hope it shows why - as the manufacturer of DALTEX - we recommend our product is only ever installed by experienced and skilled teams.
There are many experienced and knowledgeable professionals who specialise in installing Resin Bound driveways.
DALTEX Resin Bound is trusted and used by thousands of driveway contractors, specifiers, and landscapers throughout the UK. If you need help finding a DALTEX Resin Bound installer near you, call us on 01629 636500 or email marketing@derbyaggs.com.
We're also happy to help with any questions you have about Resin Bound.
Back to Latest News