8 Key Questions A Customer Asks When Choosing A Resin Bound Driveway Installer

Photography courtesy of Cremin Surfacing
More customers than ever are showing an interest in Resin Bound and looking to transform their driveways, pathways and patios with this beautiful and practical permeable surfacing solution. 
And the rise in use of Resin Bound is not limited to residential properties - all types of commercial customers including sporting venues, holiday parks, councils, retail outlets, car dealerships and leisure centres are turning to Resin Bound to transform their sports stadia, car parks, paths, forecourts, walkways and outdoor areas.
The price point of Resin Bound makes this a considered purchase and customers will want to question potential installers and need to understand more about the product before making their final purchasing decision. The installer that can provide the reassurance they seek will have an advantage in today's competitive market.
As the manufacturer and home of DALTEX dried aggregates (the UK's number 1 brand in Resin Bound), we recognise the key questions a customer asks before choosing their Resin Bound installer.
1. 
Are the Resin Bound materials high quality?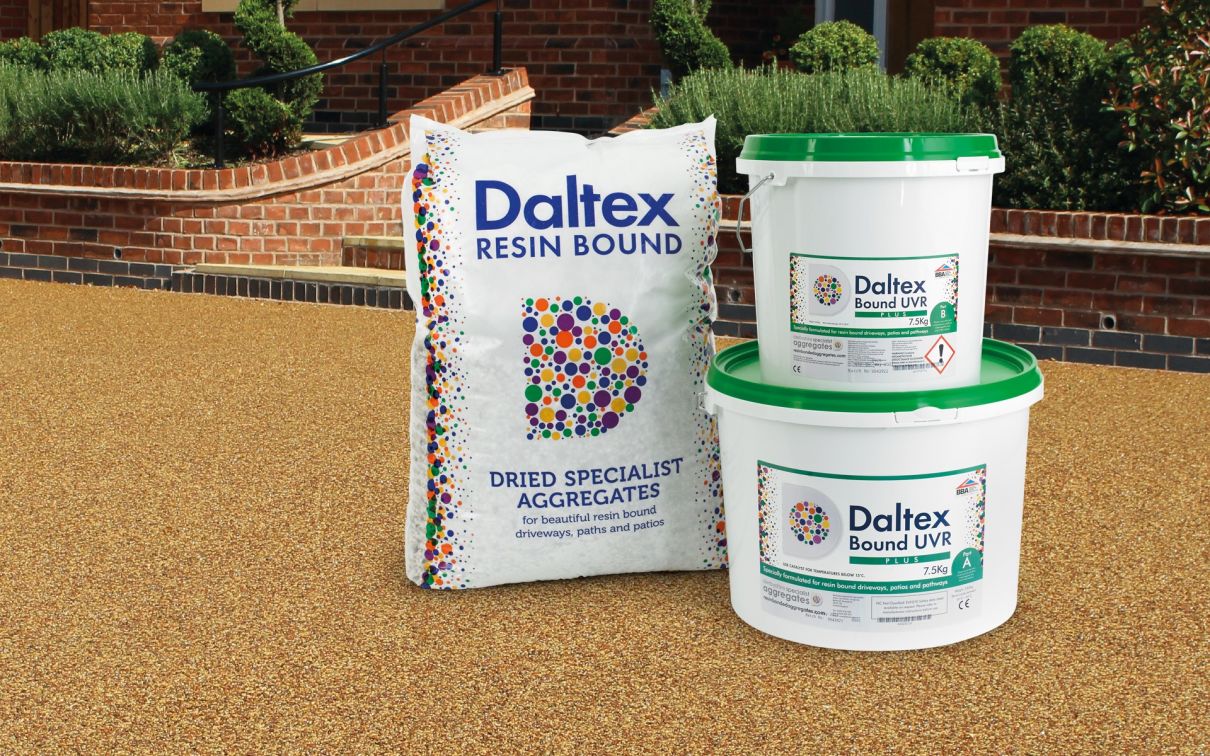 One of the most frequent queries from customers is about the quality of the materials used in the installation and their fitness for purpose. 
With easy access to the internet, customers will often do their own research before committing to a new driveway – and they will want to know whether or not the dried aggregate and resin used is of a high quality standard.
Derbyshire Specialist Aggregates supplies half a million square meters of Resin Bound material every year with large production runs (of up to 300 tonnes or more) to ensure product consistency. 
Our rigorous cleaning, screening and drying process ensures every bag of DALTEX dried aggregate leaves us in pristine condition, ready to be mixed with resin to create stunning Resin Bound driveways, pathways and other surfaces.
DALTEX dried aggregates and DALTEX UVR Resin form the DALTEX UVR System, which has been independently tested and verified by the British Board of Agrément (BBA), the highest industry standard for Resin Bound. 

BBA certification is a mark of quality, safety and reliability, indicating the product's fitness-for-purpose.
Educating customers about quality and letting them know that your materials are a part of a BBA approved system will reassure them and give them confidence in your services and standards.
2. 
Will UVR Resin be used in the installation of my Resin Bound surface?
One of the most important differentiating factors between yourself and other installers may be the resin used as part of the installation. When comparing quotes, customers may receive cheaper quotes from installers who may be opting to use cheaper non-UV or inferior resins.
Make sure that the customer is aware that the quality of resin used is very important.  For example, explain that UVR Resin (Aliphatic) provides several key advantages over non-UV (aromatic), and that non-UV resin will darken when exposed to sunlight in as little as 2 weeks.
In comparison, the effect of natural light on UV resin is reduced, resulting in a colour stable Resin Bound finish that fades evenly. Although customers may be attracted to non-UV resin as the cheaper option, they must be made aware of the long-term drawbacks such as inconsistent colour fading and a higher likelihood of surface cracking.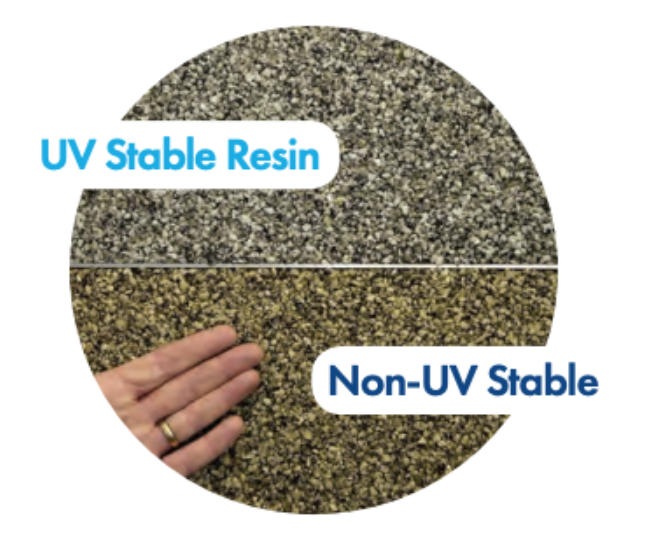 The quality of the resin is also reliant upon the ratio of Isocyanate (Resin Hardener) used as part of the resin mixture.
You should always look for Resin Bound systems that state the resin AND hardener content. Hardener is approximately 3 times the cost of resin so some cheaper and inferior resins on the market save raw material costs by reducing the ratio of hardener to resin. Explain to the customer that low hardener resin systems remain softer for longer, risking further exposure to moisture.
Derbyshire Specialist Aggregates strongly recommends the use of UVR stable resins for external Resin Bound applications. 
The recommended Daltex mix design is 7.5kg UVR resin kits. DALTEX UVR Plus Resin is manufactured in the UK and has been approved by the BBA, the highest industry standard for Resin Bound.
Benefits of UVR Resin vs Non-UV Resin
Non-UV stable resin can darken when exposed to sunlight – in as little as 2 weeks!

Non-UV is a very strong resin but sometimes it can become brittle and crack.

UV stable resins are easier to trowel and are far more tolerant of differing conditions.

Shading can be inconsistent with non-UV resin. If your customer parks a car or wheelie bin on the surface,  the areas covered by the object will maintain the original colour whereas other areas will discolour.
Read more about choosing resin for Resin Bound applications.
3. 
Do you install Resin Bound surfaces to manufacturer guidelines?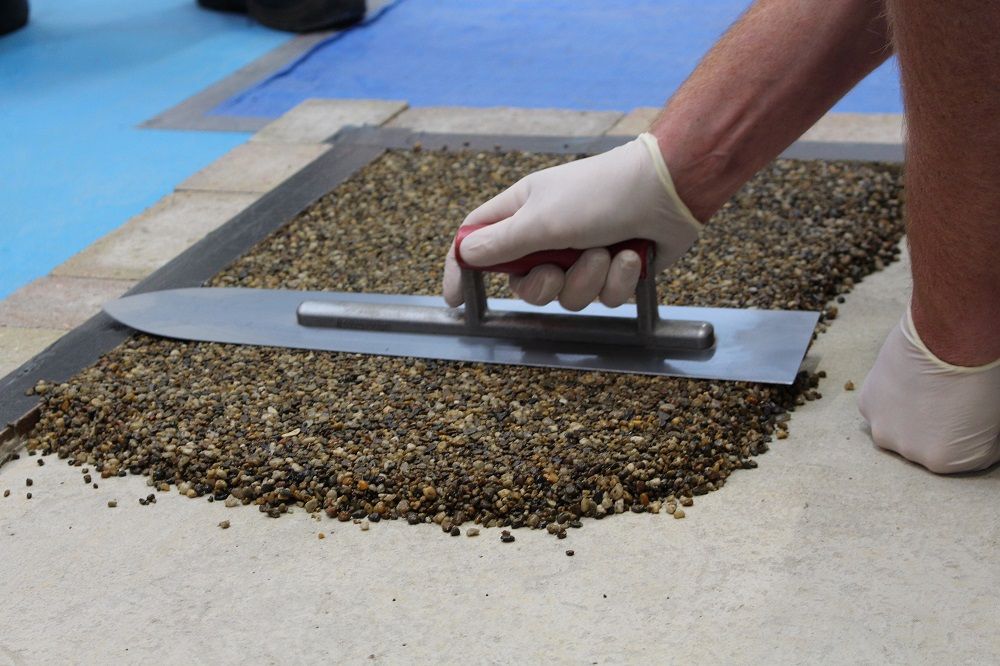 One of the many concerns a customer might have before choosing their Resin Bound installer is whether manufacturer guidelines are followed or not.
Make sure that the customer understands that the process for installing Resin Bound involves highly specific manufacturer guidelines, including installation depth, the type and quantity of dried aggregate needed and the amount of resin required for achieving a strong, durable finish. 
For example, inform your customer that Resin Bound should only be installed onto a stable surface, such as tarmac or concrete, and that the aggregate and resin mix can not be applied to unstable surfaces such as block paving or loose gravel as surface cracking may occur.
One of the major benefits of Resin Bound is its permeability. In order to achieve a fully porous and SUDS compliant surface, the sub-base must also be permeable.
Additionally, inform the customer that a minimum depth for driveways and other surfaces with vehicular traffic is recommended at 18mm. 
Some installers may save costs by installing Resin Bound driveways at a shallower depth such as 15mm or by using a lower resin/aggregate ratio. Although a depth of 15mm may be used for foot traffic areas such as pathways, this is not BBA approved. 
It is important that the customer is aware that the manufacturer recommends these depths to create a durable, attractive Resin Bound finish.
4.
Can Resin Bound be laid directly over my old driveway?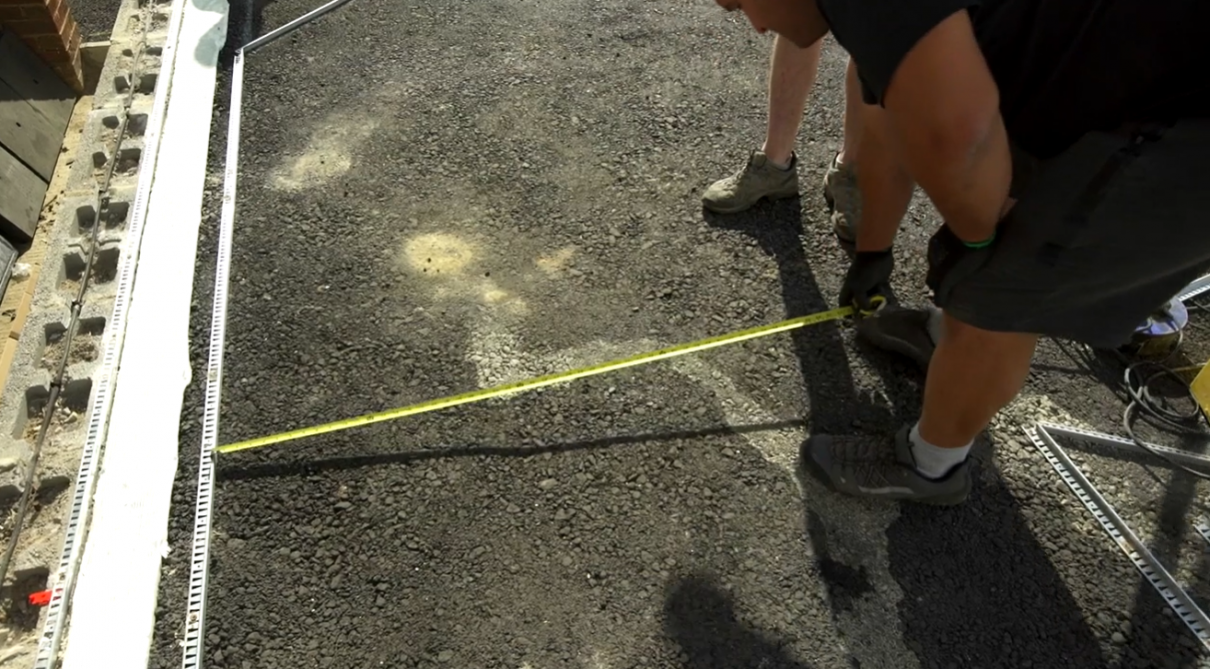 The importance of preparing the sub-base properly cannot be overemphasised. It is important that Resin Bound is trowelled to a smooth, uniformed finish on a subbase that is flat and stable, such as open grade tarmacadam, concrete, permeable bound rubber/granite, a permeable grid system or permeable granular base.
Cracks on Resin Bound gravel surfaces are often caused by unstable bases or by ground movement, which is caused by the natural movement of the substrate. This is typically due to clay soils expanding and contracting in the presence of moisture (or lack of it).
Advise the customer that if their existing driveway is not suitably stable, then groundwork will be required which will add to the overall cost. When comparing quotes like-for-like, customers may receive cheaper quotes that do not include the necessary groundwork required for a durable Resin Bound surface.
It is crucial that customers are aware of what can go wrong if the sub-base isn't suitable, as this may result in costly problems in the future. Generally, surfaces that have fewer joints such as tarmac or concrete, provide the best finish.
Examples of SUITABLE Resin Bound bases:
Tarmac

Concrete

Asphalt

Permeable Bound Rubber/Granite

Permeable Grid System
Examples of UNSUITABLE Resin Bound bases:
Loose Gravel

Block Paving

Soil/Turf
Read here for more information on Resin Bound bases.
5. Can my Resin Bound driveway be laid during cold or rainy weather?
Some customers may be in a hurry to have their driveways transformed with Resin Bound, and some contractors may even install during wet or very cold weather.
Explain to the customer that moisture is the number one enemy of Resin Bound. To achieve a lasting and durable surface, the installation can only be completed under the appropriate conditions.
Moisture reacts with resin causing a white bloom that is usually only noticeable when dry, spoiling the beautiful, smooth finish Resin Bound is renowned for. If the weather forecast is looking rainy, the installation will need to be delayed.
Top Tip: Install a weather app on your phone
Below temperatures of 15c, catalyst should be manually added to part A of the resin prior to being mixed, as lower temperatures will slow down the resin curing process.
6. 
What is a permeable base and why is it important?
One of the key advantages of a Resin Bound surface is its permeability. As a permeable surface, Resin Bound conforms to SUDS (Sustainable Urban Drainage Systems) regulations, meaning no planning permission is required as long as the base is also porous and SUDS compliant.
Although the Resin Bound layer itself is permeable, if the sub-base is not then water can still build up – especially if a suitable drainage channel or soakaway is not in place.
As a result of climate change (bringing more intense, prolonged storms) and urbanisation (leading to increased risk of flooding), the government has looked at measures to try and manage urban runoff. These measures include legislation that favours the use of water management systems (such as Resin Bound) and all new driveways have to comply with SUDS regulations.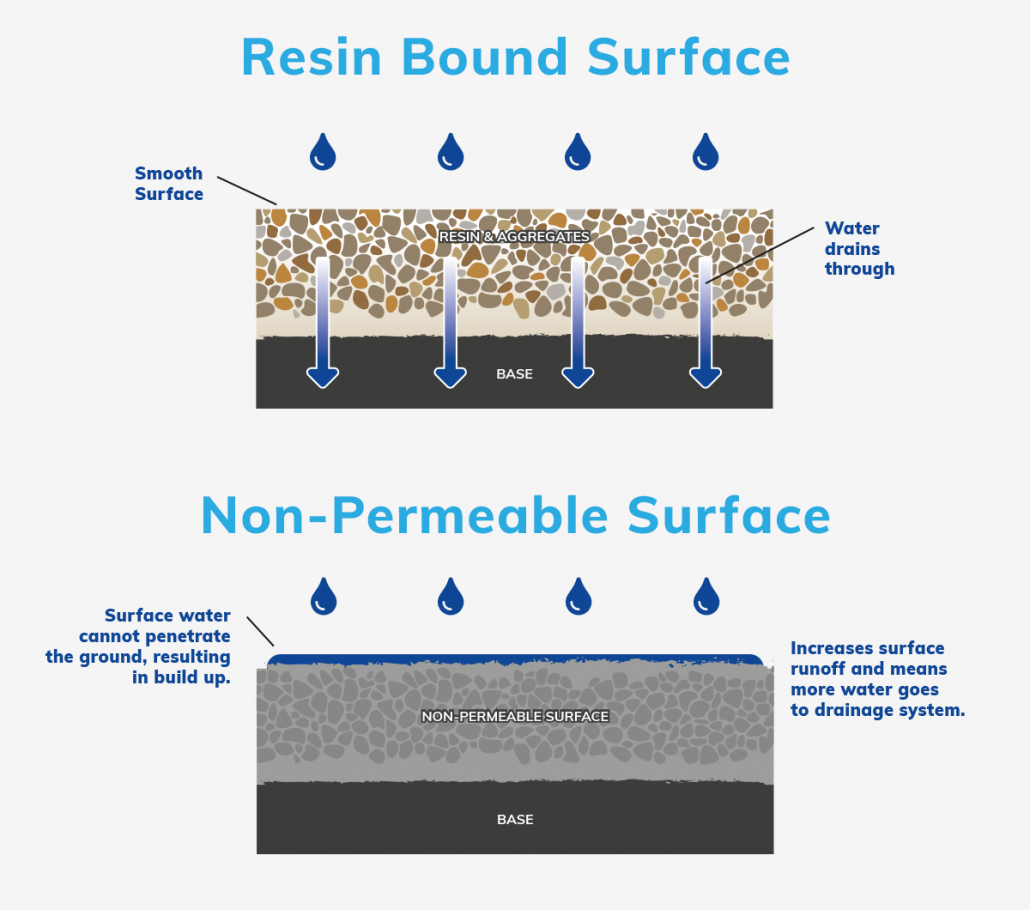 By combining the porosity of Resin Bound with a permeable base, rainwater will drain directly into the ground. This reduces maintenance requirements, conforms to SUDS guidelines (meaning planning permission isn't required), and reduces risk of flooding.
7. 
What choice of Resin Bound gravel colours do you offer?
No two customers are the same - some will want a contemporary look, others something traditional; some want contrast and standout; others want subtlety - so it's important that you offer a wide range of Resin Bound aggregate colours.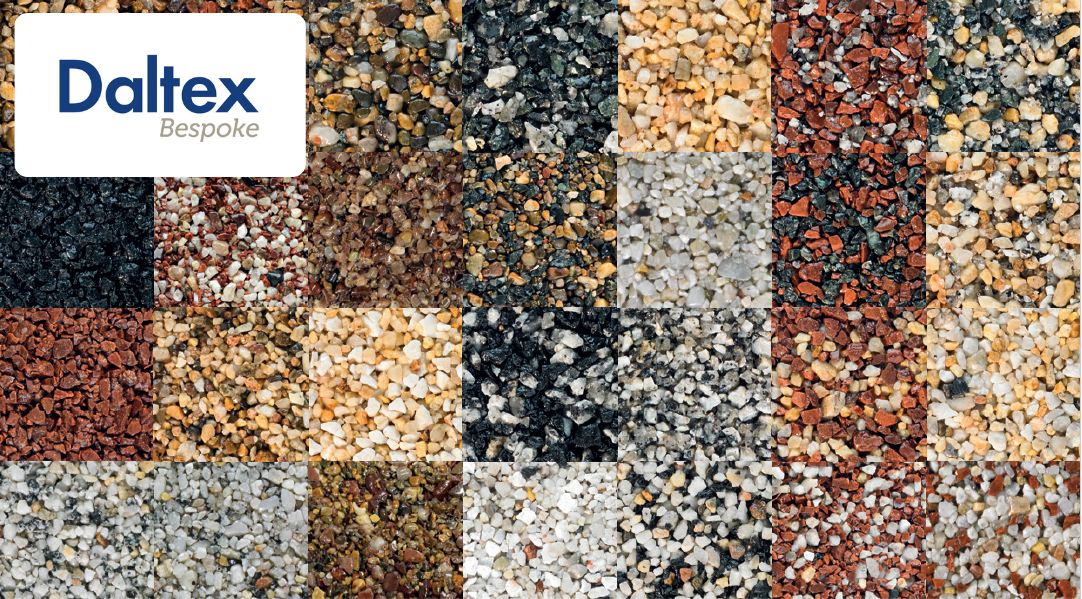 It is no secret that one of the major attractions of Resin Bound is the stunning variety of colours available and the incredible design versatility this provides.
The DALTEX range of dried aggregates includes over 30 single gravel colours (the largest range in the UK) and these can be combined in hundreds of different colour combinations to create beautiful results.
The popular DALTEX Bespoke range features over 48 stunning colour blends of various dried aggregate textures and sizes, from gentle yellows and golds to contemporary silvers and greys, to attractive pinks, blacks and greens - there is a Resin Bound aggregate shade for every style of project and property.
Getting a first-hand look and feel for the aggregate in person is important, and customers will often want to lay samples against their existing driveway surface to help them make the right decision - so make sure that you have samples at hand.
DALTEX Bespoke Customer Presentation Cases look very professional, and each case can hold up to 23 square DALTEX Bespoke samples for customers to inspect. Daltex Bespoke brochures are also available which feature the total range and will help the customer decide on their ideal colour.
8. 
Do you have additional qualifications for laying Resin Bound surfaces?
For many homeowners, a Resin Bound driveway is a considerable investment - and customers need to be confident they are choosing a Resin Bound installer who can deliver the driveway of their dreams. Before deciding on an installer, customers may ask about qualifications or training.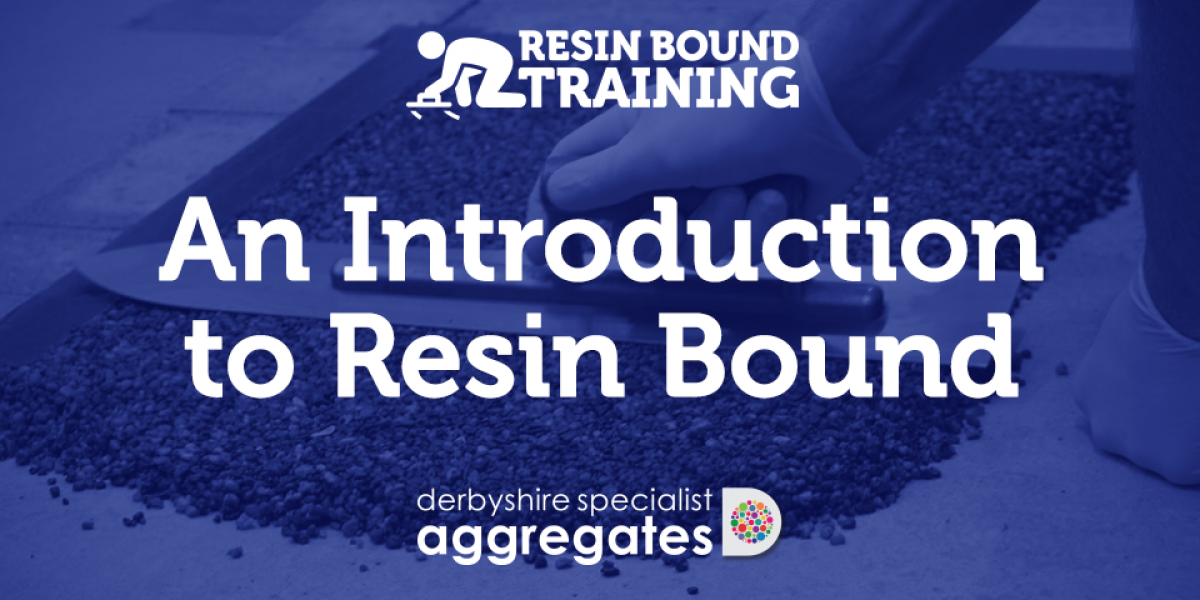 At Derbyshire Specialist Aggregates, we offer a variety of comprehensive training programmes – from introductory courses to the DALTEX UVR Qualification. By becoming a DALTEX UVR System Qualified Installer, you will give customers the reassurance and peace of mind that you install to the highest standards, exactly as instructed by the manufacturer and BBA guidelines.
Also, be prepared to show examples of your work to customers. 
As we move further into the digital era, it is becoming more and more important to be able to present your craftsmanship and work online. 
Creating a Facebook page for your Resin Bound installation business is always a good place to start as you can share case studies of your recent installations to a wide audience, and a website adds even more professionalism which will help customers decide on their Resin Bound installer.
Read more on how to grow your Resin Bound business.
Need help? Expert support is close at hand
Derbyshire Specialist Aggregates is the home of DALTEX - the no 1 brand in Resin Bound. With over 35 years of experience, we are committed to helping contractors understand more about Resin Bound and more about how to grow their Resin Bound business, the installation process and choosing quality materials.
Whatever help you need, the DALTEX team is only a phone call away on 01629 636500.
Back to Latest News