The Benefits of Resin Bound Gravel
There are many hard-surfacing systems available on the market, including Bitmac, concrete to block paving and imprinted concrete. However, Resin Bound surfacing is unique. No other surfacing system can offer the same range of strengths, resistances, and structural and aesthetic benefits.
How does resin bound compare to other surfaces?
| | Resin Bound | Tarmac | Concrete | Block Paving | P.I.C | Resin Bonded |
| --- | --- | --- | --- | --- | --- | --- |
| Colour Stable | ✓ | ✘ | ✘ | ✘ | ✘ | ✓ |
| Permeable | ✓ | ✘ | ✘ | ✘ | ✘ | ✘ |
| Slip Resistant | ✓ | ✘ | ✘ | ✘ | ✘ | ✓ |
| Weed Resistant | ✓ | ✘ | ✘ | ✘ | ✓ | ✓ |
| Frost Resistant | ✓ | ✘ | ✘ | ✘ | ✘ | ✘ |
| Seamless | ✓ | ✓ | ✘ | ✘ | ✘ | ✘ |
The key benefits of a resin bound system
      Colour stable

, UV resistant

     

Permeable and

SUDS compliant

     

Slip resistant

     

Weed resistant

     

Frost resistant

     

Long lifespan

     

Easy to clean and maintain

     

Totally seamless

     

Smooth, flat and hardwearing surface
Total flexibility of design
You can adapt your Resin Bound system into any shape imaginable on your surface, providing a beautiful alternative to paving, tarmac or concrete. The wide range of colours and blends means you can mix and enjoy unique design options.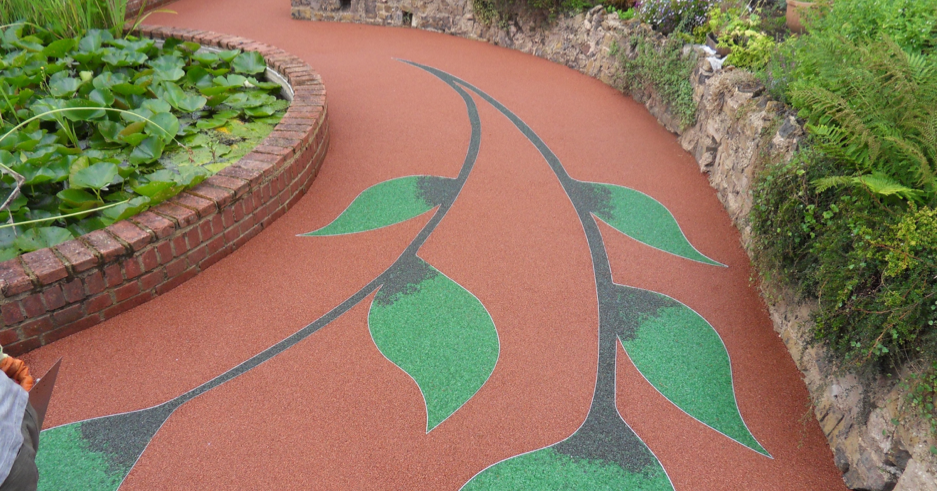 By using the smaller sizes of aggregates (such as 1-3mm) you can fill the voids between the stones in the 2-5mm range to enhance the strength or improve the visual appearance.
Permeable, SUDS Compliant surface
Resin Bound surfaces are permeable and allow water to drain through to the sub-base. This means a resin bound system is SUDS compliant, as long as the sub-base is also permeable and SUDS compliant. Find out more about SUDs.
Long lasting results
The Resin Bound aggregate system is incredibly strong and durable and will remain so for many years. This is thanks to its low maintenance, easy cleaning and high resistance to organic materials and weeds.
Easy to maintain
The resin binds with the original surface effectively gluing the new surface finish in place. The Resin Bound surface is relatively low maintenance and, if maintained correctly, resistant to weeds. The higher quality resin systems are also resistant to petrol or oil spills and will retain a consistent colour thanks to UV resistance.
Smooth and flat surface
Unlike resin bonded aggregates or loose gravel, a resin bound surface is smooth, flat and seamless. This is because of the way that resin and aggregates are mixed and then trowelled. As a surface, it is ideally suited for both pedestrian and vehicular traffic/parking.
UV resistance
DALTEX UVR resin meets required manufacturer standards. As an aliphatic resin, DALTEX UVR resin is colour stable and resistant to fade and comes with a 15 year product quality guarantee! 
Easy to clean and maintain
A resin bound system is easy to clean. Most dirt, marks or other cleaning jobs can be taken care of with a simple jet wash. For more information on resin bound cleaning and maintenance, take a look at our resin bound maintenance guide.
Related to this
RESIN TECHNICAL SUPPORT
If you need help with your resin installation, call our technical support team on
01629 636500
or
contact us